With tales of the rich and famous crowding reality and TV, 'Dynasty's' dysfunction feels redundant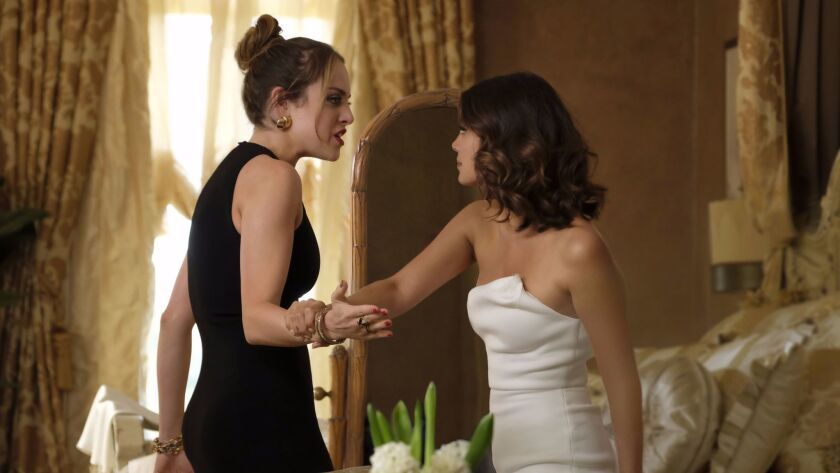 Television Critic
Things from the '80s we could use right now: lower sea levels, elevated political discourse, anything Prince.
Things that are best left to the collective memory of those who survived the decade: Jazzercise, the word "bitchin!" and a show Prince once sang about, "Dynasty."
The nighttime soap was made for the era, and it should stay there.
The long-running ABC drama "Dynasty," and its competition, the CBS hit "Dallas," were national obsessions when there were three major networks and the closest thing to reality TV was "Lifestyles of the Rich and Famous." Peering into the dysfunctional life of a wealthy family with more power than sense equaled escapist entertainment, at least back then.
The CW's reboot of "Dynasty," which premieres Wednesday, reenters a TV landscape in which the outlandish behavior of moneyed kin is the norm: the Lannisters, the Kardashians, the "Real Housewives" and of course, the Trumps, a real-time show that runs 24/7 on every other network.
Cersei had to bring a dead man to life to compete in this crowded field. Donald Trump had to win an election. Hobbled by history and a dated story line, the new "Dynasty" doesn't stand a chance among such extremes.
The plot for the reboot is a familiar one: Two wealthy families, the Carringtons and the Colbys, feud over power and fortunes. Their fight for control and influence requires lots of sex, cat fights, more sex, blackmail, still more sex, possible murder, and finally sex.
Fallon Carrington (Elizabeth Gillies) is the daughter of billionaire Blake Carrington (Grant Show). She's poised to run her father's lucrative energy company until her new stepmother, Cristal (Nathalie Kelley) steps into the picture.
For those born after 1990, think of it as "Empire," but with white folks at the center of the hub — a comparison being made on various social media platforms.
That said, the reboot is far more diverse than the original, where Joan Collins, Linda Evans, John Forsythe and countless blonds with big hair and bigger shoulder pads tried to outmaneuver one another.
Cristal is Latina, Fallon's brother Steven (James Mackay) is openly gay and Fallon's chauffeur/lover Michael Culhane (Robert Christopher Riley) is black. The new show's home base is in the urban center of Atlanta, as opposed to a WASP-y enclave of Denver. The series, co-created by Sallie Patrick, Josh Schwartz and Stephanie Savage, co-stars Alan Dale, Sam Adegoke and Rafael de La Fuente.
The new "Dynasty" is centered more on the business aspirations of Fallon and Cristal, who make countless jokes about the limited career options for women three decades ago (when their predecessors were clawing each other's eyes out.)
When two leering, potential business partners mistake Fallon for a flight attendant, she muses, "They assume you work for the airline instead of owning the plane."
The pilot is funny in a self-referential sort of way, taking tongue-and-cheek shots at the original version of the show — preppy white fashion ensembles, the kind of dramatic illicit-affair scenes that used to shock viewers (you can almost picture a smirking Collins' Alexis snapping an incriminating Polaroid) but now are simply campy forms of amusement.
The new "Dynasty" is well-written and features a competent cast, but it's not engaging enough to compete in today's world, where immersing viewers in the lives of a dysfunctional rich family is no longer an escape — it's an unavoidable reality.
Update: This story was updated to include Sallie Patrick in a mention of the show's co-creators.
'Dynasty'
Where: KTLA
When: 9 p.m. Wednesday
Rating: TV-14-DLS (may be unsuitable for children under the age of 14 with advisories for suggestive dialogue, coarse language and sexual content)
---
The complete guide to home viewing
Get Screen Gab for everything about the TV shows and streaming movies everyone's talking about.
You may occasionally receive promotional content from the Los Angeles Times.