Trump coverage goes dark as news networks and the nation gather around the eclipse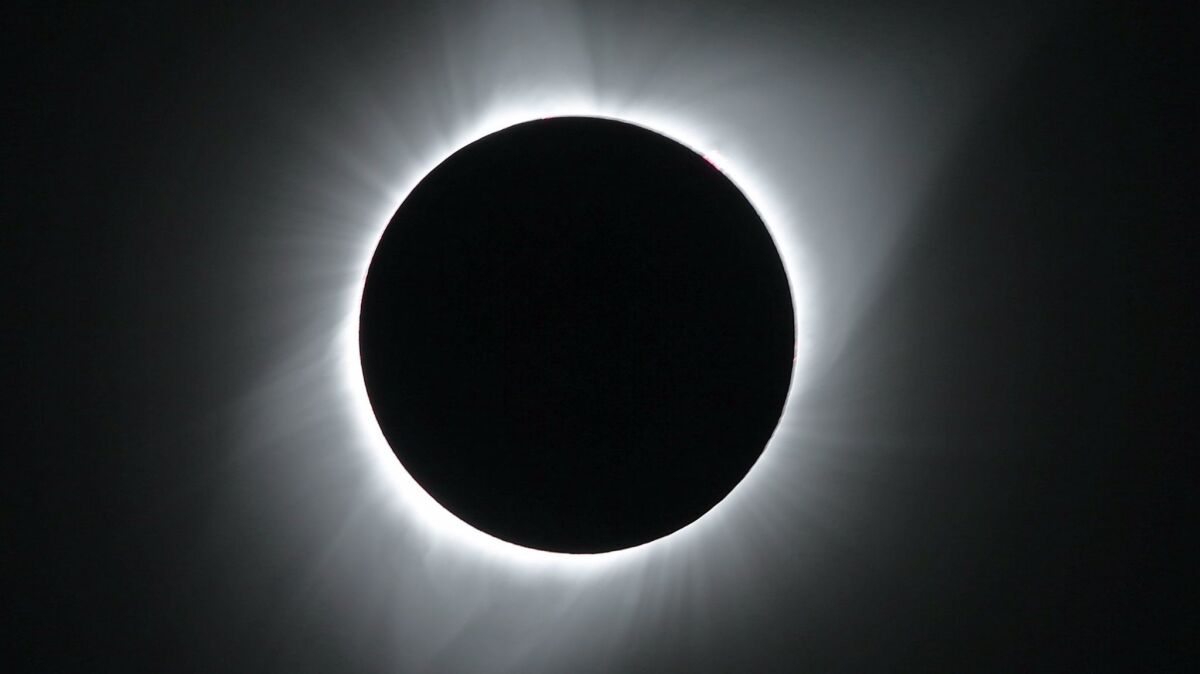 There was an eclipse Monday morning, as you may have noticed, but a terrestrial eclipse of a different kind took over cable news networks with an event big enough to obscure that great light known as President Donald Trump.
Each network began the day in its usual orbit around the White House with talk of the president's upcoming remarks on Afghanistan. But focus shifted just past 9 a.m. on the West Coast as the moon began its journey across the face of the sun. Even C-Span set aside its usual coverage for a live feed of NASA's footage.
MSNBC, which has risen to the top of the ratings during President Trump's turbulent tenure, showed bucolic scenes of excited families on blankets in Casper, Wyo., and Carbondale, Ill.
As anticipation built, the network briefly divided its screen into quarters — not with talking heads debating positions on nuclear war or racist marches, but reporters stationed along the eclipse's path. Gone were the fluorescent scenes of briefing rooms and studio sets for on-the-ground-footage of a country coming together outdoors.
"There are tears on my face right now," one eclipse watcher later told MSNBC, explaining how much the eclipse gave him a sense of being connected to something greater.
As the eclipse reached totality in Nashville, the network even shifted to something more curiously powerful: a moment of silence. "That's as long as they'll allow me to be quiet here," MSNBC's Craig Melvin finally said.
On CNN, with a chyron humbly announcing "The Eclipse of the Century," the network also dispatched reporters along the eclipse's path, and the atmosphere felt akin to a New Year's Day celebration.
In a cloudy St. Joseph, Mo., CNN's Stephanie Elam was nearly breathless in her enthusiastic reports on the day's proceedings.
"This is the most phenomenal thing I've ever seen," she told Anderson Cooper, as the surrounding darkness grew around her. "I know I sound like a little kid, but there's very few things when you're my age that excite you this much."
Fox News, which has a history of being less than hospitable for some scientific efforts, stationed Shepard Smith at the center of its coverage, which was distributed to local affiliates as the eclipse ramped up.
Gamely discussing the "path of totality" for the eclipse where the sun would be completely obscured, Smith was also overcome as the morning went on. "Wow, look at that! It's a total eclipse of the sun!" he enthused as the sky grew dark in Oregon, revealing only the glowing ring of the sun around the moon's edge.
In Salem, Ore., a Fox reporter asked a woman to describe the quality of light as the sun slowly began to return. "The atmosphere just makes me feel light and happy," she said. She was far from alone.
As the morning went on, MSNBC showed a scene of the White House where the president was scheduled to appear along with Melania and Ivanka Trump and Atty. Gen. Jeff Sessions.
"Rest assured, if President Trump puts those glasses on, we'll have it for you live," MSNBC's Melvin promised. And indeed they did.
In celestial events and cable news, stars can be overshadowed only for so long.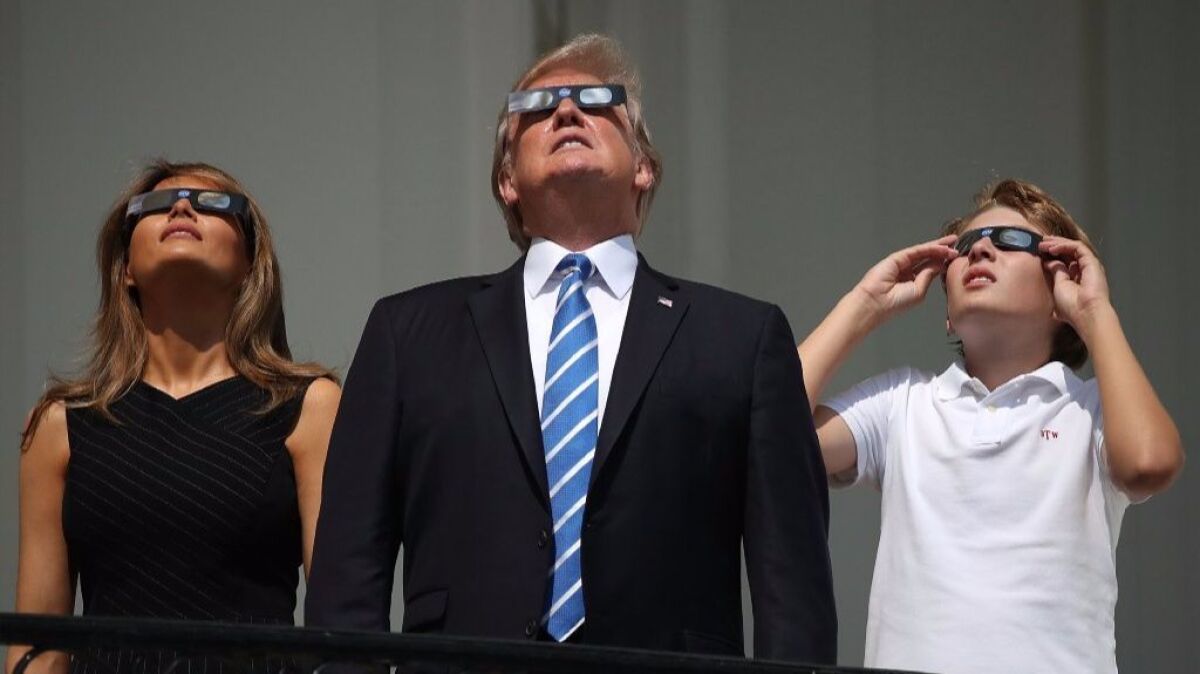 See the most-read stories in Entertainment this hour »
Follow me over here @chrisbarton.
ALSO:
Anthony Scaramucci tells Stephen Colbert: 'I thought I'd last longer than a carton of milk'
Anthony Scaramucci owns some mistakes, criticizes Stephen Bannon on ABC's 'This Week'
Emmy nominations: 'SNL' and late-night comedy nods reflect a Trump bump — with a few exceptions
Get our L.A. Goes Out newsletter, with the week's best events, to help you explore and experience our city.
You may occasionally receive promotional content from the Los Angeles Times.