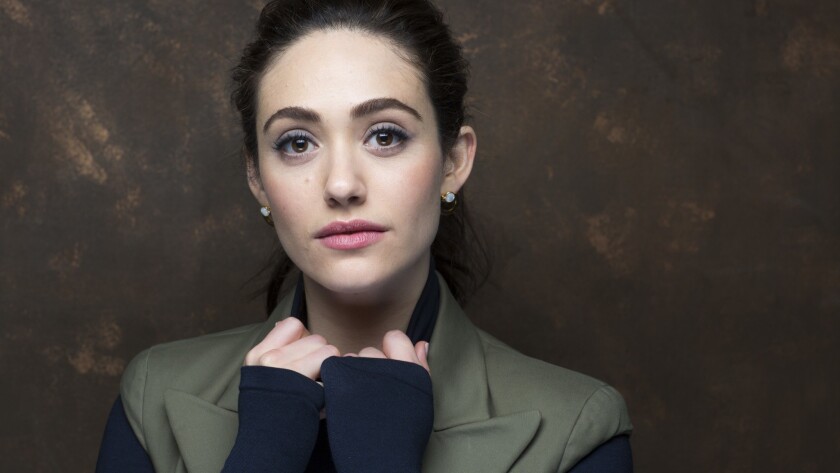 The Gallagher family of "Shameless" is losing one of its most beloved members.
Emmy Rossum will be leaving her role in the veteran Showtime series. The actress, who stars as Fiona Gallagher, the oldest of six children in the dysfunctional Gallagher clan, broke the news — in a way — via an emotional Facebook post Thursday.
In the lengthy message, she recalled auditioning to play Fiona and looked back fondly at memories she'd shared with cast and crew.
"I know you will continue on without me, for now. There is much more Gallagher story to be told. I will always be rooting for my family. Try not to think of me as gone, just think of me as moving down the block," she wrote.
Rossum, who has also directed multiple episodes of the series, called the role of Fiona "a gift." "There are few characters — female or otherwise — as layered and dynamic," she wrote.
The Chicago-set dramedy, developed by John Wells ("ER") from a British series, follows Frank Gallagher (William H. Macy), an irresponsible alcoholic whose six children take care of one another.
In a statement, Wells praised Rossum but hinted that the show — already the longest-running original at Showtime — would go on without her.
"We are hard at work now creating a Season 9 finale for 'Shameless' which we hope will provide a Gallagher-worthy sendoff for Fiona that honors the great work Emmy has done," said the showrunner. "It is always bittersweet when an ensemble member decides to move out of the proverbial house, but our door will always remain open for Fiona to return home for a visit, or to move back in. I look forward to continuing the stories of this wildly unpredictable family and all of us on 'Shameless' will miss Emmy and her wonderful Fiona."
Added Gary Levine, Showtime Networks' president of programming: "We were saddened when Emmy Rossum let us know that the upcoming ninth season of 'Shameless' would be her last. But we are filled with an overwhelming sense of joy and gratitude for Emmy's inspired work on our series, of course in front of the camera but also behind it."
Season 9 of "Shameless," which will air in two seven-episode parts, will premiere Sept. 9.
See the most-read stories in Entertainment this hour »
Follow me @MeredithBlake
---