Review: Emmy Awards: Andy Samberg kept the show moving; Viola Davis, Jeffrey Tambor and Jon Hamm won big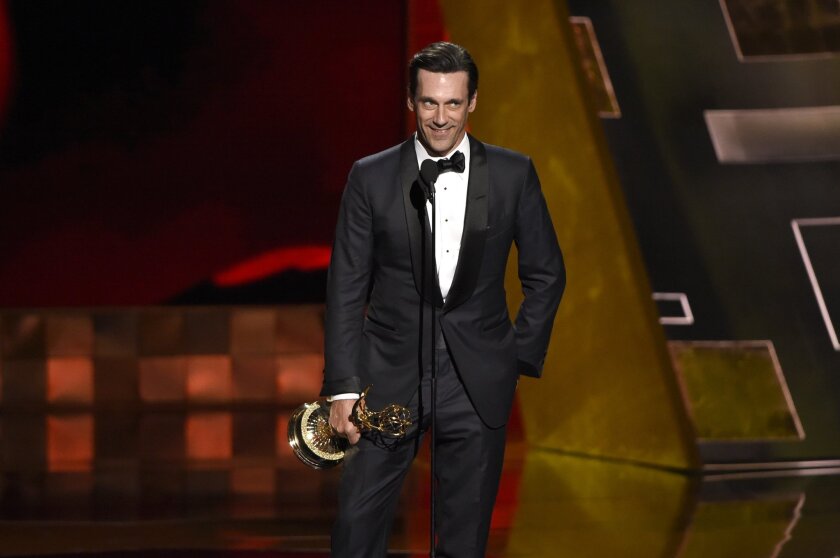 Television Critic
Andy Samberg may have said he didn't care what the critics thought of his performance as host of this year's Emmys, but he oversaw a telecast that was a critic's dream. Fast-paced and mercifully uncluttered by too much "hostiness," the telecast mostly stayed out of its own way, with just enough jokes that didn't work to make us appreciate the ones that did.
Samberg opened with a musical number in which, having agreed to host the Emmy's, he swears (in song) to watch every episode of every show. The overwhelming nature of this tasks entails locking himself in a bunker only to emerge one year later, tattered, unshaven and smelly.
It could have been written by every TV critic out there.
See the most-read stories in Entertainment this hour >>
As tradition dictates, Samberg followed up with a monologue that dinged the requisite categories on the slightly fraying Awards Show Host checklist: The genre ("This year 'Orange is the New Black' is officially a drama and 'Louis' is officially jazz"); the industry ("this is the most diverse group of nominees in Emmy history...racism is over; don't fact check that") and current events ("Bernie Sanders always looks like he just missed his flight). A couple of racy jokes were also told.
Unlike many of his predecessors, Samberg, currently starring on "Brooklyn Nine-Nine" isn't a stand-up or a professional host. It showed. But then, it was his first time out and you have to admire a guy who included HBO's "True Detective" on a list of shows we said goodbye to this year, "even though it's still on the air."
More important -- most important -- Samberg and his team kept the show moving with a seamless energy that allowed the big moments, funny, poignant and powerful, to emerge on their own with satisfying regularity: Viola Davis became the first black woman to ever win best actress in a drama; "Transparent" won big for the transgender community and Amazon; Jon Hamm broke his eight-year losing streak; "Game of Thrones" finally broke through Emmy's anti-genre bias to win Best Drama.
And after "Olive Kitteridge" won every one of its categories, Frances McDormand actually smiled. Briefly.
FULL COVERAGE: Emmys 2015
------------
FOR THE RECORD: In the Sept. 21 Calendar section, a review of the Emmys telecast said that Allison Janney broke Ed Asner's record of six career Emmy Awards. Janney and Asner have seven Emmys apiece.
------------
First out of the box, Allison Janney won best supporting actress in a comedy for "Mom," breaking Ed Asner's record of six career Emmys and ending her speech by noting that millions of people have been touched by addiction and "Mom" offers hope to them all.
Jill Soloway won best comedy direction for "Transparent," and ended her acceptance speech by pointing out that her own transgender parent could still be barred from renting an apartment in 32 states.
Jeffrey Tambor, winning for best actor in a comedy for playing a fictionalized version of that parent, dedicated his award to members of the transgender community, thanking them for "your patience, your courage.. and for allowing us to be part of the change."
Although there were many predictable wins — "Veep" star Julia Louis-Dreyfus won for the fourth time, "The Daily Show" won so often, the poor woman sitting on the end of Jon Stewart's row should have just remained standing for a 30 minutes or so — there were also some lovely surprises.
Regina King's win for best supporting actress in "American Crime" seemed a genuine shock, as did "Orange is the New Black's" Uzo Aduba's for supporting actress in a comedy, making her the first person, since, yes, Ed Asner to win an Emmy in comedy and drama for the same role. (Asner, who was having a big night, did so with Lou Grant.)
PHOTOS: Emmys 2015 Top nominees and winners | Red carpet | Show highlights
The inevitable mid-telecast drag was enlivened by multiple wins for the mini-series "Olive Kitteridge," and an escalating smile-watch for star McDormand. She remained quite serious when she won for best actress – "we are all here because of the power of a story well-told and sometimes that is enough" -- but when she accepted for best limited or miniseries, she finally cracked.
Indeed, after McDormand smiled, it seemed the show could do no wrong.
"Game of Thrones" began its long overdue march to best drama, Jon Hamm literally crawled onto the stage to accept the best actor award.
"Obviously there's been a terrible mistake," he said with a laugh, and then all eyes were on the best actress race, with its historic potential. Which was fulfilled by a truly glorious Viola Davis accepting with the one speech that was not stuttered in surprise or read from a crumpled bit of paper.
First quoting Harriet Tubman she brought the night to a crescendo with the words: "The only thing that separates women of color from anyone else is opportunity."
Several wonderful things happened after that — Mel Brooks appeared, as did Tracy Morgan, almost back to his old fine and feisty self after an horrific automobile accident last year. "Veep" won best comedy, ending the reign of "Modern Family" and "Game of Thrones" ushered in a new age in which sci-fi and fantasy could be considered "real" dramas, but there was no topping Davis' short but magnificent speech.
Except maybe Samberg's initial ode to those of us still staring at our flat screens desperately trying to keep up. It's nice to be appreciated, even by a host who swears he never reads a review.
MORE:
Emmy Awards: HBO, Jon Hamm and Viola Davis win big
Watch Andy Samberg's opening musical bit at the Emmys
---
The complete guide to home viewing
Get Screen Gab for weekly recommendations, analysis, interviews and irreverent discussion of the TV and streaming movies everyone's talking about.
You may occasionally receive promotional content from the Los Angeles Times.