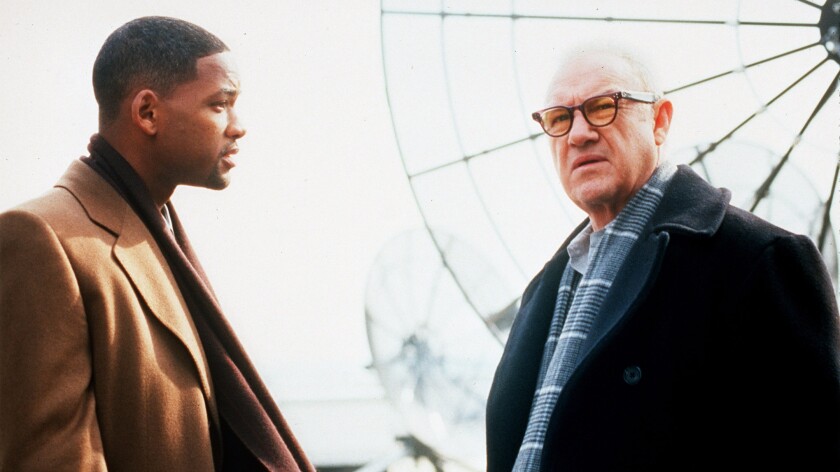 "Enemy of the State" is the latest hit film to find an afterlife on TV.
The 1998 espionage thriller, which starred Will Smith and Gene Hackman and was directed by Tony Scott, will be sequelized for ABC Studios, with original producer Jerry Bruckheimer returning.
Neither Smith nor Hackman is involved with the reboot.
The original film found Smith as an everyman framed for murder after being given a disc containing information about an assassination and its subsequent cover-up. He links up with Hackman's veteran spy to clear his name and unravel a government conspiracy.
The TV project, which has been given a put pilot commitment at the network, will take place 20 years after the film. When an NSA agent is accused of leaking classified info, a young attorney teams with a hard-nosed FBI agent to bring to light a much larger conspiracy.
"Blackhat" writer Morgan Foehl is behind the script, while Jonathan Littman and KristieAnne Reed will act as exec producers alongside Bruckheimer. Bruckheimer is also involved in CBS' upcoming remake of the 2001 film "Training Day."
With a sprawling cast that also included Jason Lee, Gabriel Byrne, Lisa Bonet, Regina King and Jack Black, "State" grossed more than $250 million worldwide.
This year has already seen a slew of TV shows based on movies hitting the small screen, including ABC's "Uncle Buck," CBS' "Rush Hour," the CW's "Frequency," HBO's "Westworld" and Fox's "The Exorcist" and "Lethal Weapon."
ALSO:
Haven't we seen this before? TV networks opt for safe bets in the 2016-2017 season
Review: Updated 'Rocky Horror Picture Show' bumpily time warps to 2016
Tom Cruise re-creates his entire film career for James Corden
---