'Murphy Brown,' 'The Conners' and 40 more shows premiering on the small screen this fall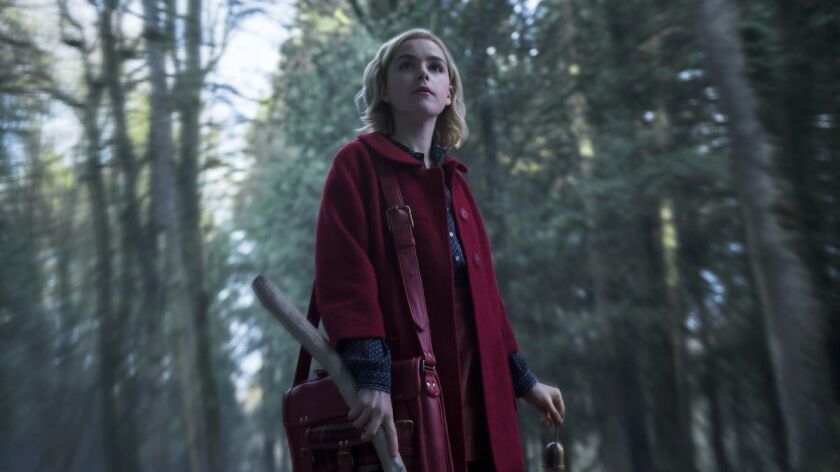 Television Critic
Possibly you have been too busy catching up with the summer's new series, or even the previous summer's new series, to have given much thought to the waves of new fall shows about to crash down upon the shores of your viewing time. But coming they are.
Sunday, Sept. 16
Warriors of Liberty City (Starz). A documentary series following a Miami youth football program founded by hip-hop's Luther Campbell.
For the record:
12:40 PM, Sep. 16, 2018An earlier version of this story reported the premiere date of "Salt Fat Acid Heat" as Oct. 19. It has been rescheduled to Oct. 11.
Tuesday, Sept. 18
The Hunt for the Trump Tapes With Tom Arnold (Viceland). Self-explanatory.
Friday, Sept. 21
The Good Cop (Netflix). Josh Groban plays Tony Jr., a straight-arrow NYPD detective who won't cross against a broken streetlight. His father, Tony Sr. (Tony Danza), formerly of the NYPD, now on parole and his son's roommate, is less particular. "You break one rule, they all break," says Tony Jr. "Don't quote your mother to me," says Tony Sr. They are cute together, and there's a murder to solve.
Maniac (Netflix). Intriguing, depressive weirdness in an alternate reality, dreamscape or deranged mental state, with every corner full of detail. Echoes of Thomas Pynchon, Charlie Kaufman, Spike Jonez, "Futurama" and "Legion." Jonah Hill and Emma Stone are pained souls on separate paths to volunteer in a pharmaceutical trial. "Your defense mechanisms are fungible," he's told. "You've been accepted."
Monday, Sept. 24
Manifest (NBC). Strange turbulence on Montego Air Flight 828 adds five years to the usual stress of air travel, as passengers arrive at their destination with all their tech out of date and having missed their own funerals. Returned-almost-from- the-dead drama integrates now-feel-this "This Is Us"-style family matters, a police thread, a medical thread and messages from the universe.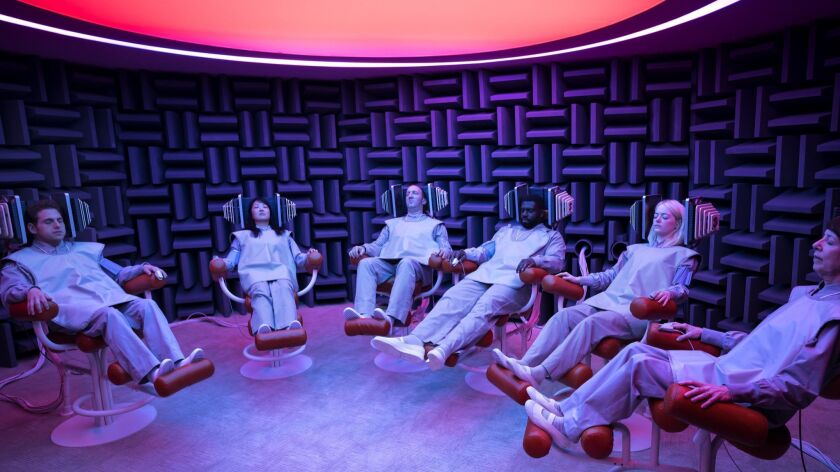 Magnum P.I. (CBS). The CBS reboot machine rolls efficiently on, with Jay Hernandez ("Hostel") a capable updating of Tom Selleck as the laid-back, Ferrari-driving Hawaiian island private eye. No mustache, Hawaiian shirts or baseball caps this trip, and Higgins, played in the original by John Hillerman, is now female (Perdita Weeks), with added fighting skills. But where you are is substantially where you were. Good-humored and a little violent.
Tuesday, Sept. 25
FBI (CBS). Dick Wolf ("Law & Order," et al., NBC's "Chicago" franchise), runs federal law enforcement through his "Dragnet"-with-action machine to make another naturalistic melodrama. Missy Peregrym ("Stick It") and Zeeko Zaki ("NCIS: Los Angeles"), looking capably grim in their windbreakers, scramble to keep New York City and environs safe from evil on a federal level. Ebonee Noel ("Law & Order: Special Victims Unit") just digs up the facts, ma'am/man, while Jeremy Sisto ("Six Feet Under") speaks in a loud voice to a room full of data-crunching computer jockeys.
New Amsterdam (NBC). "How can I help?" asks hot, heroic, rule-breaking yet reassuring Dr. Max Goodwin (Ryan Eggold) of everyone he meets, turning a New York hospital upside down and inside out to make it a place that makes people well and doesn't rob them if they can't. Based on a real-life medical director's memoir of New York's Bellevue Hospital, it simultaneously confirms and calms your worst fears about healthcare.
Mr. Inbetween (FX). Australian noir, well-written by and starring Scott Ryan ("The Magician") as a hood for hire, the bad guy you are meant to like more than the worse bad guys that surround him.
Wednesday, Sept. 26
Single Parents (ABC). Cynical single folks of too-precocious children (including Leighton Meester and Brad Garrett) form a knot of refusal within their elementary school ecosystem ("We don't volunteer," says Meester, "We just try and survive until a time in the day when it's appropriate to open wine"). Taran Killam ("Killing Gunther") plays the new-to-school energetic softy who might soften them, even as they toughen him up.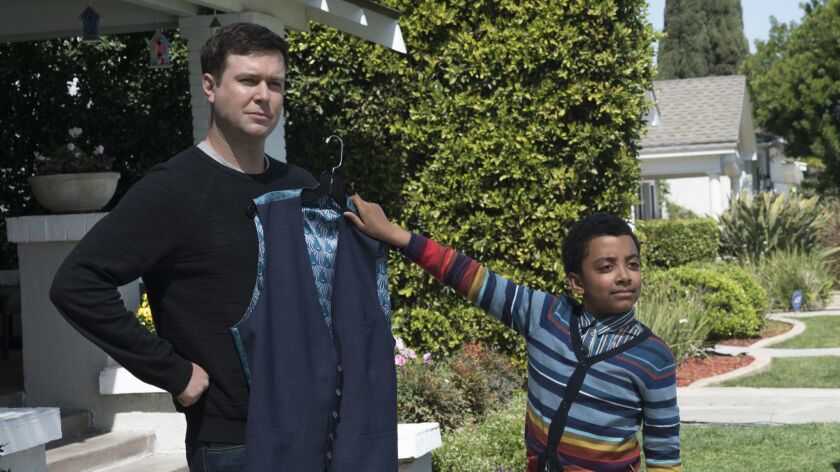 FULL COVERAGE: 2018 fall TV preview »
A Million Little Things (ABC). Pensive, plush What Hath Life Wrought series, in the human comedy/human drama mode "This Is Us" has made bankable. Ron Livingston ("Loudermilk") , David Giuntoli ("Grimm"), Romany Malco ("Weeds") and James Roday ("Psych") are four dudes whose intertwined lives backtrack from a mysterious tragedy. One of them was in a band that once opened for Kings of Leon, which means we have reached the point where knowing Kings of Leon makes you old.
Thursday, Sept. 27
Murphy Brown (CBS). Candice Bergen's broadcast journalist, born in the age of George Herbert Walker Bush, is back for the age of Trump, with creator Diane English again running the show and Faith Ford, Joe Regalbuto and Grant Shaud putting on their old roles. Will Mike Pence prove the revival's Dan Quayle, please?
Friday, Sept. 28
The Cool Kids (Fox). A co-ed "Golden Girls," with David Alan Grier (the grumpy one), Vicki Lawrence (the sharp one), Martin Mull (the one with a complicated or imaginary past) and Leslie Jordan (the tiny, timid one) cutting up quasi-rebelliously in a retirement community, confused by what the world no longer allows and what it does. Geriatric in a couple of senses, but with old-pro performances.
RELATED: With decades of comedy experience, Fox's 'The Cool Kids' are in again »
Made in Mexico (Netflix). "Real Housewives" south of the border, but not limited to housewives and with better production values and bilingual dialogue. The message remains the same: El dinero no puede comprar felicidad.
Sunday, Sept. 30
God Friended Me (CBS). "Joan of Arcadia" with a touch of "Wonderfalls," for the Facebook generations. Brandon Micheal Hall ("The Mayor") is a loudly self-professed atheist who gets a friend request from "God" – probably the actual God – and is led into situations that can't be coincidental because they are all arranged by the writers. Violett Beane ("The Flash") is the journalist whose path runs back and forth across his; Joe Morton ("Scandal") plays his father — a reverend, wouldn't you know it!
Monday, Oct. 1
The Neighborhood (CBS). Frolicsome, racially themed "Green Acres," with Max Greenfield ("New Girl") as an aggressively friendly Midwesterner who moves his family into a black neighborhood in Los Angeles. Cedric the Entertainer ("The Soul Man") plays his dubious neighbor: "You let one family like that move in and the next thing you know, it's going to be a bunch of dudes jogging around in their little short-shorts walking their vegan Labradoodles."
RELATED: Cedric the Entertainer is bringing authenticity to CBS' 'The Neighborhood' »
Happy Together (CBS). Damon Wayans Jr. ("New Girl") plays an accountant whose superstar singer client (Felix Mallard, looking a little like executive producer Harry Styles) moves in with him and wife Amber Stevens West ("Greek"), shaking up their too-routine routine and prompting jokes about youth and age. The title notwithstanding, the singer is not from the Turtles.
Thursday, Oct. 4
I Feel Bad (NBC). Sarayu Blu ("Blockers") stars in an energetic, Amy Poehler-produced situation comedy about a woman juggling parents, children, husband, a workplace full of knuckleheads (amusing, young, male – she designs games) and her own expectations. I think she is too hard on herself.
RELATED: Stop feeling bad — NBC's comedy 'I Feel Bad' does the job for you »
Friday, Oct. 5
Dancing Queen (Netflix). Docuseries follows"RuPaul's Drag Race" favorite Justin Johnson (a.k.a. Drag Superstar Alyssa Edwards) back home to Mesquite, Texas, where he schools youngsters in dance and fabulousness.
Into the Dark (Hulu). Horror anthology from Blumhouse (the company behind "Get Out" and "The Purge"), set to run year-round, with new content posting monthly.
Sunday, Oct. 7
Star Wars Resistance (Disney). Cartoon series set between when the Jedi returned and the Force awakened.
Wednesday, Oct. 10
All American (CW). Compton high school football star Daniel Ezra ("The Missing") is recruited by coach Taye Diggs ("The Best Man") to play for Beverly Hills High, creating the mix of "Friday Night Lights" and "Beverly Hills 90210" you never expected (though something like it actually happened, to pro player Spencer Paysinger). Drama, sometimes the same drama, on the field and off.
Thursday, Oct. 11
Salt, Fat, Acid, Heat (Netflix). Lovely to behold, peripatetic food show, featuring writer and cook Samin Nosrat. Where is sugar, one might well ask?
Friday, Oct. 12
The Romanoffs (Amazon Prime). Globally set anthology series from Matthew Weiner ("Mad Men") about people who believe themselves descended from the Russian royal family.
Light as a Feather (Hulu). Teenagers caught in a horror story after a party game goes wrong is every party I ever went to as a teenager.
The Haunting of Hill House (Netflix). Shirley Jackson's celebrated is-it-a-ghost-story is smartly blown out into a then-and-now, broken-family drama. A big, great cast includes Michiel Huisman, Carla Gugino, Timothy Hutton, Elizabeth Reaser, Henry Thomas and Annabeth Gish.
Sunday, Oct. 14
Camping (HBO). Jennifer Garner ("Alias") and David Tennant ("Broadchurch) in a situation comedy wherein nonsense, shenanigans and confrontations color a birthday celebration in the wild. With Ione Skye, Juliette Lewis, Bret Gellman and Arturo del Puerto among interesting others.
Charmed (CW). A more pointedly feminist remake of the supernatural sisterhood series, co-developed by "Jane the Virgin" showrunner Jennie Snyder Urman, with Melonie Diaz ("Fruitvale Station"), Sarah Jeffrey ("Wayward Pines") and Madeleine Mantock ("Into The Badlands") as good witches working the Power of Three to keep the demons away. (The scares are there.) I won't call it charming, because that would be too obvious — but it is.
The Alec Baldwin Show (ABC). Prime time talk.
Tuesday, Oct. 16
The Conners (ABC). "Roseanne" sans Roseanne.
The Kids Are Alright (ABC). ABC's stable of ethnic, period and period ethnic family comedies is joined by this bright tale of a big Irish-Catholic brood in 1972 L.A. Timmy (Jack Gore) is an early middle child semi-obscured among eight boys, imagining a life in the theater; parents Mary McCormack ("In Plain Sight") and Michael Cudlitz ("The Walking Dead") bend just a little with the times. With the great Paul Dooley ("Breaking Away") as a bingo-calling priest.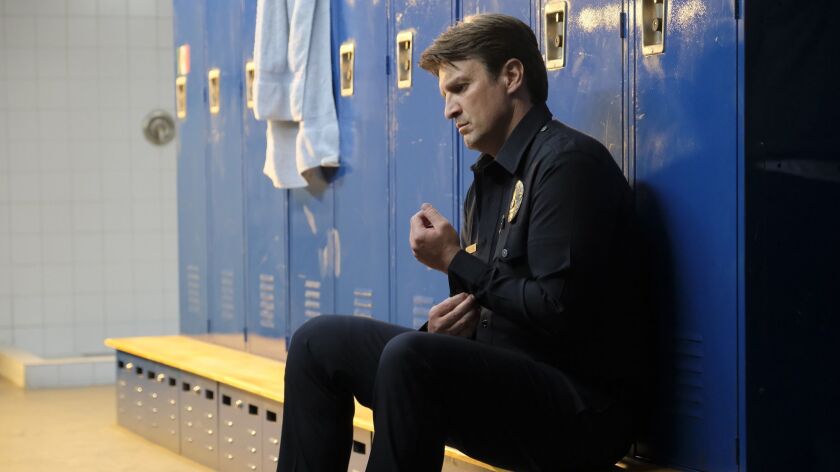 The Rookie (ABC). Nathan Fillion ("Castle") plays a small town man of middle years who joins the LAPD. Lots of driving and running and shooting, handily done, but the star could also handle a few more jokes, if they'd care to write him some.
Friday, October 19
Wanderlust (Netflix). Toni Collette ("Hereditary") in a BBC co-production about a therapist wondering about the health of her marriage in the aftermath of a cycling accident. It doesn't take much!
Friday, Oct. 26
Chilling Adventures of Sabrina (Netflix). "Sabrina the Teenage Witch" gets "Riverdale"-ed, in a reboot that manages to maintain the heroine's sparkle while darkening the world around her, late "Harry Potter"-style. Will Sabrina (Kiernan Shipka) sign her name in the Dark Lord's book and transfer to the Academy of Unseen Arts, with its lace-collared mean girls, or stay in high school with Harvey (Ross Lunch)? Includes a critique of "puritanical masculinity." The cat, sadly, is not a puppet.
Sunday, Oct. 28
Busy Tonight (E!). Busy Philipps ("White Chicks") gets a nearly nightly talk show.
Wednesday, Oct 31
Tell Me a Story (CBS All Access). Kevin Williamson, of "Scream" and "Dawson's Creek," turns the fairy tales you know into modern psychological thrillers.
Friday, Nov. 2
Homecoming (Amazon Prime). Podcast-derived psychological thriller from "Mr. Robot" creator Sam Esmail stars Julia Roberts as a caseworker helping veteran Stephan James return to civilian life.
Wednesday, Nov. 7
Clique (Pop). Bad behavior at a British university.
Friday, Nov. 16
The Fix (Netflix). Ten-episode series hosted by British comic Jimmy Carr seeks solutions to big issues through comedy.
RELATED: 'Castle' may be over, but Nathan Fillion is back on ABC as 'The Rookie' »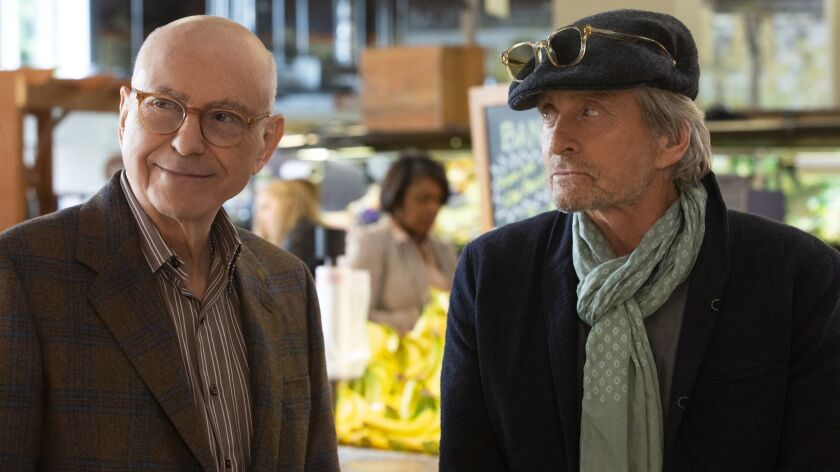 The Kominsky Method (Netflix). Michael Douglas, 73, as an acting teacher, and Alan Arkin, 84, as his agent, in a comedy that might well have begun with the words "Get me a male 'Grace and Frankie.'" Subjects include: aches, pains, flatulence, prostate trouble, early bedtimes, not being able to figure out the chip reader at the market and some Abbott and Costello back-and-forth on the name Ludacris. Nancy Travis, a gamine at 56, brings sparkle.
Sunday, Nov. 18
Escape at Dannemora (Showtime). True-life prison-break tale is converted into a limited series starring Benicio del Toro and Patricia Arquette and directed by Ben Stiller.
Monday, Nov. 19
The Little Drummer Girl (AMC). Korean director Park Chan-wook ("Oldboy," "The Handmaiden") directs Alexander Skarsgård, Michael Shannon and Florence Pugh in an adaptation of John Le Carré's thriller, set against Israeli-Palestinian tensions of the late '70s. Thank goodness that's all settled now.
Follow Robert Lloyd on Twitter @LATimesTVLloyd
---
Inside the business of entertainment
The Wide Shot brings you news, analysis and insights on everything from streaming wars to production — and what it all means for the future.
You may occasionally receive promotional content from the Los Angeles Times.