Cedric the Entertainer is bringing authenticity to CBS' 'The Neighborhood'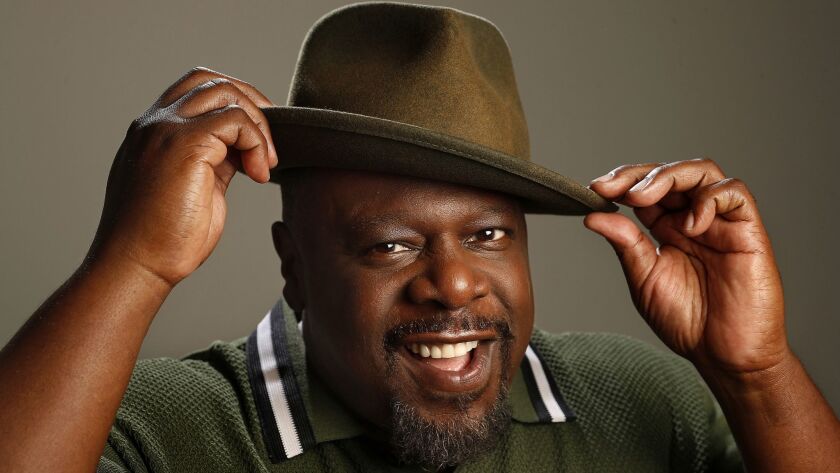 The living room set of CBS' "The Neighborhood" has a distinctly African American vibe — there's an Obama commemorative plate and black art on the wall.
The show's star, Cedric the Entertainer, marches over to his chair, sinking down into a dark brown leather recliner, the same one his proud and opinionated character, Calvin Butler, uses in the sitcom, to talk about his latest comedic project.
Premiering Oct. 1, "The Neighborhood" humorously explores the fallout after a white family moves into a historically and predominantly black working class neighborhood. "I'm the guy that feels like we've built the neighborhood up and now I can see gentrification coming this way," says Cedric.
The comedy also stars Max Greenfield ("New Girl") as Dave Johnson, Tichina Arnold ("Martin") as Tina Butler, Calvin's wife, and Beth Behrs ("2 Broke Girls") as Gemma Johnson, Dave's wife. The series is loosely based on creator Jim Reynolds' experience moving into a Pasadena neighborhood.
On this day, Cedric has wrapped up a notes session after rehearsing the series' fifth episode, which is centered on a game night involving the Butlers and the Johnsons. "We get into the differences of how you play games. Like black people, we always got extra rules," he said with a smile.
FULL COVERAGE: 2018 fall TV preview »
The comedian is a veteran of several TV series, including "The Steve Harvey Show," "Cedric The Entertainer Presents" and "The Soul Man." But when he was first approached about "The Neighborhood," he didn't feel the show presented a strong voice for African Americans.
The show was first developed from Dave Johnson's point of the view — that was the perspective Reynolds could write most authentically. But it didn't feel quite right. Reynolds, a "Big Bang Theory" veteran, originally envisioned the show as a way to tell stories about his neighbors who weren't represented in television.
"I wanted to use my position as a white man in this business to tell stories that needed to be told and open doors," he said.
In Cedric, he found a crucial creative partner.
"When Cedric became involved, it provided the opportunity to have an authentic African American point of view," Reynolds said. "It was not love at first sight. Going into this situation, there were things we disagreed on how to proceed, but we liked each other."
What we deliver, it has a degree of truth and really great humor and sensibility in… what represents a black family in this day and age.
— Cedric the Entertainer
As both a star and executive producer on "The Neighborhood," Cedric oversees casting, set designs and consults with the writing staff to ensure that the show convincingly reflects African American culture.
"When the show was first developed, it wasn't necessarily a strong voice for what the black people are feeling," Cedric said. "What we deliver, it has a degree of truth and really great humor and sensibility in… what represents a black family in this day and age."
After wrapping up "New Girl" and watching "The Neighborhood's" original pilot, Greenfield — who replaced actor Josh Lawson as Dave Johnson — says the show presented another opportunity to join a strong cast.
"Jim Reynolds … didn't want this show to be the perspective of another middle-aged white guy, and as an actor, I was taking the same approach of doing another TV show," Greenfield said. "It was a multicultural sitcom that was allowing real moments and emotional moments and not necessarily cutting them immediately with a joke."
Working alongside Cedric has been invaluable, Greenfield added. "Obviously, he's really funny, but he's a tremendous leader, and he's definitely the No. 1 on set."
Although Cedric hasn't quite experienced a real-life Butler versus Johnson conflict, the 54-year-old cheerfully reflected on some of the neighborhoods he's called home over his life and career. Born in Missouri, Cedric recalled two childhood neighborhoods when "the Entertainer" was simply known as Cedric Kyles.
Until he was about 10, Cedric lived in Caruthersville, Mo. — a small Southern town where the black and white populations came together only during football games, and then he moved to the more integrated St. Louis. After heading west to further pursue a career in entertainment, Cedric first lived in a predominantly Latino neighborhood in California, where he didn't always feel comfortable.
"That was one of my most interesting experiences, because it was alarming to see people in a social environment and recognize, 'Oh, I don't know what this behavior is, and I'm not sure if I'm welcome in it,'" Cedric said.
After building a successful stand-up career, where he was known for his easygoing and lighthearted stage presence, Cedric transitioned into acting. He's starred in TV shows and films, including the "Barbershop" series and Spike Lee's "The Original Kings of Comedy," and he took on his first dramatic role this year in Paul Schrader's "First Reformed," with Ethan Hawke.
For Cedric, "The Neighborhood" is unique because it presents an opportunity to expand his fan base while also leading new audiences to the network, which has been criticized for a lack of diversity in its programming.
"My career is a diverse career, but my core audience has been African American," he said. "And then CBS is a unique environment in the sense that it is a largely … white American network.
"To be able to bring my urban audience, my African American audience over to the network, I think there is the potential for great conversation."
During early market testing, Cedric and Reynolds got a taste of how viewers would react to the sitcom. It was in the moments when the show directly confronted race where the producers received the most polarized reactions. When asked about specifics, Reynolds said he could not recall any, calling testing "a horrible blur." "That was the thing that made [viewers] the most uncomfortable, but where they were paying the most attention," Cedric said.
"We all know race is a problem in America," Reynolds said. "But no one wants to say anything for fear of being judged, so hopefully, a TV show can facilitate discussions in a comfortable, safe space where that sense of humor can be that disarming factor."
Like the show, which attempts to bridge commonalities among races, families and generations, Cedric also hopes that viewers can find that common ground through comedy.
"Because it's a multi-cam sitcom, it's not like something you would see on HBO that … really tries to push you to the edge of provocation," Cedric said. "There is an opportunity where people, all families, everybody, could watch the show and get a good laugh on Monday nights."
---
The complete guide to home viewing
Get Screen Gab for everything about the TV shows and streaming movies everyone's talking about.
You may occasionally receive promotional content from the Los Angeles Times.