Review: In Amazon's 'Forever,' Fred Armisen and Maya Rudolph face the highs and lows of marriage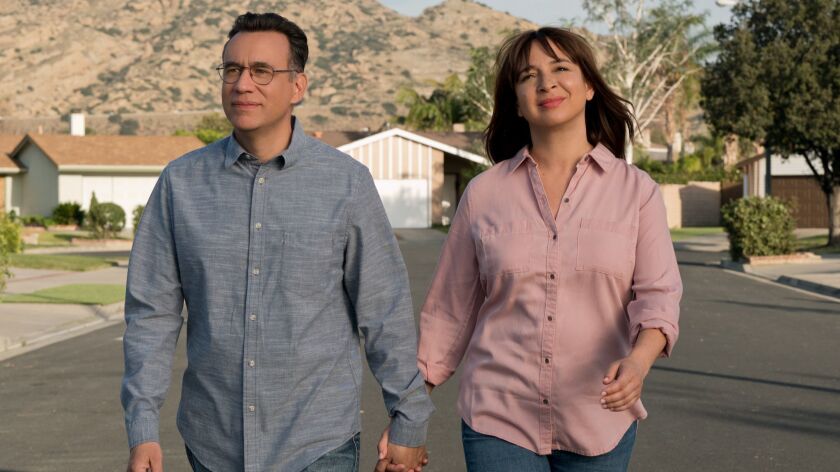 Television Critic
If you have read anything at all about "Forever," a new Amazon Prime series starring Fred Armisen and Maya Rudolph as a married couple, you know that there are secrets in it that the creators have asked reviewers to keep at least as concealed as the people who made it have. The themes, or some of them, have been made public – it's a story about love and time, monogamy and monotony, the freedom to choose, and the freedom that choosing brings – but the premise itself has been hidden behind a firewall.
Spoilers are called that for a reason. And while some producers are liable to class what one might reasonably consider a small detail as liable to ruin the viewing experience entirely, most critics are happy to omit even mildly surprising plot points from their writing both in the name of collegiality and because we've all had a book jacket or trailer tell us more than we want to know.
The list of forbidden details creators Alan Yang (co-creator of "Master of None") and Matt Hubbard ("30 Rock" and, like Yang, a veteran of "Parks and Recreation") have sent to critics is short but substantial, and as a result, most reviews of "Forever" are liable to look more than usually alike as they dance around what will prove to be the central conceit of the series. (And discuss spoilers as a concept, as above.)
At the same time recaps are not reviews, and Yang and Hubbard have done themselves the incidental favor of forcing critics to reckon instead with themes, performances and mood.
Armisen plays Oscar; Rudolph is June. The series opens with a side-scrolling montage, deftly detailing the birth and growth of their relationship, from meeting, through marriage and beyond. (One brilliantly evolving shot expresses regret about not having children.) It's set to Miles Davis' pensive 1956 recording of Rodgers and Hart's "It Never Entered My Mind," a song about being left alone, and we know by the time the characters actually start talking that we are under a kind of cloud, in a place where even kindness can become wearing.
Yet Yang and Hubbard don't let us make up our minds completely or comfortably. Oscar and June have their downs but also their ups, which keep us invested in them as a couple. They play oddball verbal games, riffing on "the best all-time way to sit, ever" or the best thing you can do with half an hour ("You get into a warm bed, eat a large McDonald's fries and sleep for 25 minutes").
Describing a fish pictured on a calendar as if it were a hunky fireman, Oscar says, "Looks like he'd take you out to a nice dinner — if things weren't going well, you could rip out his skeleton and eat him." June: "That sounds so romantic; you know, I did that to a guy in college once." And yet there is a melancholy stillness to their fun and games.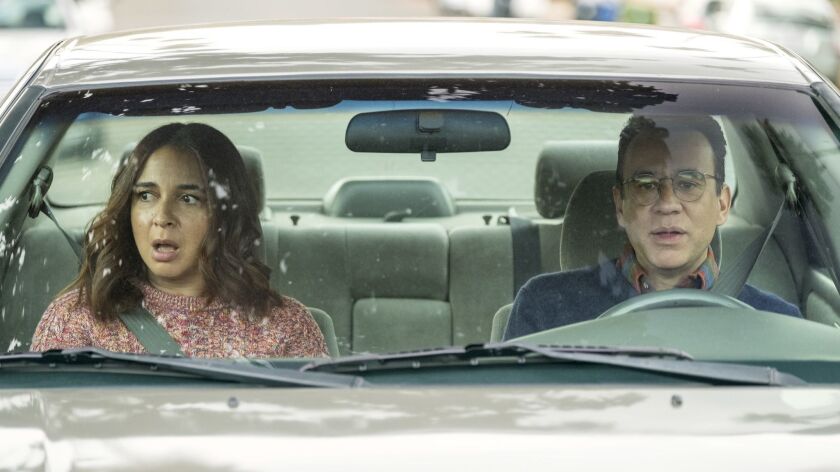 "Forever" asks big questions, sometimes explicitly, about life and how to live it. Set under the bright, hard Southern California light, it's a philosophical comedy one might classify as Sunshine Sartre, or Suburban Beckett.
But a comedy it is, and, though it is not always looking for laughs, often a funny one (I particularly love Oscar on the crossword puzzle he's ineptly filling in: "I think I'm close on this one — I think the theme is misspelled states"). There is some good physical business in the opening episode surrounding a ski trip that has the flavor of a sketch from "Portlandia," one of the two series (along with "Documentary Now!") that have occupied Armisen over recent years. (He and Rudolph are, of course, former "Saturday Night Live" cast mates.)
Rudolph does so many things so well it's easy to overlook just how exceptional a performer she is. Centered and smart, with a subtle radiance, she's a star with the gift of seeming ordinary. (A little like Doris Day, another freckled polymath who made everything look easy.) Though Oscar has his own threads to follow, most significantly a sort of mentoring friendship with an angry teenage neighbor (Noah Robbins as Mark), "Forever" is largely June's story, her quest, her crooked path toward awakening. More than a couple episodes end on her face, in meaningful close-up.
Oscar, by contrast, is almost aggressively content – passive-aggressively content. "Every relationship needs a peace keeper," he says. Armisen, who makes normalcy look like a quirk – perhaps it is all those weirdos he's played over the years – seems an odd fit at times; drama (and there is drama) is not quite his thing. Yet in the end, even his shortcomings feel right enough. I can't imagine another actor in the part.
Although "Forever" feels fresh 95% of the time, it does borrow structural elements from romantic comedies. June gets a single best friend (Kym Whitley) to cock a skeptical eye at marriage, which she calls "bleak," and a new neighbor to upset the status quo. (Catherine Keener, in her second great performance of the season, after Jim Carrey's Showtime series "Kidding").
The series does not completely remake the rules of the genre to which viewers will ultimately discover it belongs, but it leaves its own mark on them in ways that are lovely, touching, strange and liable to stay with you after the curtain — hopefully just a first act — rings down.
ALSO:
Last chance to put a bird on it: 'Portlandia' closes up its painfully hip artisanal shop this season
Working on the latest 'Documentary Now!' episode is like 'SNL' all over again for Armisen and Hader
Longtime friends Melissa McCarthy and Maya Rudolph are the 'Life of the Party'
NBC tries for a little (more) variety with 'Maya & Marty'
Aziz Ansari has 'legit' pasta-making skills, says 'Master of None' co-creator Alan Yang
------------
'Forever'
Where: Amazon Prime
When: Any time
Rated: TV-14 (may be unsuitable for children under the age of 14)
Follow Robert Lloyd on Twitter @LATimesTVLloyd
---
Inside the business of entertainment
The Wide Shot brings you news, analysis and insights on everything from streaming wars to production — and what it all means for the future.
You may occasionally receive promotional content from the Los Angeles Times.