Last chance to put a bird on it: 'Portlandia' closes up its painfully hip artisanal shop this season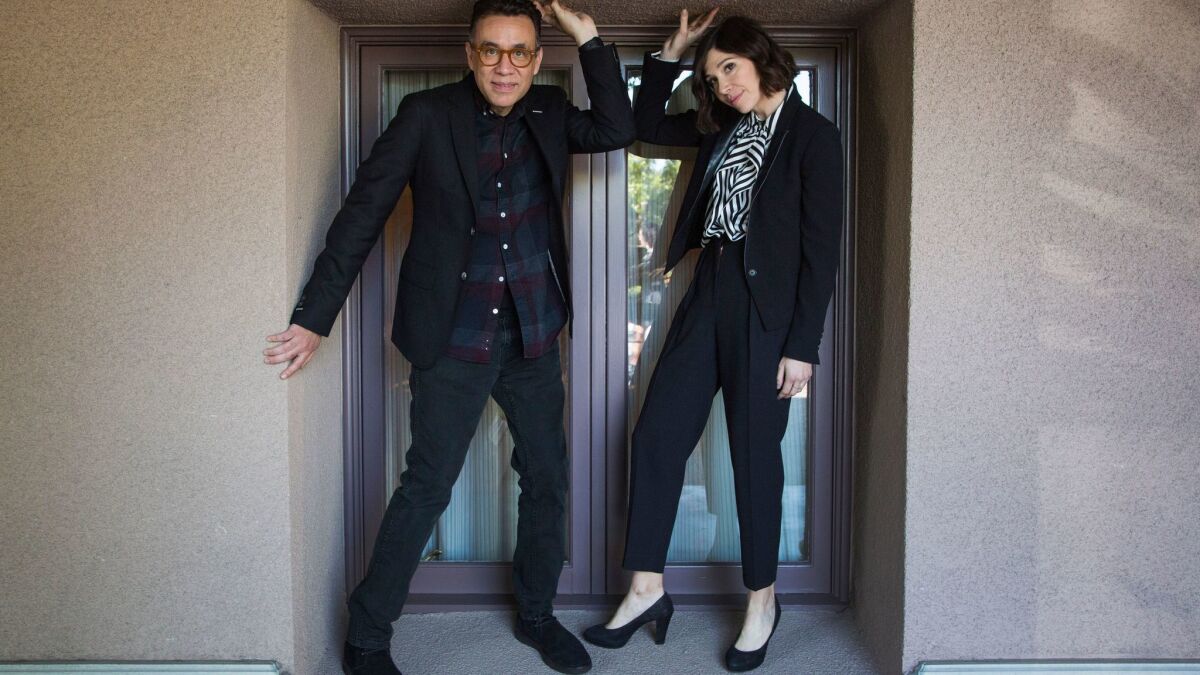 After seven seasons of the wacky and odd, "Portlandia" is reaching its wit's end.
The IFC sketch comedy series that gently skewers the hipster culture of Portland, Ore., launches its eighth and final season Thursday. The show, a flagship for a cable network that specializes in alternative comedy, poked fun at artisan shops, community gardens and quirky characters as it positioned Portland as "the place young people go to retire."
Stars and executive producers Fred Armisen and Carrie Brownstein, who created "Portlandia" along with Jonathan Krisel ("Baskets"), announced last year that the eighth season would be the last, allowing them to devote more time to their various individual pro-jects.
While pleased with the decision to end the show on their own terms, Armisen, a "Saturday Night Live" alum, and Brownstein, who plays in the Portland-based indie rock bands Sleater-Kinney and Wild Flag, admit to mixed emotions now that the production that showcased their offbeat comedic sensibilities is wrapped.
"There's a bit of strangeness to it," Brownstein said, seated next to Armisen during a recent joint interview in Pasadena. "It will feel very pronounced next spring when we're not in the writers' room. Right now, it's intangible."
"What was most important to us," said Armisen, "was not so much that this was the final season. The most important thing was 'How can we make this funny?' It really wasn't until the last month that we started thinking, 'Oh, this is the end.' On the last day of shooting, it was pretty dramatic and really sad. Everyone on the crew came out. It was a nice feeling. We made it to the finish line together. We weren't canceled."
Since its 2011 premiere, "Portlandia" has won accolades from critics and viewers amused by the show's observational commentary on hipster culture.
One signature sketch suggested that you can put a bird on anything in Portland and call it art. A quaint neighborhood store run by guest star Jeff Goldblum sold only doilies. (Another gag had him selling intricate knots.) Brownstein's boyfriend in one sketch sported a tattoo of Pearl Jam's Eddie Vedder that talked. Armisen and Brownstein portrayed numerous characters, including Toni and Candace, the bohemian feminist owners of the Women and Women First bookstore.
The series earned a Peabody Award and has won several Emmys and been nominated three consecutive times for variety-sketch series. "Portlandia" was also a key player for IFC as the network switched its focus from independent film to a brand that highlighted comedy.
"The show changed everything for IFC," said Jennifer Caserta, its president and general manager. "It defined our brand, and put the network on a new level in the world of comedy. I was prepared for this being the final season, but I'm still emotional about it."
Kyle MacLachlan ("Twin Peaks"), who had a recurring role as the mayor of Portland, said he wasn't clear on exactly what he had signed up for.
"I didn't understand what it was going to be," he said. "But I knew the people involved were so creative. It was a very pleasing and satisfying experience. I will miss it. And Portland really embraced the show."
The final 10-episode season will be a mix of the old and familiar, including the return of Toni and Candace.
The first installment has a sketch about the reunion of '80s punk band Riot Spray, and how its musicians struggle to reconcile their former radical outrage with their current middle-class lifestyles ("My deck guy is calling — I have to take this," says one member during a rehearsal).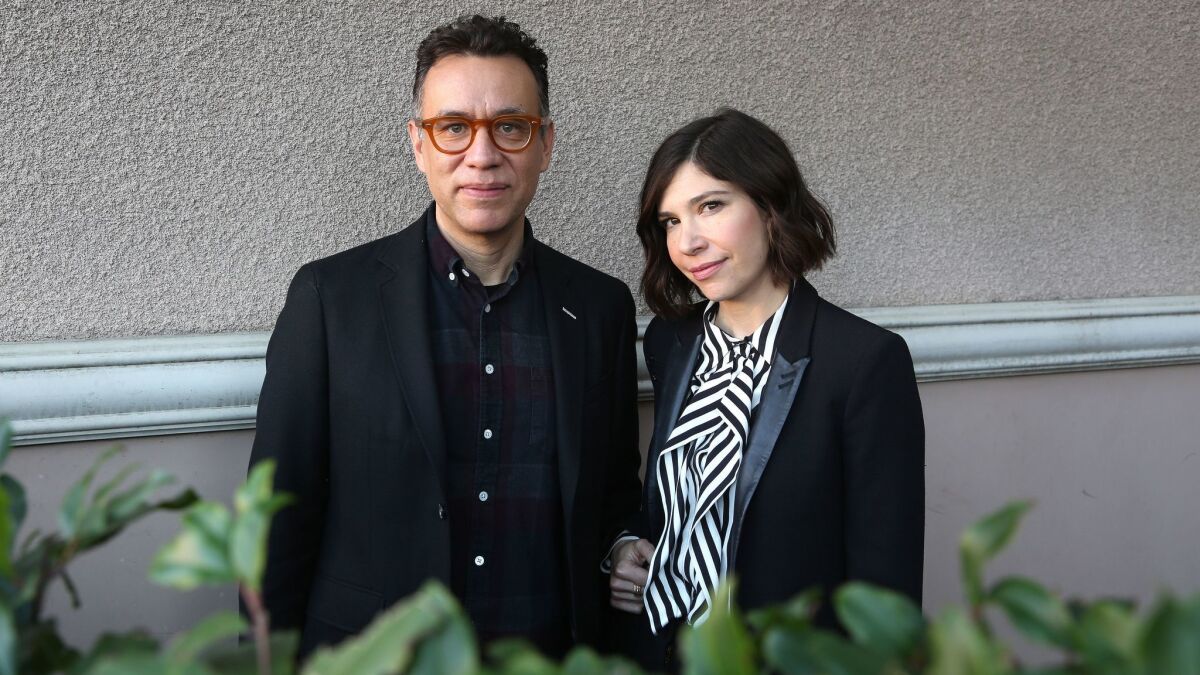 From very early on, 'Portlandia' was not about what we wanted to say about Portland. It was about what we wanted to say about people, and about ourselves.
— Fred Armisten
Although Portland was a central component of the series — the show was shot primarily in locations all over the city — Armisen stressed that the show was more about personalities and human nature than a specific area.
Armisen said, "From very early on, 'Portlandia' was not about what we wanted to say about Portland. It was about what we wanted to say about people, and about ourselves. It was about characters more than the city. That city exists everywhere."
As the interview continued, Armisen and Brownstein complimented each other. Close friends for several years before they started on "Portlandia," the project solidified their bond.
Looking at Brownstein, Armisen said, "More than anything, the show was about our friendship. It was about, 'What do you call this thing, this relationship of two people who are not necessarily a couple?'"
The duo strives to perform characters from a place of understanding. Sound too serious? Don't worry, we cover the show's few examples of bathroom humor too.
"People always want to compartmentalize relationships — 'this is my professional relationship, this is my romantic relationship, this is my friend relationship,'" Brownstein said. "For us, it's all part of the same fabric. It's such an exploration to go on with someone, to have them see the worst of you, to present yourself as a porous, vulnerable being that they're forced to be around for a long time. It's helped me value all kinds of relationships in my life."
The two are already at work on other projects. Armisen is teaming up with his old "SNL" pal Maya Rudolph for a still-untitled comedy series on Amazon, while Brownstein is working on developing a series for Hulu based on her memoir, "Hunger Makes Me a Modern Girl."
Though their "Portlandia" wigs and wacky outfits have been put in storage, Armisen and Brownstein are not totally closing the door on "Portlandia."
"Our hope is that people will still be watching it — there are folks who are just now discovering the show," Armisen said. "We might do a stage show in the future, or something like that. We all love to work with each other."
'Portlandia'
Where: IFC
When: 10 p.m. Thursday
Rating: TV-14 (may be unsuitable for children under the age of 14)
Twitter:@GeBraxton
Get our L.A. Goes Out newsletter, with the week's best events, to help you explore and experience our city.
You may occasionally receive promotional content from the Los Angeles Times.