As analysts, Pete Rose and Alex Rodriguez are knocking it out of the park. Who knew?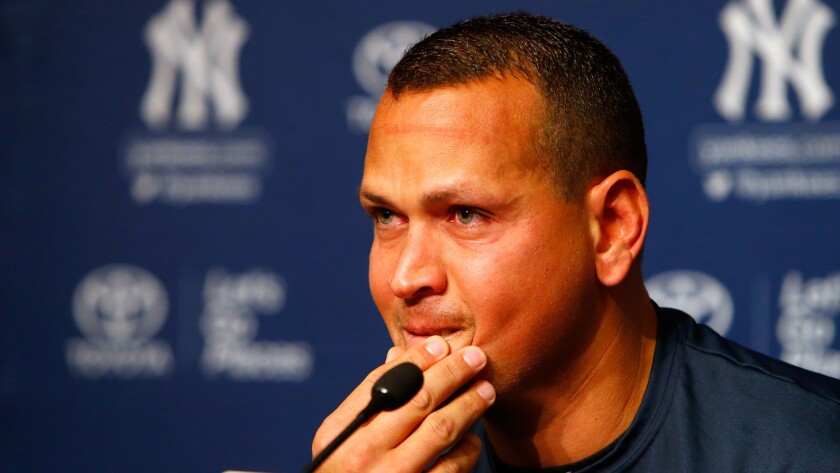 TV has a new odd couple hit on its hands.
In the spirit of Lucy and Desi and Sam and Diane, we now have Pete Rose and Alex Rodriguez to laugh with on autumn nights.
In an era when sports announcers can't seem to utter a sentence without a stat in it, Rose and Rodriguez have brought grass-stained insight and ragged wit to Fox's pre- and postgame baseball coverage this week during the Cubs-Dodgers series.
Who'd have seen this coming? Yet, here they are, fall's unlikeliest must-see show. Rodriguez is New York slick, while Rose looks like a cooler in a down-market casino. If he shows up at the studio with his bow tie straight, some production assistant must be assigned to turn it to 2 o'clock.
It seems even more unlikely because of the former players' negative public perceptions and checkered pasts. One faces a lifetime ban from baseball after he bet on games, and the other was more juiced than a grapefruit tree.
But the reviews are in, on social media and otherwise: Rose and Rodriguez are knocking it out of the park. Fox's pre-game ratings are up 49% over last year. Often, the shows are better than the games themselves.
"People can tell we're having fun," Rose said by phone before Thursday's show. "We're getting a lot of people who are staying tuned in after the show.
"This is an important time for baseball."
Assists go to host Kevin Burkhardt and low-key former slugger Frank Thomas as third sidekick, a warm and huggable presence, not to mention one of the game's class acts.
Meanwhile, there is nothing new to the format, other than an insistence not to rush things.
"What we wanted to do is let them have time to breathe, to let them have questions," said John Entz, president of production and executive producer for Fox Sports. "Pete especially is a great listener.… He picks up on stuff from the field, or in the studio.
Entz put the team together last year, without much fanfare or notice. This year, it all clicked.
The daily ringleader is coordinating producer Bardia Shah-Rais, who Entz credits with "setting the tone and keeping it loose." Entz admits to being influenced by the success of the NBA studio show "Inside the NBA" featuring Charles Barkley and Shaquille O'Neal.
"It's incredibly flattering," he says of being compared to the TNT version.
Entz says that the personalities in his new show are key, but so is the mix of useful information and entertaining asides. "It's not just a show to have fun with," he insisted.
But fun it is, a textural triumph in an era of sabermetrics-weary fans.
It soars because of Rodriguez's astute analysis, and just the right mix of humor here and there. He does his homework, but also stays in the moment.
"Of 108 pitches, 100 were some kind of fastball," Rodriguez said after Jon Lester's win Thursday.
The analysts also foreshadowed what the Cubs needed to do after a Tuesday blowout: advocating for small ball and putting runners in motion, which is exactly what happened.
"He came to the Cubs for these types of games," Rodriguez said before pitcher John Lackey threw a gem.
"You're only as good as your players," Rose said of the two managers' options.
Candid. Informed. Authentic. Locked in. Pete Rose is just what the game needs right now. He might be the only real ballplayer we have left.
Coming off a 22-year career, three MVP awards, a fling-and-a-miss with Madonna and several other Hollywood actresses, A-Rod would seem to be "a known brand."
Over the last two weeks, he has been anything but that. A-Rod has become the thing we'd least expected: likable.
Then there is Rose, feisty and abrupt, the polar opposite to A-Rod's polish, what one fan described on Twitter as "the crazy uncle at the Thanksgiving table."
He's got that great mug and the complexion of an old glove that turned up in the corner of your garage. He fills out that wet suit/tux he wears with some remarkable geometry.
Candid. Informed. Authentic. Locked in. Rose is just what the game needs right now. He might be the only real ballplayer we have left.
"I wasn't no Punch and Judy," he said Wednesday, when the three hitters discussed their power stats. "Ain't no Judy around here."
There is crazy chemistry though, proving once again that television is most of all about casting.
"I get along with Frank Thomas like a brother," Rose explained.
It's a comfort zone with a big upside for Fox. Entz says no major changes are planned for World Series coverage, other than to be sure that the stadium sets give the personalities a chance to be out among the fans.
Meanwhile, Rose and Rodriguez are healing their own public personas while giving the game itself a wider audience and a much-needed lift.
What they've delivered is not just good baseball. It's good TV.
Twitter: @erskinetimes
---
UPDATES:
Updates with more exchanges and analysis from Rose and Rodriguez
---
Inside the business of entertainment
The Wide Shot brings you news, analysis and insights on everything from streaming wars to production — and what it all means for the future.
You may occasionally receive promotional content from the Los Angeles Times.