Fred Willard finds solace from tragedy in an unlikely place: 'Jimmy Kimmel Live!'
As a kid growing up in Las Vegas, Jimmy Kimmel would always find a way to stay up past his bedtime to watch Fred Willard play delightfully dim talk show sidekick Jerry Hubbard on the syndicated series "Fernwood 2 Night."
He worshiped the comedic actor, whose 50-year career includes films such as "Waiting for Guffman" and "Best in Show" and recurring characters on dozens of TV series including "Everybody Loves Raymond" and "Modern Family." Kimmel was more than ready to lend his hero a helping hand when Willard truly needed one: In July, Willard's wife of 50 years, comedian and playwright Mary Willard, died unexpectedly and left him devastated and unsure about working again.
About a month after Mary's death, the writers for Kimmel's late-night talk show came to him with an idea mocking President Trump's "space force." As it turned out, the bit was perfect for Willard: In the late '70s, he happened to star in a failed TV pilot called — yes — "Space Force." The call went out to see whether Willard would be interested in doing the sketch.
"I didn't see it as helping him out as much as it was just that he's one of the funniest people in the world," Kimmel says. "And wouldn't it be nice to bring him here so he's surrounded by a lot of supportive people?"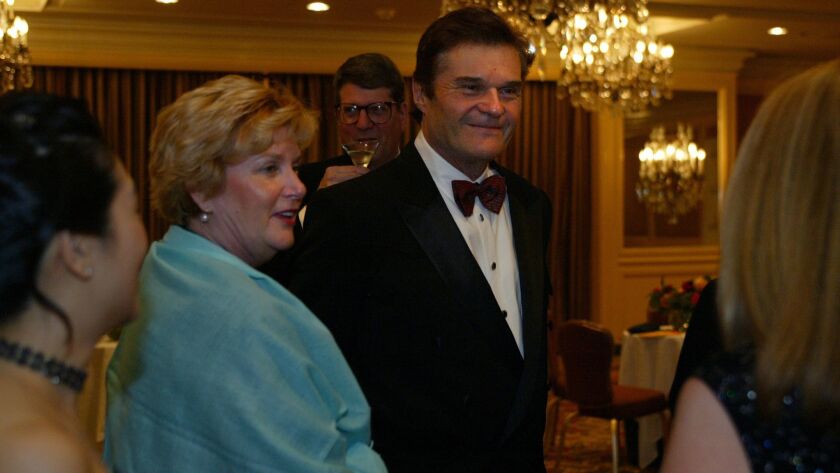 As enticing as the offer sounded to Willard, he wasn't sure he was ready to jump back into performing.
The offer "came out of nowhere," he says. "At that time, I wasn't doing too much and didn't particularly want to do much."
Still, he decided to give it a go. His daughter, Hope Mulbarger, came along for support.
"My mom had only been gone a few weeks when Jimmy called my dad," she says. "So I went with him and I was nervous. He was so quiet. He put on his costume, and I laughed and started to take a picture to text to my mom … which was weird. But she would have laughed. Then, he went to do the scene and all of a sudden, Bam! Fred Willard in hilarious action. He nailed the bit."
For Willard, 79, it was as if a weight had been lifted from him, and he felt "this great sense of accomplishment." During those few minutes, it seemed like he was getting his groove back.
Kimmel and his writing staff sensed the same thing. They started coming up with more sketches for Willard. Since that initial outing last summer, the veteran comedian has appeared on "Jimmy Kimmel Live!" about 20 times in sketches taking on big news stories of that particular day.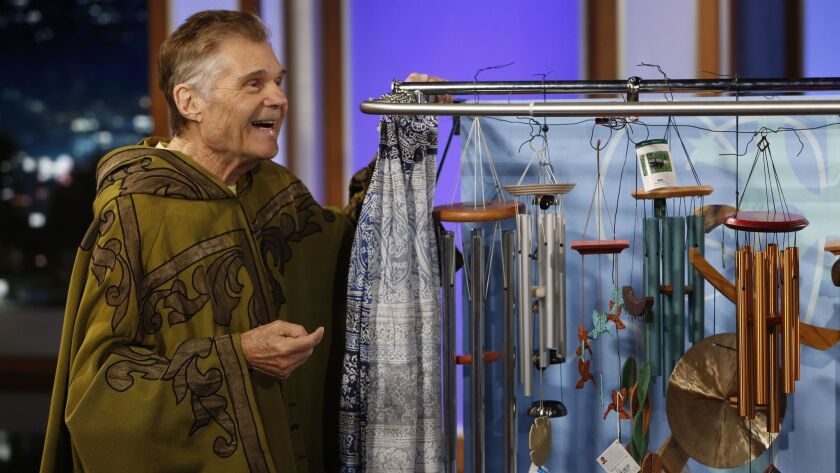 He's played Trump's dad (twice), a scientific expert on meteors, a teenager who takes college entrance exams for rich kids, a D.C. party planner, a MAGA hat-wearing Santa Claus, a Florida election official and even Ruth Bader Ginsburg. Audiences continue to enjoy the appearances, according to Kimmel, because of Willard's generational appeal.
"Everybody of every age seems to know him," Kimmel says. "I try to set his appearances — these fake satellite remotes — up as seriously as I can so we have that great moment of recognition when you see him. Now, we've reached the point where people expect it to be him. He's got that twinkle in his eye, and people love him right off the bat. He's this unique combination of approachable Midwestern guy and someone weird. Behind that very friendly face, there's a slightly off-kilter brain."
The bits have now become something that Willard admits he looks forward to, even though he nervously adds that his years in show business have taught him "if I don't hear from them for two or three weeks, I can think they've gotten pretty tired of me doing the same character over and over and that's it."
Judging by the mood on the set whenever he does the show, however, that rejection seems unlikely to happen any time soon.
He went to do the scene, and all of a sudden, Bam! Fred Willard in hilarious action.
Daughter Hope Mulbarger, recalling a nervous Willard's return in front of the camera
"He always seems happy to be here," says Kimmel. "And people here are always happy to see him. We genuinely love Fred, not just because he's funny but because he's such a sweet man. Losing your best friend in life is not something you ever get over, but I think the moments he has here are probably upbeat for him."
And he's funny — one of only "a handful of people who make me laugh even if they don't say anything," Kimmel says.
Willard does confess that were it not for that initial call to do Kimmel last year, he might very well not be working much, if at all, these days. Instead, having this regular chance to do something that audiences are clearly enjoying has become a coping mechanism for him.
"It's a good place to put my brain, because you're out, you're active," Willard says. "You do a good job and start thinking, 'Where should I go eat afterward?' It fills your day, and that's a great thing. I do sometimes think, 'Thank God for Jimmy Kimmel.' Even if all this had ended after 'Space Force,' it's been fun. There's a lot of funny people out there, very good actors, who aren't working, so I'm fortunate I've done as many appearances as I have and fortunate to have Jimmy Kimmel as a friend."
'GAME OF THRONES': I was an extra in that King's Landing crowd scene »

---
Inside the business of entertainment
The Wide Shot brings you news, analysis and insights on everything from streaming wars to production — and what it all means for the future.
You may occasionally receive promotional content from the Los Angeles Times.