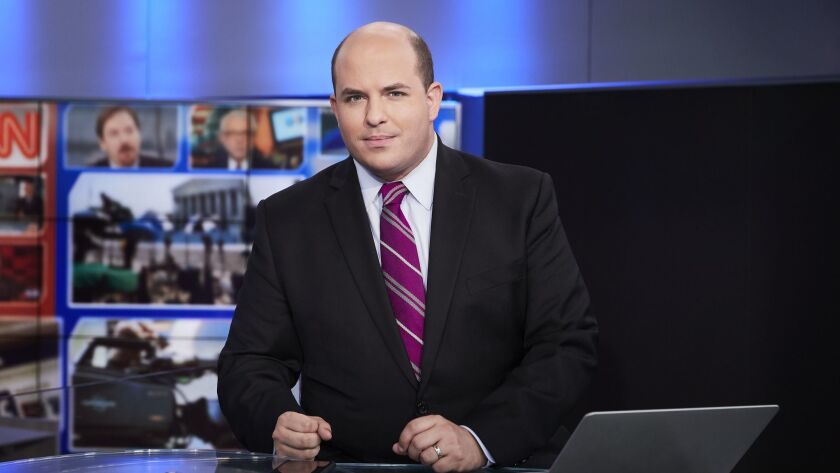 "Reliable Sources" host Brian Stelter is anything but a reliable source when it comes to "Game of Thrones."
Stelter, the anchor of CNN's Sunday morning show covering politics and popular culture, is not among the throngs of viewers obsessing over HBO's blockbuster "Game of Thrones" or its highly anticipated finale on Sunday. In fact, he is just the opposite.
"I have never seen one minute of 'Game of Thrones,' and it is by choice," Stelter, also CNN's chief media correspondent, said by phone. Although he is well aware of the frenzy surrounding the series, he will not be tuning in when the final curtain falls. "I'm not sure what I'll be doing, but I won't be watching."
He is not alone.
Although the frenzied finale fever surrounding the drama — much of it fueled by social media and captivating millions of viewers — may indicate that almost everyone has been caught up in the drama of "Game of Thrones," legions of TV viewers, ranging from celebrities to journalists to baggage handlers, couldn't care less about who will wind up on the Iron Throne.
FULL COVERAGE: The final season of 'Game of Thrones' »
For years, they have had to endure teasing about their lack of awareness about the explosive story lines — Red Wedding? — and colorful characters, becoming detached when conversations turn to "the mother of dragons" or debates over who's worse — "kingslayer" Jaime Lannister or his vindictive twin sister/lover Cersei. Iconic lines that are repeated during animated water cooler talks — "You know nothing, Jon Snow" or "bend the knee" — go over their heads.
Even so, most of the never-"Throners" appear content with their spot on the sidelines. Their reasons range from indifference about the show to objections to the extreme violence and disenchantment with being fashionable.
I'm just going to wait till it dies down.
Anita Chun
Many are like Stelter, who didn't watch the show when it first premiered in 2011 and later felt it was too late to catch up as the popularity of the series exploded.
Ed Boon, a co-creator of the hugely popular video game franchise "Mortal Kombat," tweeted this month that he had never viewed "Game of Thrones," much to the bewilderment of at least a few of his more than half a million followers.
"It's not a matter of not wanting to give it a chance," said Boon. "The show looks amazing and clearly has struck a nerve with the public. I just fell too far behind and wasn't able to catch up. Same thing happened to me with 'The Sopranos.' One day I'll see them!"
One Twitter poster established a feed (@neverseenGOT) to collect (and often mock) tweets from those who proudly proclaim they have never watched "Game of Thrones," including former L.A. Kings hockey player Mike Richards and TV host Piers Morgan. Richards, who said he wasn't even aware of "Avengers: Endgame," said his ignorance makes him feel "left out," while Morgan said he had no desire to watch the series, calling it a "preposterous waste of eyeball energy."
There are plenty of other shows to enjoy.
Janet Pak, who has never watched "Game of Thrones"
"I'm a 'Game of Thrones' virgin," declared Craig Burt Jr., 30, who handles baggage at Charlotte Douglas International Airport in North Carolina. "There's way too much hype about it, and I just don't want to make the time. I don't know if it's good. Maybe I'll watch at some point, but not now."
His younger brother Cyle, 28, on the other hand, is trying to make up for lost time, cramming on the previous seasons as if he is preparing for a test.
"I've always heard all this stuff about 'Winter is coming,' so me and my girlfriend have finally decided to try it," Burt said. "We're trying to avoid conversations about it. I don't want to hear spoilers. I'm just keeping my head down and wearing headphones."
The current eighth season is breaking viewer records for the premium network — the season opener drew 17.4 million viewers — a season-premiere high. And even though many fans appear to be less than pleased with some of the final developments and character arcs of the final season, it has not seriously impacted the intense interest in Sunday's installment.
Still, Stelter, who has mentioned in the daily "Reliable Sources" newsletter that he is a fan of Showtime's "Billions" and other series, contended that most of America isn't watching "Game of Thrones."
He, like others out of the "Game of Thrones" loop, seem to be surrounded by friends and associates who give him a hard time.
"I'm mercilessly teased," he said. "I do my best to avoid conversations about it."
Making it worse for the journalist is that CNN, which like HBO is owned by WarnerMedia, shares its New York headquarters at 30 Hudson Yards with the premium network. A model of the Iron Throne sits in the lobby, a constant reminder to Stelter of his ignorance.
Janet Pak, 37, of San Francisco, a hair stylist, is so far on the outside of her colleagues' "Game of Thrones" clique that she is not invited to their "Game of Thrones" viewing parties. She doesn't mind.
I like documentaries and adventure movies.
Anita Chun, who has never watched "Game of Thrones"
"These people are so obsessed — they dress up in costumes," said Pak. "They tell me that I'm missing out on all this excitement, that there are bigger lessons on the show, like life lessons. In a sense, I feel like I'm missing something, but it still doesn't inspire me to watch. I don't feel like I'm missing out on anything. I'm also not big on violence, so even if I did go to those parties, I'd probably be covering my eyes and screaming."
Pak added that she's a fan of shows on the CW like "Riverdale" and "Gossip Girl," "so I really don't feel like I'm missing out on anything. There are plenty of other shows to enjoy."
Anita Chun, 44, of Los Angeles, who works as a community service coordinator at Torrance Memorial Medical Center, said she is not interested in the fantasy genre, and has avoided "Game of Thrones."
"When I was growing up, my brother and his friends were all into 'Dungeons and Dragons,' 'Lord of the Rings,' that kind of thing, but I never cared for that kind of stuff," she said. "I like documentaries and adventure movies. I'm just immune to the hype about 'Game of Thrones.' I've always been like that — if something is super popular, I usually don't care about it. I'm just going to wait till it dies down."
Stelter said that although he is blissfully in the dark, he hopes to one day catch up on "Game of Thrones."
"This show is going to have a long life after it's done," he says. "It will be a great thing for people like me to binge-watch."
---