HBO's 'Going Clear' documentary on Scientology sparks debate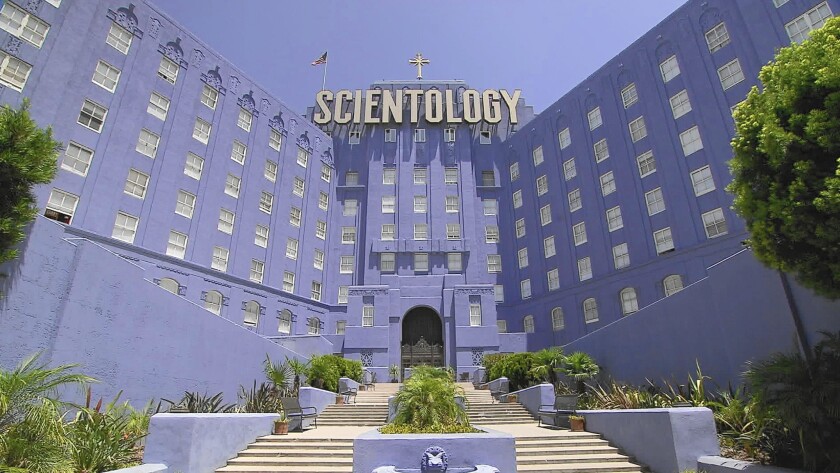 Lawrence Wright didn't feel well. He'd just checked into his room at L'Ermitage in Los Angeles with a terrible cold, he said, and was trying to get some rest when the phone rang.
"Joe is here for you," the receptionist said.
Wright wasn't expecting anyone. He asked for Joe to be put on the line.
"I'm a reporter, and I just had a few questions," Wright recalled the visitor saying earlier this month. He quickly deduced that Joe was from Freedom magazine, the publication that bills itself as the voice of the Church of Scientology. Freedom had been trying to interview Wright since the publication of his 2013 book, "Going Clear: Scientology, Hollywood, and the Prison of Belief." With a documentary based on the Pulitzer Prize-winning author's work set to debut on HBO, the magazine had ramped up its efforts to talk to Wright.
That documentary, directed by prolific filmmaker Alex Gibney, became a trending topic on Twitter after its debut Sunday and sparked discussion about the faith's most high-profile followers, Tom Cruise and John Travolta.
Using Wright's reporting as a springboard, Gibney persuaded eight former Scientologists to give interviews on camera about their experiences inside the church.
Some of the film's participants say they have been physically harassed and vilified online as a result of speaking out against the high-profile organization — allegations the church denies.
In response to the film, Scientology has mounted a robust defense with promoted tweets, videos discrediting the film's participants and statements calling the film "bigoted propaganda."
Said Scientology's international spokesperson, Karin Pouw: "Bullies like Alex Gibney, backed by multibillion-dollar media conglomerates whose only interest is in making a buck, will do anything to intimidate people by crafting grossly one-sided films that rely on admitted liars with financial agendas."
Gibney, however, said that the Freedom reporter's appearance at Wright's hotel might be "something close to harassment."
"That's a little precious," said Dan Luzadder, Freedom's investigative reporting editor, in a telephone interview. He said his reporter was attempting to drop off a list of questions for Wright and denied the filmmakers' claims that the visit constituted harassment.
"They're public figures, and they've promoted that fact. They're constantly being approached by reporters. Do they object to being approached by one from Freedom?"
Asked how he tracked down Wright's hotel, the editor replied, "I don't know. When you're tracking a band in L.A., how do you find them? Someone else handled that."
Gibney, 61, said HBO has been supportive throughout the making of "Going Clear" and was bullish about the project early on. The director had just finished another controversial film for HBO — 2012's "Mea Maxima Culpa" about clerical sex abuse — when he read Wright's book and started envisioning it as a feature film.
"It wasn't a hard decision," said Sheila Nevins, president of HBO Documentary Films. "Maybe I didn't know enough to be fearful. Maybe I wasn't all that brave. But I thought this was a story that had to be told."
Unlike broadcast networks — many of whom Gibney said would not license Scientology-related footage to him because of legal reasons — HBO didn't have to worry about alienating advertisers with "Going Clear."
"We don't accept commercials," Nevins explained, "so we are not beholden to any corporation that needs to advertise."
But the idea of being associated with the movie made lots of other people skittish — even those who had already spoken out against Scientology. In seeking out his primary subjects, Gibney took precautions, reaching out to sources through burner phones and setting up interviews at discreet locations. Even though Wright — who served as a co-writer and producer on the film — claims he interviewed more than 200 former, and a few current, Scientologists for his book, finding eight to participate in the documentary proved difficult.
"For some people, Larry made a call, and it was like, 'Sign me up,'" Gibney recalled. "For others, it was more difficult. Making the commitment to have your face seen is hard for some of these folks."
"I can't underscore how much fear there is in this community of former Scientologists," Wright, 67, added. "Not just for their safety, but for the loss of family members and people they really care about. There's an overwhelming sense of persecution."
Pouw said there is "no policy that requires a Scientologist to cut ties with someone because the other person does not believe in our religion."
She added, "by our calculation, the film on average includes at least one major error every two minutes."
Celebrities formerly associated with the church, including director (and film participant) Paul Haggis have been outspoken in their defense of the film. On Sunday, actress Leah Remini, who left Scientology in 2013, tweeted her thanks "to the brave who did something about it. And to those who didn't have a voice, you do now. #GoingClear."
Representatives for Travolta and Cruise said that neither had any comment about the movie.
A number of HBO documentaries have made headlines over the last year. Most recently, Robert Durst was arrested just before the docu-series "The Jinx" concluded this month. Still, Nevins said HBO doesn't view "Going Clear" as any sort of call to action — even if its filmmakers do.
"We don't make these things," the executive said, "for any other reason than to help people make their mind up."
ALSO:
Sundance 2015: Scientology, Cruise, Travolta and a hot premiere
SXSW 2015: After Scientology documentary, Alex Gibney aims at Steve Jobs
---
The complete guide to home viewing
Get Screen Gab for weekly recommendations, analysis, interviews and irreverent discussion of the TV and streaming movies everyone's talking about.
You may occasionally receive promotional content from the Los Angeles Times.