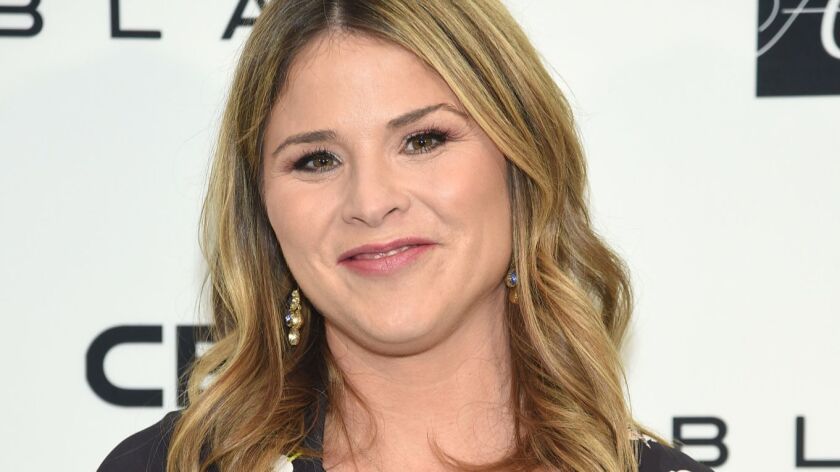 Fresh off the news that she was joining Hoda Kotb on the "Today" show's fourth hour, Jenna Bush Hager has something else to celebrate: She's having a baby boy.
The newly minted co-anchor revealed Monday that she's pregnant with her third child, surprising her co-hosts — and the rest of America — with the news.
"We're thrilled. It is a shock. It's a lot. But we're grateful. [The girls] are so happy to where they're telling strangers," Hager said.
During the 10 a.m. segment, Hager, 37, said she was both excited and grateful to start her new hosting gig, but was nervous about it because of her unplanned pregnancy, which she said was a result of a date night with her husband, Henry Hager.
"I've been keeping this secret for a long time. I couldn't hold it one day longer," she said, adding that she was about 5 1/2 months along.
The couple, who have been married for nearly 11 years, are parents to daughters Mila, 6, and Poppy, 3. Hager said she was sharing the news now because she told her daughters on Easter Sunday. She showed video of them learning they would be having a baby brother, and also took part in a balloon-filled gender reveal on Monday's show.
The news comes just a week after Kotb revealed that she had adopted a second child.
Kotb, who is on maternity leave now, called in on Monday to congratulate her partner.
"I feel like this is your year for a million reasons," Kotb said. "This is the year of Jenna Bush Hager."
Bush, the daughter of former President George W. Bush, took over hosting duties from Kathie Lee Gifford earlier this month.
Twitter: @NardineSaad
---