'Lethal Weapon': All the events surrounding Clayne Crawford's firing
Two years ago when Clayne Crawford was first cast to play Martin Riggs in Fox's TV adaptation of "Lethal Weapon" — the very same role that helped make Mel Gibson a household name — the actor was a relative unknown. He was then best known for supporting roles in teen dramas like "A Walk to Remember" and "Swimfan," as well as an acclaimed turn in SundanceTV's critical favorite "Rectify." Starring opposite Damon Wayans on the high-profile remake sent Crawford into a whole new stratosphere. However, that rise came to a crashing halt on Sunday, May 13, when Crawford was officially replaced by Seann William Scott on the series for its upcoming third season. The shake-up comes after weeks of reports about Crawford's troublesome behavior on set and a rift with Wayans. With Crawford officially out of the picture, here's a look back at the major events that led to his ouster.
First signs of trouble
Crawford's on-set behavior is first put into question by a report from Deadline. The article claims Crawford has been disciplined several times over accusations of emotional abuse and creating a hostile environment on set. Allegedly, the issues behind the scenes are the reason why the series has yet to be renewed for a third season, and talk of a potential recasting begins.
Crawford speaks out
In a lenthy post on his Instagram account, Crawford addresses the "incredibly distressing" reports about his bad behavior. He acknowledges being reprimanded twice for his behavior, and even attending studio-appointed therapy, and apologizes for his temper, which he says was caused by what he felt were unsafe working conditions on set.
Two sides of the story
TVLine reports that the search for Crawford's replacement is officially underway, with a Season 3 renewal in limbo. However, Crawford takes to social media (again) several hours later to deny the reports with a lighthearted tweet. That night, "Lethal Weapon's" second season ends with Crawford's character bleeding out over his dead wife's grave after being shot, further putting his series into question.
A RT says a thousand words
While Wayans does not directly comment on the reports surrounding his costar, he begins retweeting fans speculating about who could replace Crawford — Gibson, the original Riggs, as one fan suggests — and also retweets those saying Crawford will be missed on the series. When he is asked point-blank what happened on set, Wayans says, "One day I will speak on it. There's a lot to say."

It's official
The day before announcing its fall schedule and presenting its lineup to advertisers, Fox announces that "Lethal Weapon" has been renewed for a third season — with Seann William Scott joining the series to replace Crawford, whose contract is officially not renewed. Scott will not replace Crawford as Martin Riggs, instead playing a new character who enters into a partnership with Murtaugh (Wayans). After his exit is confirmed, Crawford (again) takes to Instagram to wish the show's cast and crew "good luck" for Season 3.
Changing of the guard
Network chiefs Dana Walden and Gary Newman address the casting change on a conference call with reporters discussing their fall schedule. "There were some real challenges in the cast," says Walden. However, Newman is optimistic and points to other shows that went through similar shake-ups early in their runs, such as "NYPD Blue."
"I think we, ultimately, made the right choice," Walden says about replacing Crawford with Scott. It's "a new dynamic but a good one."
Although the book seems to be closed on Crawford, Wayans posts several tweets later that day "now that the fate of the show is solidified." He specifically posts a video that he claims to be from the episode Crawford directed. The video shows Wayans being injured by an explosion. In a follow-up tweet, he posts a photo of a bloody cut he suffered from the explosion. "It turns out there was a second shooter, to Damon's left, on the other side of the pillar behind which his character was crouched, which accounts for what he heard from his left side," he writes in a third tweet, in which he tags Crawford and also includes the hashtag #noapology.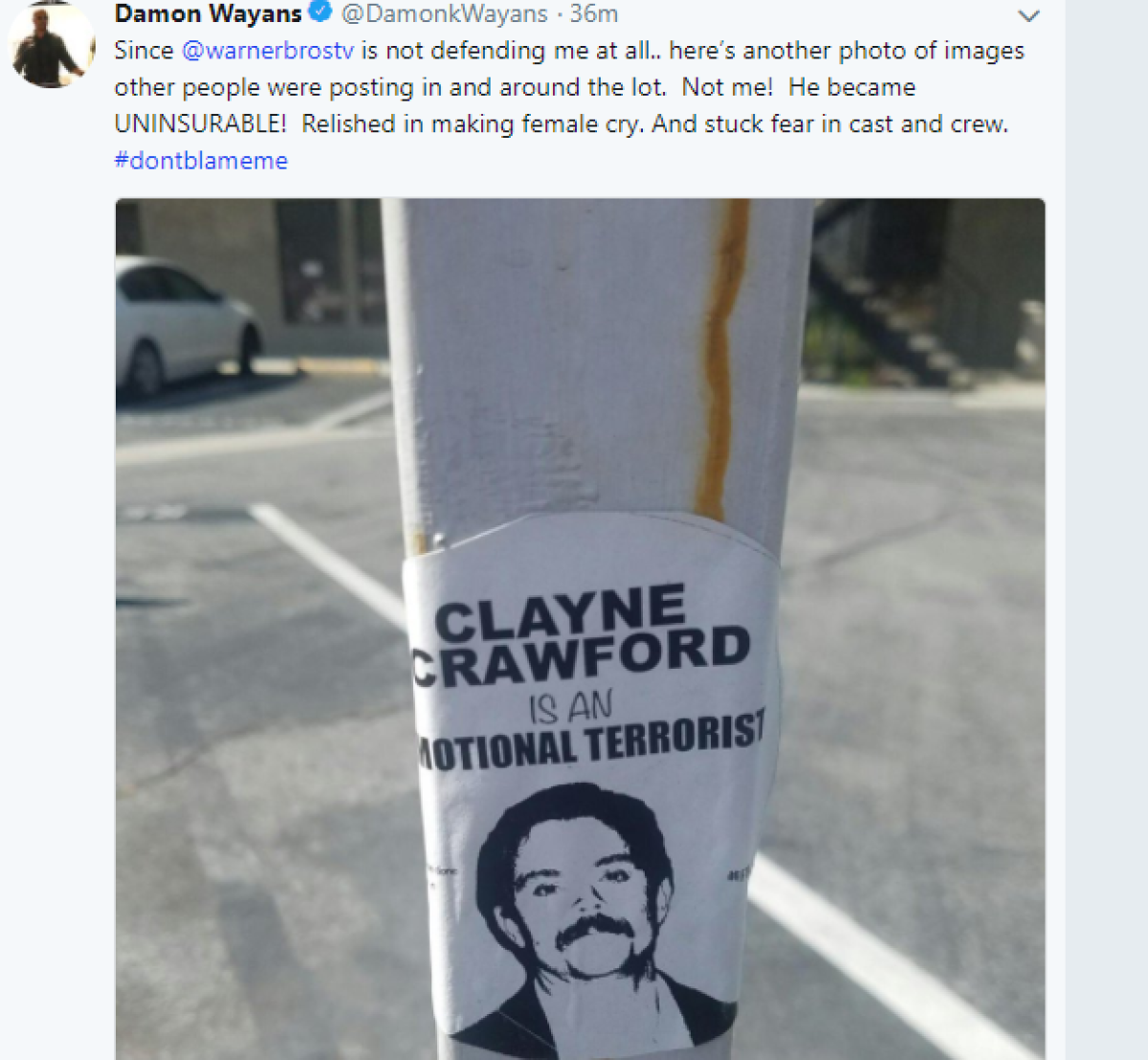 Get our L.A. Goes Out newsletter, with the week's best events, to help you explore and experience our city.
You may occasionally receive promotional content from the Los Angeles Times.