Review: 'Manhunt: Unabomber' thrills with Paul Bettany as the twisted genius running from the FBI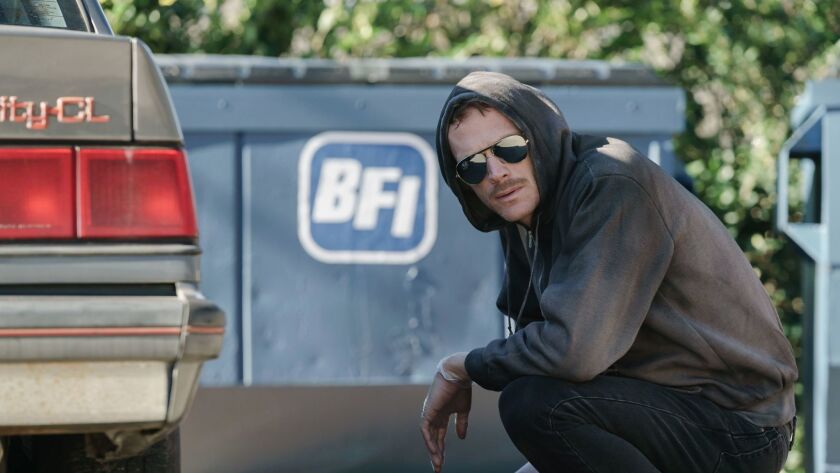 Television Critic
There was a time when the nation was terrorized by a single man, and he was neither sitting in the White House with his hand on the Button nor holed up in a cave in Afghanistan plotting his next move against America.
The Unabomber eluded capture for a decade and half, sending most of his deadly packages through the U.S. mail, ultimately killing three and injuring more than a dozen until he was finally captured in 1996.
"Manhunt: Unabomber," the Discovery-scripted series that premieres Tuesday, follows the FBI's hunt for bomber Theodore Kaczynski (Paul Bettany) through the story of one of its greenest agents, Jim Fitzgerald (Sam Worthington).
Fitzgerald was a criminal profiler who pioneered the use of forensic linguistics while working on the Unabomber case. His painstaking deconstruction of Kaczynski's letters and brilliant yet insane manifesto, "Industrial Society and Its Future," helped crack the case.
Discovery is a powerhouse of networks renowned for the reality series and specials they air: "The Deadliest Catch," "Fatal Vows" and "Phelps vs. Shark." The new "Unabomber" series airs on Discovery Channel.
Scripted dramas are fairly new territory. Last year's "Harley and the Davidsons" was well received, but the Kaczynski story is a complicated, layered tale. There's the labored, drawn-out FBI investigation that for years followed a flawed profile that pegged the bomber as an uneducated airline mechanic (Kaczynski was a mathematics prodigy with a Harvard degree and 167 IQ).
There's Fitzgerald's trajectory from a low-level, working-class beat cop to the guy who would help crack the toughest case in the FBI files.
And of course the story of Kaczynski. How did this promising young man end up a recluse, living in a one-room cabin in Montana with no electricity or plumbing, building explosive devices by candlelight? And why?
The series is a surprising win on all fronts. It's equal parts true-crime drama, psychological thriller and the moving personal stories of two men on different sides of the law who had eerily similar connections (or disconnections) to the society around them.
Bettany and Worthington's first major leading roles on U.S. television are impressive. They both portray characters whose internal machinations are as twisted as the wreckage left behind by the bombings, and whose family lives are as fraught as the FBI's seemingly impossible case.
Bettany in particular shows Kaczynski as evil and cunning as well as fallible and sympathetic. He's a first-born son who is ground down by a society that can't keep up with his genius, or understand his mental illness. Every rejection hurts, a lifetime of hurt that culminates in one of the most terrifying crime sprees in U.S. history.
The series moves around in time, mostly between 1995 and 1997, following Fitzgerald's journey into the Unabomber case.
His is an uphill battle, against the brilliance of Kaczynski and the politics and bureaucracy of the FBI. His ideas are unconventional — solve a crime through clues in the way the bomber spells "analyse," or his usage of grammar? Absurd!
But he gets the bureau the closest it's been to identifying the man in that infamous FBI sketch. When his thankless work does help lead the agents to that creepy cabin in the woods, they find all the props: the hoodie, several pairs of aviator sunglasses and a collection of fake mustaches. The series does well in bringing these details back to life.
"Manhunt: Unabomber" is written by Andrew Sodroski, and executive producers include Kevin Spacey. The cast includes Chris Noth as a supervisor of the FBI task force and Jane Lynch as U.S. Atty. Gen. Janet Reno. Mark Duplass, who seems to be everywhere these days in front of and behind the camera, plays David Kaczynski, Ted's younger brother, who finally turned him in to the FBI.
The blind spots here come with prominent female characters like Fitzgerald's wife, played by Elizabeth Reaser, and his FBI partner, played by Keisha Castle-Hughes.
His wife would prefer him at home with the kids. When she visits the apartment that he lives in during the bicoastal investigation (she's on the East Coast, he's in the Bay Area), she takes down reams of investigative material he has taped to his walls. It's weeks' worth of 24/7, obsessive crime-solving. She replaces it with a few drawings by his kids. Saving the country vs. quality family time? She just doesn't get it.
Fitzgerald's partner is just as clueless, but on another front: She constantly questions why he's so obsessed with all those words and details. And she constantly refers to him as "Bro!" Are we really supposed to believe a woman would make it that far in a man's world acting like a high-school dropout? Dude, c'mon.
Otherwise this series is a thrilling, fast-moving and sophisticated look at one of America's most notorious, terrifying and widespread crime sprees. After "Manhunt: Unabomber," the image of a brown-paper package tied up in string takes on a whole new meaning.
'Manhunt: Unabomber'
Where: Discovery Channel
When: 9 p.m. Tuesday
Rating: TV-14 (may be unsuitable for children under 14)
---
The complete guide to home viewing
Get Screen Gab for weekly recommendations, analysis, interviews and irreverent discussion of the TV and streaming movies everyone's talking about.
You may occasionally receive promotional content from the Los Angeles Times.