Here she is, Miss America 2019, empowered and embattled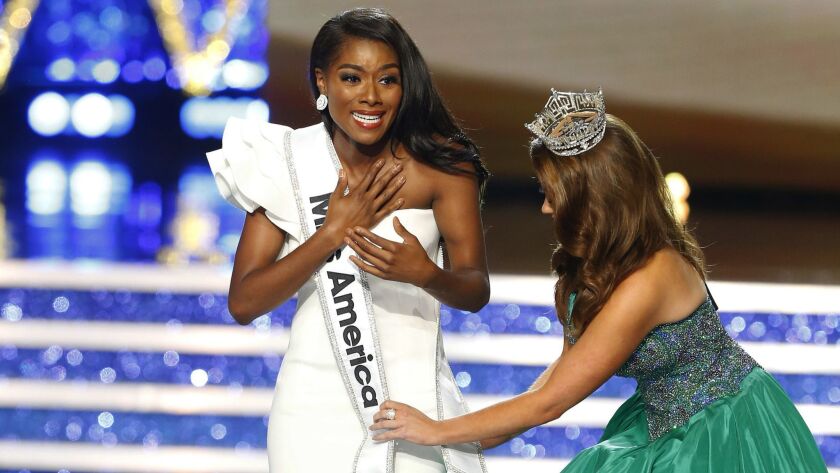 Television Critic
The Miss America 2019 competition wasted no time Sunday letting its audience and viewers know that this was not their mother's — or even last year's — pageant. A recording of Katy Perry's "Roar" opened the two-hour show. Aretha's Franklin's "Respect" played before the first commercial break. Contestants chose subjects like sexual assault and Detroit's poisonous drinking water as talking points. Harvard-educated Miss Colorado recited poetry, barefoot.
Empowerment was the message for a revamped Miss America 2.0., although the pageant was embracing the very thing that's rendered it near irrelevant over the last few decades.
Accomplished young women with master's degrees and careers in the tech world spoke eloquently and forthrightly about their social impact initiatives Sunday while suffocating in foundation garments and smiling so hard that viewers' jaws felt the strain.
Related: Is the Miss America pageant — make that 'competition' — worth saving?
The contestants praised their parent's bravery for "coming out" in an otherwise conservative community and spoke of what it's like to be one of the few black kids in a majority white school, all while competing for a crown predicated on a narrow standard of beauty and cultural acceptance.
Sunday was an evening of awkward contrasts and growing pains. ("Investigative journalism is not dead!" shouted one contestant when talking about her career goals.) But the show was also an admirable and risky step for a franchise that's one gaffe away from being eaten alive by detractors and supporters alike.
This was the first year contestants were no longer judged "on outward appearance," according to the organization's new leadership. It's one of several changes for the nearly century-old franchise in hopes of making Miss America relevant for the #MeToo, fat-shaming and mansplaining, 21st century.
Those changes Sunday were evident in the very structure of the show — there was no swimsuit competition for the first time in the event's 98-year history. There was also no evening gown contest. And women weren't just walking the runway — they were running the show.
Former Fox News anchor and Miss America 1989 Gretchen Carlson took over as chairwoman, and Regina Hopper as president, earlier this year. They replaced leadership, including Chief Executive Sam Haskell, who abruptly left in December after emails containing sexist and crude remarks about former winners were leaked.
Then drama erupted when Miss America 2018, Cara Mund, complained she was being silenced and sidelined by the new leadership and called for them to step down. Some other Miss America state organizers followed suit.
Miss America 2019, like everything else now, is trying to navigate divided ideals, cultural upheaval and conflicting ideas about where we should head to next.
On stage, however, every moment that refuted that chaos and Mund's narrative of oppression was highlighted.
"Rise up, lean in and know your value," said Miss Florida on the Red Carpet (formerly the evening gown competition). It was the first time contestants could wear whatever they wanted in that portion of the show.
"Look at the sisterhood here," said host Carrie Ann Inaba when the show came down to two contestants. "Empowered women, rooting for each other."
Miss New York, Nia Franklin, won the title.
But when reigning Miss America Mund failed to securely fasten the shimmering headpiece on the incoming queen's head, the crown, like the pageant's future, teetered precariously.
---
The complete guide to home viewing
Get Screen Gab for everything about the TV shows and streaming movies everyone's talking about.
You may occasionally receive promotional content from the Los Angeles Times.