Is the Miss America pageant — make that 'competition' — worth saving?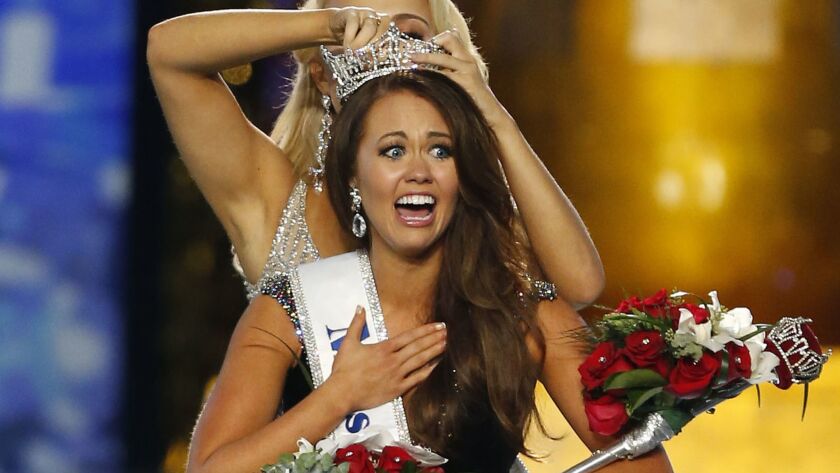 Television Critic
The bikinis got smaller and smaller until they disappeared altogether.
When the Miss America competition airs Sunday on ABC, it will be the first time in the organization's 98-year history that its primped and polished contestants won't be competing in swimsuits.
Rebranded as Miss America 2.0, the pageant is stepping into the 21st century with a product forged in the shadow of World War I.
The efforts to modernize a contest whose theme song alone promises a spectacle of beauty and femininity are admirable, if not thankless, given that many people are unaware that there is still a competition to update.
Among the other new post-#MeToo developments: Miss America no longer refers to itself as a pageant. It's a "competition." And women won't be judged by their physical appearance anymore. It will be about who they are below the surface.
The difficulty of achieving this new directive in a space that's always been about painstakingly curated beauty is evident in the organization's new motto, "A leap into the future. In step with the past."
And that leap toward a more equitable tomorrow isn't in the service of twirling a baton in high heels so a panel of male judges twice a contestant's age can keep score. The image on the organization's website is that of a woman in a long, free-flowing skirt and unlaced, high-top sneakers. We never see her face but the message is clear: She's liberated, free and dares to venture into public without pantyhose.
This is what Miss America looks like now that the talent is running the show. The competition is now overseen by a female CEO, female president and predominantly female board of trustees, many of whom are former Miss Americas. They replace CEO Sam Haskell and several of his board members, who abruptly exited the organization last December after sexist, crude and denigrating emails about former Miss Americas were leaked. The incident became a scandal alongside the dozen or so other #MeToo cases blowing up social media.
"Miss America will represent a new generation of female leaders focused on scholarship, social impact, talent and empowerment," said Gretchen Carlson, former pageant winner, Fox News anchor and current chair of Miss America's board of trustees. "We're experiencing a cultural revolution in our country with women finding the courage to stand up and have their voices heard on many issues. Miss America is proud to evolve as an organization and join this empowerment movement."
A tall order to be sure, especially for an institution that celebrated the objectification of women as a wholesome American tradition when in reality it was part of a backlash to the suffrage movement, not to mention a great way to drive tourism to Atlantic City.
When the pageant was born in 1921, it was one year after women won the right to vote, and represented one of the few opportunities women had to compete on a national level.
"There she is. Walking on air. She is fairest of the fair. … There she is, Miss America," went the theme song, first performed by longtime host Bert Parks in 1955.
All she had to do was be prettier than everyone else, walk on air in tortuously uncomfortable heels after starving herself for weeks and appear empowered as feminist groups picketed outside the venue. Whoever said women can now have it all certainly wasn't a woman.
Viewers, however, loved the spectacle. The pageant was one of the highest-rated programs on television in the 1960s, with three out of every four households — around 60 million people — tuning in to watch. But after the women's equality movement that number had dropped to around 28.2 million viewers by 1984. Last year, only 5.3 million watched as Miss North Dakota Cara Mund won the crown.
TV audiences aren't the only ones who've opted out of the must-see event from their parents' or grandparents' era. In 1970, around 70,000 women competed in local, state and national Miss America pageants. Last year, it was fewer than 4,000.
Carlson says the annual contest is intent on "moving forward and evolving ... in this cultural revolution."
The award-winning reporter's 2016 sexual harassment suit against Fox News founder and media power broker Roger Ailes exposed a systemic problem at the network and the media in general. Women who were sidelined, fired or too terrified to speak came forward with credible allegations against Ailes and other media giants like Charlie Rose, Matt Lauer and Bill O'Reilly. Men who were once considered too big to fail were brought down by the women they preyed upon.
Carlson may be a real live avenger, but is the Miss America brand worth saving? Especially for a culture that largely considers it a sexist remnant from Don Draper's era of casual objectification. Ask any woman under 50 who her favorite beauty queen contestant is and it's likely it won't be anyone who's won a major pageant but rather Sandra Bullock's clumsy undercover detective character in "Miss Congeniality," or perhaps Sissy Spacek as "Carrie," not a beauty contestant but a tragic prom queen who kills her bullying peers after she's crowned.
Late-night comedians and hosts who used to love riffing on Miss America, often in demeaning and sexist ways, barely bother anymore.
"They always say the Miss America Pageant isn't a beauty contest, it's really a scholarship program," said Jay Leno when he still hosted "The Tonight Show." "If that's the case, why don't we just put all the contestants on 'Jeopardy!' and pick Miss America that way? At least you get the smartest one."
The current criticism of Miss America, however, is coming from inside the house.
Reigning Miss America Mund, who tweeted "We're changing out of our swimsuits and into a whole new era #byebyebikini #MissAmerica2019," claimed she's been systematically silenced and marginalized by the new leaders of the pageant that isn't a pageant.
"Our chair and CEO have … essentially erased me in my role as Miss America in subtle and not-so-subtle ways on a daily basis," she wrote in an open letter addressed to other former Miss Americas. "The sheer accumulation of the disrespect, passive-aggressive behavior, belittlement, and outright exclusion has taken a serious toll." Representatives from 22 state pageants also called for the resignations of Carlson and CEO Regina Hopper.
The Miss America institution has been a fraught space far longer than any of this year's contestants, or their mothers, have been alive. So how does a swimsuit-free event that started as a "bathing beauty revue" find its place in 2018, a year when a record number of women are competing for political offices?
It decrees that contestants can choose whatever evening wear they feel best fits their personal style because the real emphasis Sunday will be on the women's stated social impact initiatives. And female empowerment, no doubt, will be at the top of that list.
------------
'The 2019 Miss America Competition'
Where: ABC
When: 9 p.m. Sunday
Rated: TV-14-L (may be unsuitable for children under the age of 14 with an advisory for coarse language)
---
Inside the business of entertainment
The Wide Shot brings you news, analysis and insights on everything from streaming wars to production — and what it all means for the future.
You may occasionally receive promotional content from the Los Angeles Times.