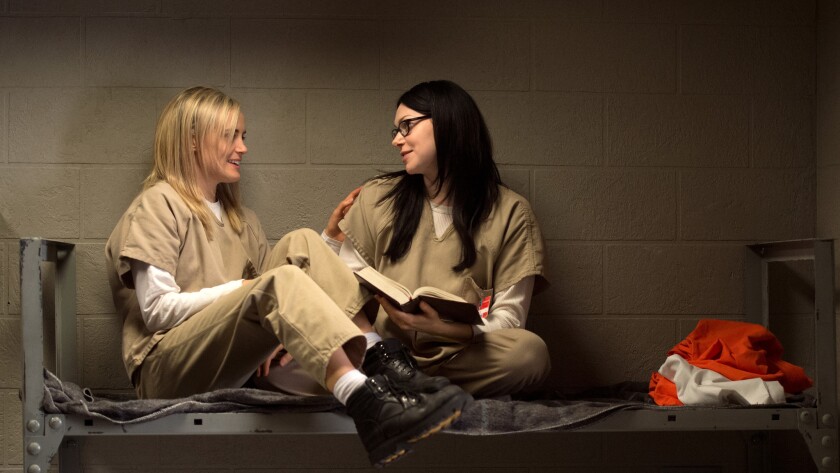 If streaming TV has proved nothing else, it's that we are a nation of gluttons. Freed from network schedules and ads, viewers can now shut off the outside world and revel in episode after episode of favorite series the moment they arrive in a massive data dump.
Right? Well, maybe not.
According to the streaming giant Netflix, some shows are still worth savoring. Though usually rather guarded with its users' viewing habits, Netflix has revealed what it calls the "Binge Scale," which examined the streaming routines of subscribers in 190 countries for some 100 television series.
Though on average most seasons of a given show are watched within the span of a week, Netflix drew a distinction between programs that are watched for more than two hours in one sitting, and those that are not.
Not surprisingly, some of shows consumed the fastest had some of the most kinetic storytelling. The tense crime drama "The Fall," for instance, typically inspires viewers to watch multiple episodes in one sitting, along with horror and action-leaning favorites such as "The Walking Dead," "Hemlock Grove" and "American Horror Story."
Along the same lines, comparatively lighter fare mixing comedy and drama with long-form narratives such as "Orange Is the New Black," "Nurse Jackie" and "Grace and Frankie" were also on the more binge-able end of the spectrum.
Once storylines become more complex, however, and perhaps a little darker in terms of human emotions, viewing habits begin to shift. "House of Cards," "Bloodline" and "Narcos" are the type of series Netflix users prefer to savor.
SIGN UP for the free Essential Arts & Culture newsletter >>
Acclaimed shows that have already concluded were also seen as something viewers wanted to take more time enjoying, including "Mad Men," "The West Wing," "Twin Peaks" and "Breaking Bad." The trend points to a possible link between shows that may offer similarly addictive storylines, but there may be considerations taken that there's a finite number to enjoy.
Netflix's rundown of shows to savor also includes a number of comedies, particularly those on the more oddball end of the spectrum such as "Unbreakable Kimmy Schmidt," "Arrested Development" and "Wet Hot American Summer: First Day of Camp." Interestingly, the animated series "Bojack Horseman" landed at the furthest point away from the most binge-worthy programs, perhaps proving that entering the mind-set of a depressed horse – even in cartoon form – may best be taken in small doses.
Follow me @chrisbarton
ALSO
'Voltron: Legendary Defender' roars back to life on Netflix, more colorful and still cheesy
Overrated/Underrated: Netflix remains a comedy powerhouse with 'Lady Dynamite'
Would 'Fuller House' be better with Donald Trump in the cast? Watch and see
---