Norman Lear reboots 'One Day at a Time' for a new generation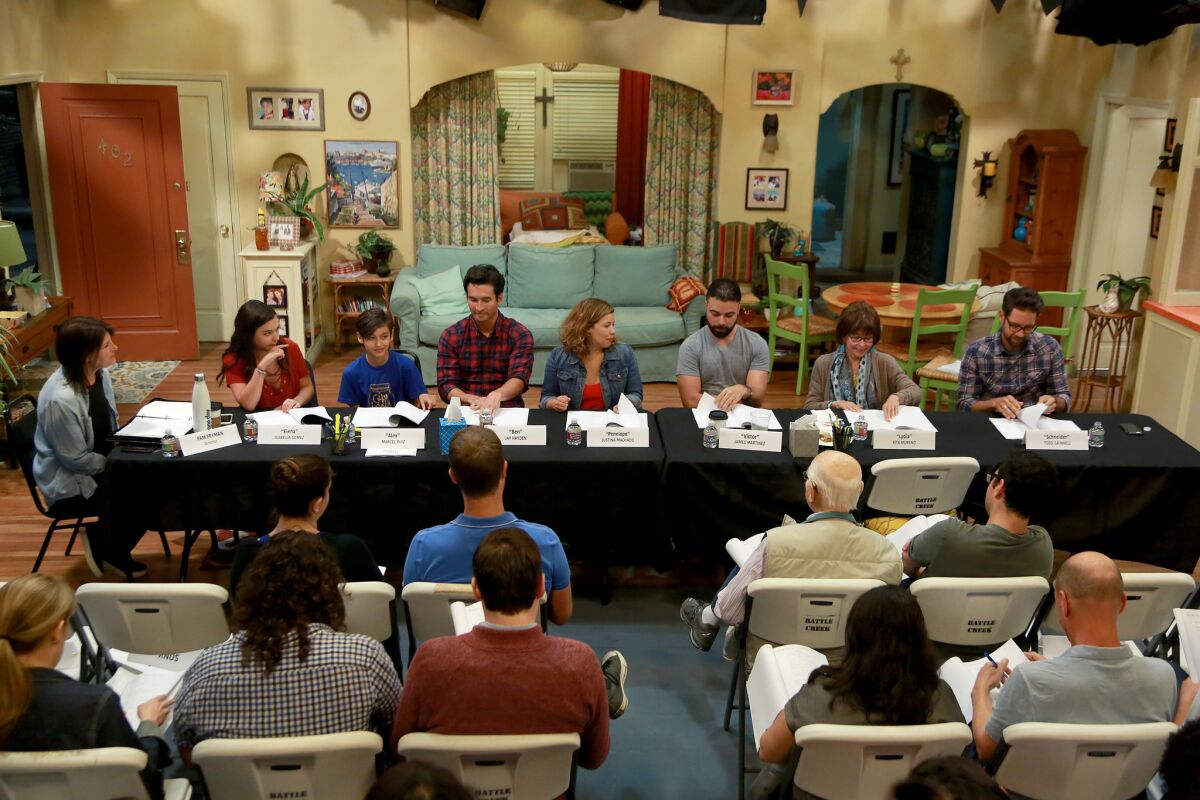 Norman Lear sits with a script in his left hand and a yellow pencil in the other. Every so often, he gently scribbles notes on the margins. But mostly, he listens — searching for the lines that prompt a burst of laughter or bring power to the lump-in-the-throat moments.
It's a common sight on the set of the remake of "One Day at a Time" here on the Sony Pictures lot in Culver City. Lear attended every casting session, reviewed every script and was there for show tapings. On this particular August morning, Lear is attending a script reading by the cast for an upcoming episode.
"I've been busy all my life — why stop now?" says the soft-spoken nonagenarian, wearing his signature white bucket hat and punctuating the question with a grin.
The legendary sitcom producer, now 94, developed the original series, created by husband-and-wife writing duo Whitney Blake and Allan Manings. The show chronicled the tale of a divorced single mom (Bonnie Franklin) raising two teen daughters (Valerie Bertinelli and MacKenzie Phillips) — a groundbreaking premise when it aired on CBS beginning in the mid-'70s. With its update for a Netflix audience, Lear returns as a producer.
Lear credits producing partner Brent Miller with the idea of revamping the classic sitcom with a Latino family at the center. The concept was fueled by marketing data showing that single Latina mothers are a coveted demographic.
"It was a good piece of my life," Lear says of the sitcom, which was part of a number of forward-looking series — including "All in the Family," "The Jeffersons" and "Maude" — that made the writer-producer a force in television. "When they came to me with the idea, I thought, 'why not?'"
Veteran writer and producer Mike Royce ("Everybody Loves Raymond") was tapped by Sony Pictures Television, which owns the original series, to run the reboot. But as Lear admits, two white males don't exactly bring authenticity to a show about a Latino family.
Gloria Calderon Kellett ("How I Met Your Mother," "Devious Maids") was brought on as co-show runner with Royce. But not without some hesitation.
Friends with comedian-actress Cristela Alonzo, who has been vocal about her frustrations with how ABC handled her short-lived autobiographical comedy, Calderon Kellett was worried this twist on "One Day at a Time" would get watered down.
"I told Norman at our first meeting: 'I feel like, a lot of times, I've seen incredible Latina comedians approached about doing a television show about our community, and it seems like somebody gets in there, and it loses some of its authenticity," says Calderon Kellett. "I didn't want to always be fighting for my voice to be heard. And luckily, I haven't. Every time we've talked about something and I've put my foot down, there's been no pushback."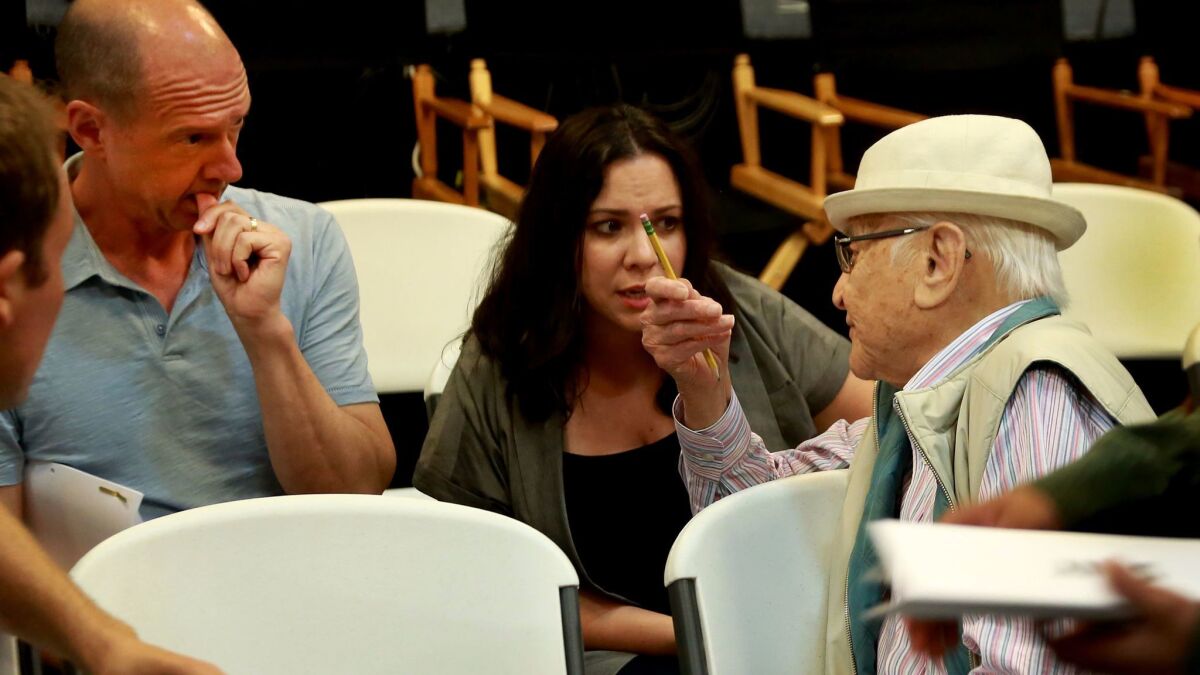 The result is the "One Day at a Time" of 2017, which is set in L.A.'s Echo Park and draws upon both the childhood of Cuban American Calderon Kellett and Royce's family life. The series centers on three generations of the Alvarez family. Justina Machado ("Six Feet Under") stars as Penelope, a war veteran and recently single mother of two children, 14-year-old Elena (Isabella Gomez) and younger brother Alex (Marcel Ruiz). Rita Moreno stars as Penelope's diva-ish, meddling mother who moves in to help.
It's a simple sitcom — something Royce says too often gets dismissed.
"I have teenagers, there's family things I want to bring to the table, you don't get to do a 'low-concept' sitcom very often anymore," he says. "A lot of times it has to be sold on a big high concept, and here's the opportunity to just tell some stories."
The updated series retains the name, as well as the apartment layout and number on the door. But the story lines and characters are all new, with the exception of building superintendent Schneider — though he's now a younger, more privileged, albeit well-meaning, version played by Todd Grinnell.
The half-hour multi-camera sitcom, much like the original, isn't afraid to delve into uncomfortable and serious issues, such as mental illness, the problems veterans face and sexism in the workplace.
"It's classic Norman Lear," Machado says. "It has a lot of heart and it makes you think."
The series also explores the Cuban American experience, with references to Fidel Castro and the nuances of Cuban political exile in relation to immigration. (Castro's death and the Cuban community's varying reactions to it is something Calderon Kellett and Royce hope to explore if the show returns for a second season.)
On "One Day at a Time's" 12-person writing staff, half are female and half are Latino.
There were even times when the writers would invite veterans into the room to share their PTSD experiences and family stories. At one point, Calderon Kellett's parents came in to talk about their experience with Operation Peter Pan, which refers to the mass political exodus of Cuban children to the U.S. in the early '60s.
For Moreno, a native of Puerto Rico, it's gratifying to be part of a show that centers on a Latino family because, growing up, that seemed unattainable.
"You just didn't see it," Moreno says. "All these years later, it's not like we are the first show to have a Latino family, but there are so few out today — that doesn't make any sense when you look at the demographics in the U.S. There seems to be this dumb idea that you can't get into a show with Latinos if you're not Latino."
Calderon Kellett just hopes the industry is in the midst of a sea change.
After seeing the recent nominations for the NAACP Awards, she says "it made me feel so hopeful for the future of other minorities in this country and having their stories told."
"There's so much that still needs to happen, and so to be able to be a part of a show that obviously speaks to my journey in this country is really meaningful, and I hope starts more of a wave so that there are more. So that we see our similarities more than our differences."
That notion of commonality is what Lear hopes is the main takeaway from the show.
"We are all versions of one another," he says. "So, to see lots of television and not the version that represents you the best is deeply unsatisfying. Whether a Latino family or African American family or a Jewish family, we all go through the same experiences as humans and as a species."
The most-read Entertainment stories this hour »
'One Day at a Time'
Where: Netflix
When: Any time, Friday
Rating: TV-PG (may be unsuitable for young children)
Twitter: @villarrealy
ALSO
Review: Netflix reboot of 'One Day at a Time' is bighearted fun
'Knight Rider' is getting (another) reboot, this time from 'Fast & Furious' director Justin Lin
Review: Debbie Reynolds and Carrie Fisher shine in 'Bright Lights'
Get our L.A. Goes Out newsletter, with the week's best events, to help you explore and experience our city.
You may occasionally receive promotional content from the Los Angeles Times.