Perspective: To watch or not watch: notes of an ambivalent Patriots and football fan on the Super Bowl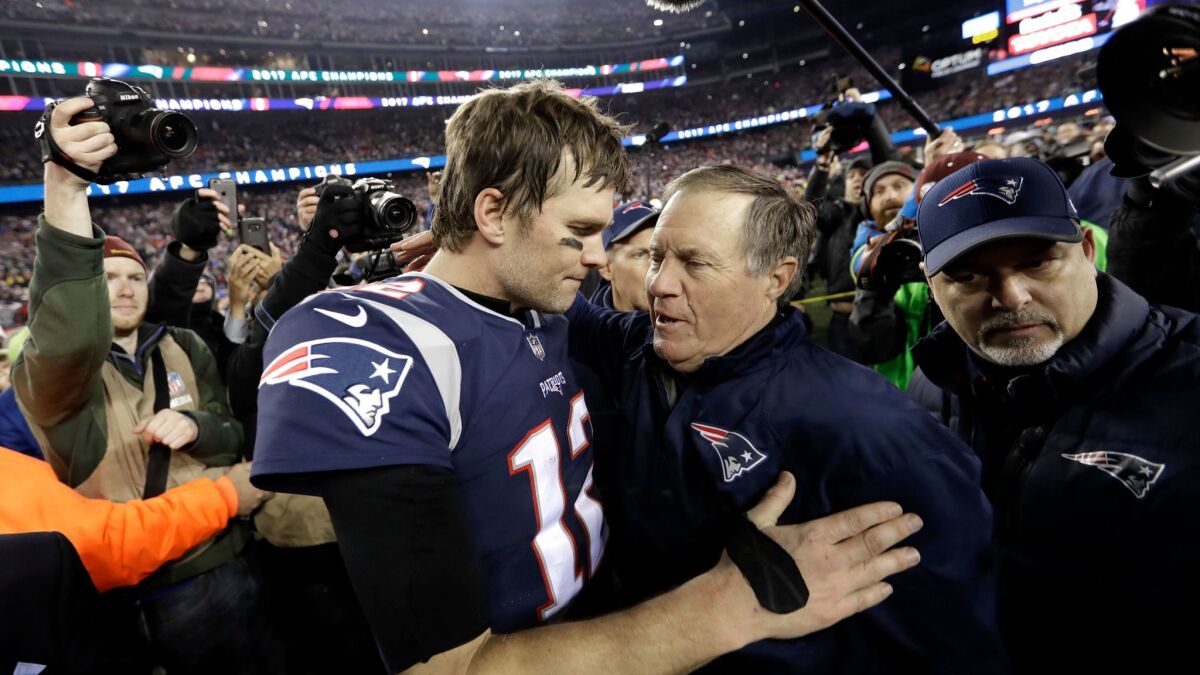 I'm a Patriots fan. And I'm sorry.
Not for my rooting interest, though any champion-starved fan would be justified in thinking I should be. Born in Boston and raised amid the minor tragedies of Bill Buckner, Aaron Boone, Rick Pitino, Desmond Howard and roughly the whole New England Patriots franchise up to the late '90s, I never had a choice. If I had, I would've quit before the bizarre recent run of success with championships for the Celtics, Red Sox, Bruins and Patriots. Obviously, I have no regrets.
Which brings us to this Sunday's Super Bowl. The heavily favored Patriots are competing against the Philadelphia Eagles for a sixth win out of an unprecedented eight appearances (plus two more before quarterback Tom Brady and coach Bill Belichick came along). Of course I will be rooting for my team, but this year feels a little different.
Football is, and really has always been, a flawed game that rests on a moral compromise, one that in 2018 — while my team landed in the Super Bowl, again — is impossible to ignore. Already a cord-cutter, I watched less football than ever this year, figuring if I could wean myself from the sport when my team was winning, quitting when the run of fortune finally ended would be that much easier.
Still, the addiction, a mix of emotional connection with family and regional identity, runs deep. Between games I read about the team, and dutifully watch game highlights, but like a club I'm no longer comfortable claiming as a member, I mostly keep my sports talk confined to family.
I'm not alone here — even watching pro football on TV is a conflicted question for many longtime fans. The NFL, apart from when the villainously dominant Patriots are playing, is mired in a well-publicized ratings slump. Serious injuries sidelined some of the league's most exciting players, including the Eagles' young star quarterback Carson Wentz, and the league's inability to protect its players from long-term damage from brain injuries has led to a sense a game built on violence and military metaphors is, in fact, a grotesque blood sport.
Then there's the greed and ugliness displayed by the owners, who when not digging in their heels in about a franchise's racist nickname (Daniel Snyder of Washington) were, in one case, forced to surrender their team after reports of bigotry and sexist conduct (Jerry Richardson of Carolina). Not to mention the unspoken league-wide refusal to employ former Super Bowl quarterback Colin Kaepernick, who started a firestorm of controversy last year when he chose to kneel during the national anthem as a means to protest police killings of young black men.
Spurred by some presidential tweets and a hungry political news cycle, his actions and those that followed became twisted into "national anthem protests," and now even the decision to back away from the NFL can be slotted as support of one political narrative or another.
But the Patriots, as any NFL watcher will attest, are their own divisive subject. At the inevitable tail end of a run to rival Casey Stengel's Yankees and Jordan's Bulls, the Belichick-Brady era hasn't just brought success, it's inspired new heights of enmity.
And much of it is understandable. Before the 2000s, when some of the team's most notable moments either involved a snowplow or once serving as the Washington Generals to the Chicago Bears' Globetrotters, I was sick of every dominant franchise too. Dallas was "America's Team," the Joe Montana 49ers were aggravatingly efficient, and for all of Michael Jordan's otherworldly talents, rooting against them felt like an underdog-loving human instinct. And the Yankees, as we're about to experience once more led by Aaron Judge and Giancarlo Stanton, are history's greatest monsters; a pinstriped Death Star of baseball dominance looming in the East.
But now, uncomfortably, so are the Patriots. Plus, depending on who you ask, the team is run by compulsive cheaters as exhibited in the controversies around Spygate, Deflategate, and whatever other loophole the team can study and exploit. The 40-year-old quarterback sounds a little loopy with his late-career health regimen. Their obsessed, perpetually cranky coach has turned press conferences into politburo-esque wars for information, answering questions with a weary derision that would leave Washington, DC envious.
Oh, speaking of — the Patriots are also now the official team of the right wing. The team's owner sent a Super Bowl ring to his friend President Trump, and Belichick, in a detail finally confirmed this week, once sent a note of gratitude to Trump that became a prop during the campaign. Brady, for his part, was interviewed with a "Make America Great Again" hat perched in his locker in 2016, something the quarterback hasn't talked about since. As a result, rooting for the Patriots now constitutes a form of allegiance to the president, whose repeated fondness for winning as a conceptual ideal means he's been pulling for them too.
In last year's Super Bowl, as New England improbably worked its way back from a 28-3 deficit against the Atlanta Falcons, Twitter lit up with political metaphors as the game became an allegory for the 2016 election, complete with trolling support from some of the president's white supremacist fans. "Brady just won Florida," read one despairing tweet from an Atlanta fan as the score grew tighter.
The mix of the the team's political leanings and the league's policies last year inspired Patriots fans Emma Sandoe and Josh Gondelman, a Massachusetts-born comic and writer for HBO's "Last Week Tonight with John Oliver," to start the hashtag #AGoodGame, which encourages fans to generate something positive from the Super Bowl by donating money to charity with every score. Last year it generated nearly $100,000 for organizations such as the ACLU, Planned Parenthood and the NAACP Legal Defense Fund. This year, the mini-movement even has its own website.
So I will still be watching Sunday. If the Patriots win, I will celebrate, quietly, and still feel a sense of giddy disbelief this run has continued. If they lose, there's far too many memories stockpiled to complain. Either way, this sort of thing is extraordinarily unlikely to ever happen again. And given all the team and the league has come to represent, maybe it shouldn't.
'Super Bowl LII'
Where: NBC
When: 3 p.m. Sunday
Follow me over here @chrisbarton.
ALSO:
Judd Apatow turns his attention to the Avett Brothers for 'May It Last'
Review: Black Mirror' returns with more grim looks at the future
Sarah Silverman on leaving her bubble for 'I Love You, America'
Get our L.A. Goes Out newsletter, with the week's best events, to help you explore and experience our city.
You may occasionally receive promotional content from the Los Angeles Times.