Q&A: Why comedy everyman Paul Scheer is acting as fast as he can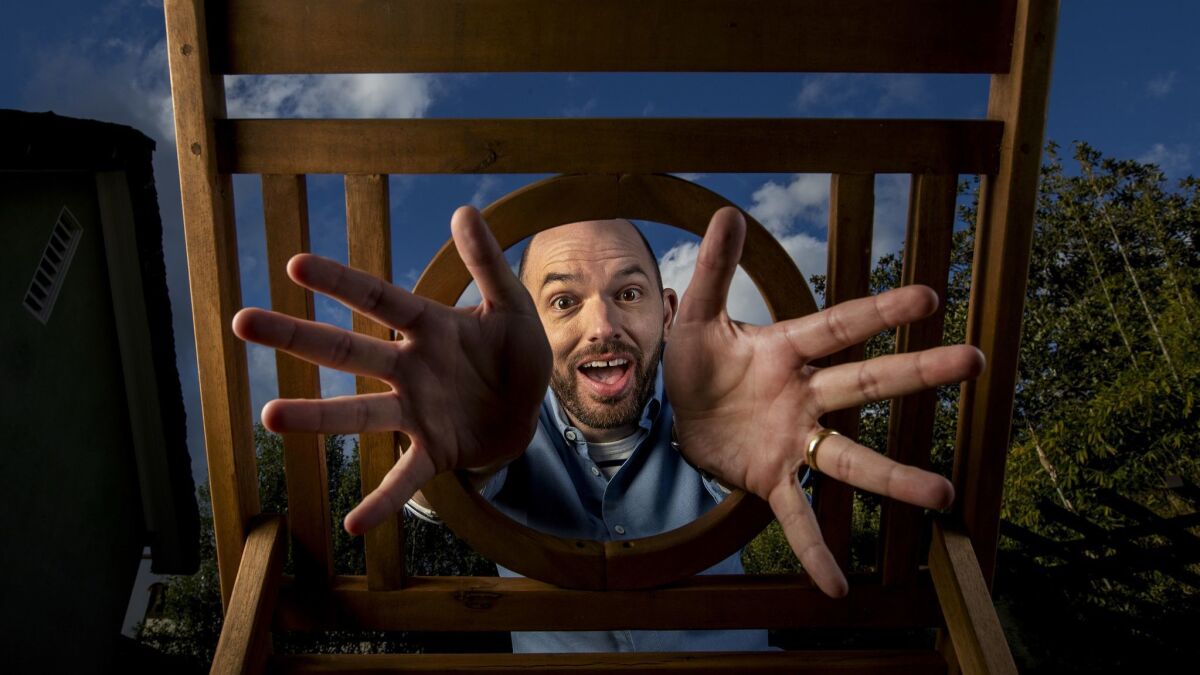 It is not a surprise to find that Paul Scheer talks fast. He doesn't have time not to.
As a performer, writer, director and/or producer at the center, middle or edge of a wide variety of creative projects — mostly but not exclusively in the world of comedy (mainstream and fringe) — Scheer, 43, keeps up a career that would make a bee feel like a slacker.
You will have seen him on television, with his his gap-toothed smile, in good wigs (Showtime's "Black Monday," whose first season concludes Sunday), bad ones (as in his Adult Swim action parody "NTFS:SD:SUV") or with no wig at all, as a regular in FX's "The League" or in recurring roles on ABC's "Fresh Off The Boat" and HBO's "Veep." You may remember him from "Human Giant," the great MTV sketch show he made with Aziz Ansari, Rob Huebel and Jason Wolliner, or on the bigger screen in "The Disaster Artist."
The Internet is awash in his work and presence.
You may have heard him, as a voice on "Adventure Time" or "Big Mouth," or on one or both of his podcasts. "How Did this Get Made?" — which he has hosted since 2010 with his wife, comedian-actress June Diane Raphael, and comedian-actor Jason Mantzoukas — is about terrible movies, and "Unspooled," which he cohosts with film critic Amy Nicholson, is about ostensibly great ones.
He's onstage too, at Largo with his "Hanging with Paul Scheer," which he describes as "a show-and-tell show, like a dinner party with props," or at the Upright Citizens Brigade Theater, where he improvises regularly. For that matter, you may have read him: "Cosmic Ghost Rider Destroys Marvel History," his latest series for Marvel Comics, written with Nick Giovannetti, began appearing in early March.
"The benefit of what we get to do, for as long as we're here, is to try everything we possibly can," Scheer told me recently. "I think podcasting has made me a better writer; what I've learned from comic book writing has made me a better director."
The night before, he had wrapped shooting on a film called "Happily," in which he acts alongside Jon Daly, Al Madrigal, Joel McHale, Natalie Morales, Charlyne Yi, Shannon Woodward, Kerry Bishé and Breckin Meyer. Two of his fingernails were painted black for the part.
Was there comedy in your household as a child?
I'm an only child, I was home alone a lot, watching a ton of TV, ran around the front lawn talking to myself. My dad showed me a lot of comedy, and would show me R-rated movies but cut out scenes of sex and violence — so I remember watching a bootleg copy of "Beverly Hills Cop" that was missing 30 minutes. He knew I loved Eddie Murphy so much. Watching "Saturday Night Live" with him Sunday mornings was, like, the best memory for me.
How did you get started in comedy yourself?
I grew up on Long Island. My parents were divorced and my dad would be, like, "Let's go see stuff in the city." And so we would go to this church basement and see Chicago City Limits, a short-form "Whose Line Is It Anyway?" improv show. And I fell in love with it. They had classes, and my dad would drive me into the city and I would pretend I was a college student because it was not cool enough to be a high school student. [Later, attending] NYU to become a teacher, I got that creative itch, and I fell back in with them. I would tour Friday, Saturday, Sunday, then go back to school Monday through Thursday.
Then the Upright Citizens Brigade came to town — Ian Roberts, Matt Besser, Matt Walsh, Amy Poehler. They were on a fifth-floor walkup of, like, an abandoned hardware store; I remember seeing Asscat, which was their staple show — it's Tina Fey and Rachel Dratch and Adam McKay. They were doing 40 minutes off a one-word suggestion. I started taking classes with them, and as their theater was building up, they were, "We want you to do shows." UCB was nothing back then, but it was the totally right choice. I made my best friends there, I learned more there. I got to audition for "Saturday Night Live," I started to do bits on "Conan." A whole world opened up.
UCB seems to be at the center of intersecting webs of comedy.
Tuesday nights it was Comedy Death Ray, which is stand-up, and Wednesday nights, us doing our improv show, and Friday nights it was a full-on sketch show, and then Saturday another standup show. So the theater had this mix-and-match. I think [sketch] people were originally like, "Oh, stand-ups are out for themselves." And what I realized is that, no, everybody wants to be asked to do something, everybody wants to be in.
UCB has this mentality of "We want to throw the ladder back down." That's something that's been important for me. Collaborating is the most fun, to be able to sit down and not feel so much ownership. It's joint ownership. I'd rather have a successful thing that five people feel invested in than one person's, like, "You're working for me."
Does that come from a grounding in improv and sketch work?
I think it does come from that thing of UCB, where I'm doing lights one night, I'm in the booth selling tickets another night. Or the idea of, "Hey, can you jump in the show, so-and-so's sick?" You would intern there, teach classes — it was like this comedy kibbutz. Everybody was helping everyone else. Why not be like that, why not work with your friends? I know that when I work with people I really love, I know how to write for them, and I also know I can vouch for them — "You can cast this person."
"Black Monday" is a comedy, but you're doing some layered acting there.
I wanted to do something a little more out of my wheelhouse. Keith is a guy that's in the closet, but he also has all the affectations you would see normally on Wall Street. But you open him up and he has this inner life, and almost every person he interacts with, it's different. To Mo [Don Cheadle's character], it's a little bit like he's a sycophant; to a group of people, he's like that jocky bro dude; to [Andrew Rannels' character Blair Pfaff ], it's this competitive thing; to his boyfriend, it's real honest; to his wife, it's this weird, terrible relationship. It's one of the most fulfilling things I've ever gotten to do.
How did you get into podcasting?
Scott Aukerman ["Comedy Bang Bang"] was, "Hey, I'm starting this podcast company." No one had podcasts at that point. And one night I was at a party and Jason was there, and June and I had just seen "Wall Street 2: Money Never Sleeps." We were talking about it, and Jason said, "That's a podcast." And I was like, "Want to do it?" It was no stakes. Nobody knew what it was. My life is asking for favors — "Hey, will you come do the show?"
Back in the early days, it was hard; now it's part of a round of doing press. To me, it's just another way to do a live show. It's disposable, to a certain degree. It's relaxed.
And the bar to entry is set refreshingly low.
It's the same way with movies now; everything is relatively easy to do. It's hard to do something you think is "going to work" — all you can do is decide to do it. We did that podcast for years before it clicked over in a way that I was, like, "Oh, people listen to this?" We sold out the Brooklyn Academy of Music a couple months ago, two shows back to back.
Is it necessary to find the person you're married to funny?
It would be very hard not to, but June is somebody I look up to in so many ways. As a pure performer she is amazing. And she really makes me laugh; she's so uniquely voiced that it never ceases to entertain me. You need that, especially when you're raising two kids. And in the last couple of years, the voice she's taken on in the world of activism and social change — being with June, I'm getting on buses, I'm doing volunteer work, I'm organizing events, she's made me a lot more active and a lot more conscious.
Are your kids funny?
Yeah, they are. Differently funny. My 2-year-old has a sense of timing that legitimately cracks me up. And my older son is climbing trees, he's been trying to fly in the house, he's a ninja, he's Spider-Man. We do bits with them, so sometimes it's hard to parent, because if we are reprimanding, it seems like a joke, because we've done it as a joke. I'll be hugging my 4-year-old, like, "I hate you kids."
Has the recently enlightened time we're living in changed how you work?
I always felt myself to be aware of social issues, you know — I'm a liberal, I live in California, I've lived in New York. And I think this movement has opened me up like this much more. [Makes a widening gesture.] I hate when people are like, "Can we hug? Can we be funny any more?" Yes.
It's so myopic. I listen more than I ever have; I see how something someone is doing onstage that I think is benign could not be benign. My wife is amazingly smart and so I can be incredibly dumb with her and ask questions — we're so afraid to look dumb, we don't ask questions. With June, I'm like, "Is this OK?"
But if you can lose being embarrassed, and attacking people for making mistakes, we're in a good zone — you make repeated mistakes, that's a whole different thing. Have I done stuff onstage I would never do now? One million percent. That's also because I'm growing as a performer. Hopefully we grow as people and we grow as performers.
Get our L.A. Goes Out newsletter, with the week's best events, to help you explore and experience our city.
You may occasionally receive promotional content from the Los Angeles Times.