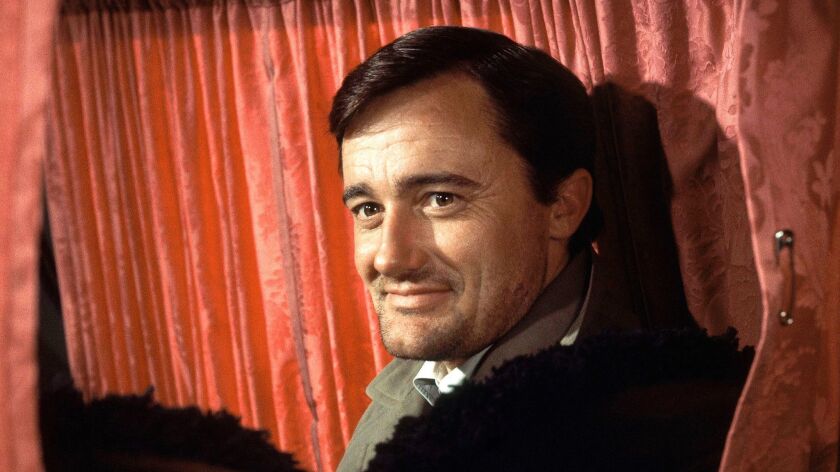 An actor of casual elegance and wry humor, Robert Vaughn died Friday just shy of his 84th birthday. He is best and internationally known as the star of NBC's mid-1960s spy series, "The Man From U.N.C.L.E," a fact that lingers across generations who have no idea what that is. But his career stretched out long before, and long afterward – indeed, his longest-lived role was from 2004 to 2012 as a con artist (for good) on the BBC series "Hustle."
"U.N.C.L.E" arrived in 1964, the year of "Goldfinger" (and a year before "I Spy" and "Get Smart" completed NBC's espionage trifecta). Bond creator Ian Fleming had in fact worked on the series in its early stages, though his only legacy was the name of Vaughn's character, Napoleon Solo. (He did have a talent for naming, did Ian Fleming.)
Vaughn was in his early 30s when he became U.N.C.L.E.'s man, teamed with Scottish actor David McCallum as Russian import Illya Kuryakin -- the Beatle-cut blond to his dark pomaded Sinatra. Like Sinatra, Vaughn was slight, not tall and looked good in a tuxedo, with a triangular face and sharp features. Physically, he seemed approachable, even a little vulnerable -- he fit a TV screen particularly well. There was something dry and defined and feline in his speech, a note of intelligent skepticism he used for his heroes and his villains, straight lines and punchlines; it was not an instrument formed for unburdenings or outbursts. He was not made to play dopes, dupes or rubes.
One was always glad to see him again, and a little bit surprised, although he worked often enough that it shouldn't have been surprising. (That is how it is with actors defined by a singularly successful role.) Not untypically, his career was a thing of peaks and valleys, from the title role in the 1958 film "Teenage Caveman" to an Oscar-nominated supporting part a year later in "The Young Philadelphians"; a year after that, he was one of "The Magnificent Seven" (and is the last to pass away).
Not long after "U.N.C.L.E.," Vaughn popped up in the early '70s British series "The Protectors," in which he played an independently wealthy crime-stopper, a sort of freelance Napoleon Solo with less hair product and sportier clothes. There were notable roles in "Bullitt," "Superman III" (he played the villain), an Emmy for the 1977 miniseries "Washington: Behind Closed Doors." There was bad nonsense like "Transylvania Twist," and better nonsense like Louie C.K.'s "Pootie Tang."
The late-career "Hustle," which aired domestically on AMC, was in some ways his most congenial setting. The role of Albert Stroller, mentor to a team of younger, wrong-righting con artists, brought all his particular gifts into play; and as a character who assumed other identities, he had a range of colors to play, with the actor inside the actor always showing through the layers.
Vaughn himself called some of what he did "junk," but junk has its uses – something too easily forgotten in an age when television is supposed to be nothing less than great. But he was self-contained – he could play the silliest stuff without it leaving a mark on him. His performance took the edge off the bad writing and filled up the good. It was never less than a pleasure to see and hear him.
Follow Robert Lloyd on Twitter @LATimesTVLloyd
---