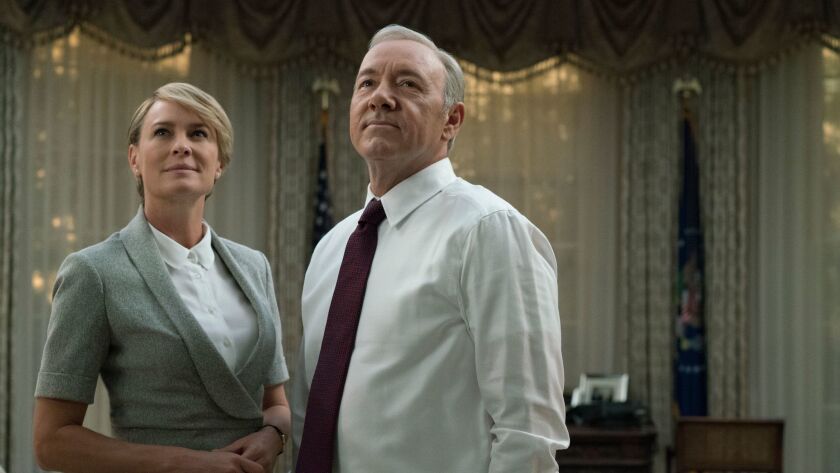 UNDERRATED
Every show that's ended, apparently: Were you sad when your "Friends" finally parted ways with network TV, and — to an extent — you? Wait awhile. While there may not be enough money yet on the table, time will tell, as networks and streaming services can't get enough of reunions, with the mind-bending return of "Twin Peaks" on Showtime following announcements of network comebacks for "Will & Grace," "American Idol" and "Roseanne," which join the reanimated ranks of "Fuller House," "Arrested Development" and, for some reason, "Fear Factor." Ratings may fall and shows may run their course, but on a TV landscape thirsty for safe bets, simply being created is a shot at immortality.
See our complete summer TV preview »
The Duplass Brothers: Though it's hard not to still feel a little bitter about the cancellation of HBO's "Togetherness" (which may not be the real end, at the rate TV is going, see above), there's a lot to be thankful for in the creations of this sibling team. Also known for their appearances, together and separately, on "Transparent," "The League" and "The Mindy Project," the New Orleans-born brothers have also produced the surprisingly heartfelt HBO animated series "Animals" and this summer's "Room 104" (July 28, also HBO), a promising comedy anthology series centered on the happenings in a hotel room. With a humane eye for characters and their portrayal, these two are productive enough to fill a channel of their own.
OVERRATED
'House of Cards' on Netflix: Due to return for a fifth season on May 30, this political thriller best known for backstabbing, revenge and furious ambition now has the distinctive misfortune of coming back to a world where Frank Underwood (Kevin Spacey) offers less of a cautionary example in political leadership based on lies and more of a weirdly more effective one. But even if Spacey, Robin Wright and newcomer Patricia Clarkson continue to hold up the series' high bar for bad behavior, does anyone really want to be immersed in more accounts of Washington intrigue after a long day of watching the news? Or did this show just get sloppily rebooted on MSNBC and nobody said anything?
TV's game problem: Game shows check an absurd number of boxes on a network's budget ledger — they're cheap, often remake already proven ideas and, in theory, deliver mass appeal by being neither topical nor challenging. But summer 2017 looks crowded with the format, including vintage favorites ("To Tell the Truth"), throwback '70s camp ("The Gong Show," "Battle of the Network Stars") and whatever colorful distraction you installed on your phone two years ago ("Candy Crush"). Meanwhile, the answer for how on-demand storytelling on various streaming services keeps cutting into cable subscriptions somehow keeps eluding networks. Maybe they can phone a friend?
See the most-read stories in Entertainment this hour »
Read more stories from our summer television preview here.
Follow me over here @chrisbarton.
ALSO:
Overrated/Underrated: Resonance Records keeps delivering buried treasures and Carrie Coon in 'Fargo'
With help from Melissa McCarthy, life imitates art as three 'Nobodies' from the Groundlings get their shot on TV Land
Judd Apatow and Pete Holmes get real about comedy in HBO series 'Crashing'
---