Review: Without Roseanne, 'The Conners' move on with a new family dynamic that's sharp, funny and cuts deep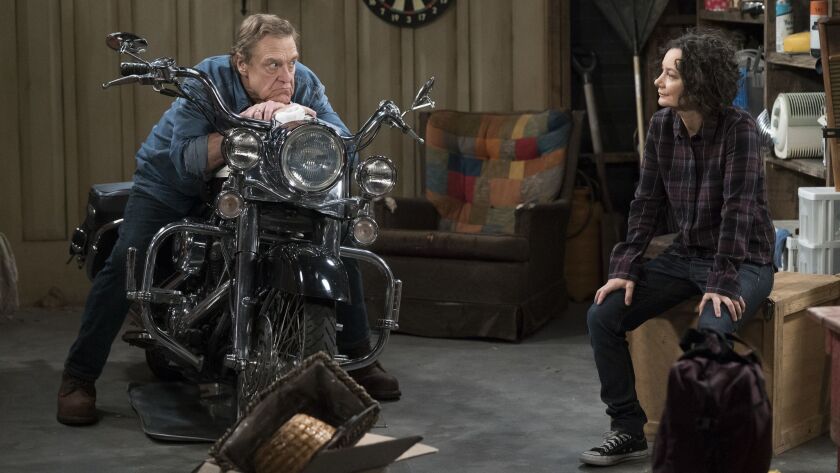 Television Critic
If Roseanne Conner taught her family anything over "Roseanne's" multi-season run and recent reboot, it was how to overcome hardship.
They'll need it because now the show's title character, played by Roseanne Barr, is not part of the spinoff "The Conners," which premieres Tuesday on ABC. Without spoiling what happens to the wise-cracking matriarch, suffice to say that the Conners — like the television audience — are wondering how they'll survive without her.
The pilot episode of the new show finds the family struggling in her absence. But the Conners — as a show and as a family — are up to the task with a half hour that's sharp, funny and cuts deeper than its predecessor.
It's no small feat given the impossible odds this new sitcom is up against. The dysfunctional Lanford, Ill., family is trying to make its way back into the fold without its cantankerous leader at the helm and sans comedian Barr, who brought the character to life in the 1980s and then again for the recent reboot.
The success of "Roseanne's" return was upstaged only by its dramatic demise. ABC canceled the show after Barr posted racist comments on Twitter. Her tweet of course caused an outcry over the network's support of the already controversial Barr. Some former fans had already taken issue with the show's star and creator over her open approval of President Trump.
Even now, there's a faction of Barr supporters who contend positive reviews of "The Conners" are part of a larger conspiracy to delegitimize Trump Republicans. What isn't a divisive issue in 2018?
But it appears that "The Conners" are doing just fine without her. In the two episodes of "The Conners" available for review, the themes are more universal than political, and it's women who once again take charge.
There's now a whole new family dynamic and conversational flow around that cramped kitchen table and cluttered living room that lends a fresh and spontaneous feel to a comedy populated with characters we've known for years. Why? Barr often delivered her lines like a stand-up comic, waiting a beat before delivering the punchline, creating a sort of call and-response dynamic when she argued with husband Dan (John Goodman) or snarked at the kids.
RELATED: 'The Conners' producers are ready to move on without Roseanne – on- and off-screen »
Now the core players of "The Conners" have the room to play off one another while referring to how empty the place feels without her around. It's a smart way of acknowledging the loss of Barr as a performer while elevating the other personalities that drive this comedy. And "The Conners" is funny.
Roseanne's sister Jackie (Laurie Metcalf) and daughter Darlene (Sara Gilbert) are the beating heart of this recently altered household, and they take the new narrative in wonderfully awkward, wry and entertaining directions. It's Metcalf and Gilbert who are the irreplaceable stars now, which seems only right. This was always a show built around strong, albeit flawed, female characters.
Jackie deals with her sister Roseanne's absence by furiously cleaning up the home's "40 years of unattended filth."
Darlene and her sister Becky (Lecy Goranson) do what they know how to do best, crack sardonic jokes in moments where other comedies might get all tender on us. But now they check themselves: "Is laughing inappropriate?" they ask each other, then shrug. "That's what mom taught us to do."
But "The Conners" doesn't wallow too long in the empty space left by a main character who isn't there. The writing team here – many of whom jumped over from "Roseanne" – manage to spin hilarious moments out of the inopportune situation.
David (Johnny Galecki) is back in the picture but with a new girlfriend who's the polar-opposite of his leather jacket-wearing ex, Darlene. Blue (Juliette Lewis) is a gauzy hippy type who suggests the kids walk to school barefoot to "ground themselves." Darlene is in top form when the two are forced to converse, channeling all her Gen X angst toward the new interloper.
She decides to date again, and it's also here where she and Jackie bond while sitting in the bar where Becky works. They're having a drink, checking out the men around them, assessing whether they have healthcare or not by their ailments. "You're a catch," Jackie says to Darlene. Because "you're an educated, diabetes-free woman in Lanford. … That makes two of us."
Dan also has more to do this time around. He reprises his role as the relative voice of reason when an issue of alcohol abuse arises in the family, or when he's dealing with his grandson's gender fluidity. But now he's struggling with his own equilibrium as the head of the household, and Goodman does a stellar job infusing Dan with a newfound depth while remaining firmly planted in the world of comedy.
Dan was brought back from the dead for the "Roseanne" reboot and fans were fine rolling with that absurdly unbelievable narrative.
"The Conners' " hurdle is of course a more formidable one. But since the show embodies the best elements of the sitcom it was spun from and does so with a renewed sense of humor and relevance, "The Conners" may just persuade "Roseanne" fans to stick with them on the family's new journey.
'The Conners'
Where: ABC
When: 8 p.m. Tuesday
Rated: TV-PG-DL (may be unsuitable for young children with advisories for suggestive dialogue and coarse language)
---
The complete guide to home viewing
Get Screen Gab for weekly recommendations, analysis, interviews and irreverent discussion of the TV and streaming movies everyone's talking about.
You may occasionally receive promotional content from the Los Angeles Times.