Are you afraid to step inside 'The Exorcist' maze at Universal's Horror Nights?
I had high expectations when I arrived at Universal Studios Hollywood for an exclusive preview of a new Halloween Horror Nights haunted maze based on what I and many consider to be the scariest movie of all time: "The Exorcist."
Like many Horror Nights fans, I've been waiting and hoping for a decade that Universal would bring the 1973 supernatural horror film to life in a haunted maze. To my amazement, the Exorcist maze exceeded my expectations.
It was an unseasonably cool and breezy fall-like day when I met Horror Night creative director John Murdy on the Universal Studio backlot on Tuesday afternoon for a walk-through tour of the Exorcist maze.
"It's been a long quest," Murdy said. "I've been wanting to do this for a long time."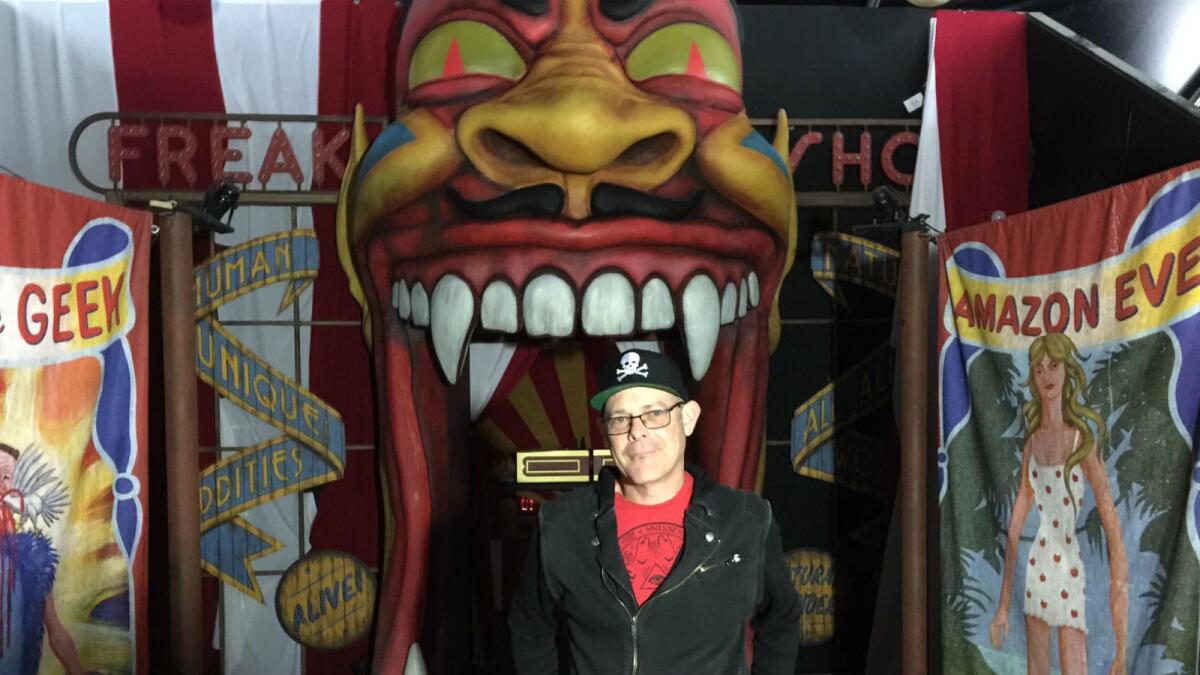 Murdy has been trying to land the rights to build a maze based on the classic horror movie ever since the 2006 reboot of Halloween Horror Nights at Universal Studios Hollywood.
"Any time our fans would ask, 'What's the movie you want to do more than any other horror movie?'" Murdy said. "I would always say, 'The Exorcist.'"
Based on a 1971 book, which itself was based on a 1949 exorcism, the film tells the story of a 12-year-old girl who becomes demonically possessed after playing with a Ouija board.
"I wanted to do this because no movie scares me more than 'The Exorcist,'" Murdy said.
That's saying a lot coming from a man who bathes in blood and gore each year as he prepares for the six-week-long Horror Nights season.
Since 2006, Murdy has brought to life many of the best-known horror films as haunted mazes: A Nightmare on Elm Street, Friday the 13th, Texas Chainsaw Massacre, Halloween, Saw, The Thing, The Wolfman, Evil Dead, Alien vs. Predator and An American Werewolf in London. But never The Exorcist. Until now.
"I'm afraid to watch the movie," Murdy said. "It really bothers me."
But while Murdy always dreamed of building an Exorcist maze, he had no idea how to pull it off. The film violates two of his three criteria for a good Horror Nights maze. While "The Exorcist" has high audience awareness, the film doesn't have many interesting environments you would want to see or readily identifiable characters that can be easily replicated with live actors.
"When you boil it all down, 'The Exorcist' in its essence, is a movie that primarily takes place in one bedroom with a 12-year-old girl that never gets out of bed," Murdy said. "It's the scariest movie ever made, but it's scary in a theatrical sense."
Which is fine if you're staging a play, Murdy said, but not very useful if you're trying to scare hordes of visitors passing through a Horror Nights maze expecting to be terrified out of their wits.
That's when Murdy remembered the so-called banned movie trailer for "The Exorcist," which consisted of little more than flashing subliminal black-and-white photographic negative images of the possessed girl and the demon set to creepy music.
"I don't know how, I don't know why, but this is our maze," Murdy said of the movie trailer. "Somehow we have to do this. I want people to feel like they're getting possessed."
Spoiler alert: What follows is a detailed scene-by-scene preview of The Exorcist haunted maze and the technical aspects that helped bring the Horror Nights attraction to life.
Throughout the maze, visitors continually meet the three main characters: Regan MacNeil, the demonically possessed 12-year-old girl; Father Damien Karras, a troubled priest and psychologist; and Father Lankester Merrin, an elderly priest who performs the exorcism. Pazuzu, the demon possessing Regan, tracks us throughout the maze.
Sandwiched in the middle of the maze are several identical bedroom scenes where Regan's possession and exorcism take place. To pump up the scare factor, the theatrical scenes are broken up with blackout hallways where visitors encounter subliminal visions of Regan, Pazuzu and even the priests.
The entrance to The Exorcist maze, located behind the Revenge of the Mummy indoor roller coaster on the theme park's lower lot, recreates the iconic movie poster with Father Merrin standing with a briefcase before a Washington, D.C.-area brick townhouse. The film's "Tubular Bells" theme song plays amid the fog as a bright light shines from Regan's upstairs bedroom window.
Just inside the foyer, visions of the demon Pazuzu flash on the walls in a subliminal effect that will repeat throughout the maze. On an antique secretary desk, a planchette seemingly moves by itself on a Ouija board. A behind-the-scenes performer controls the Ouija board with magnets, Murdy said.
And then bam. There it is. The film's most memorable scene. The terrifying spider walk. Regan walks down the staircase upside down on her hands and feet. Via an audio track, visitors hear Regan's mother say: "I'm telling you, that thing upstairs isn't my daughter."
The spider walk scene, which never appeared in the original movie, was restored for the remastered version of the film, released in 2000.
"In the movie, it was wire work with a stunt performer going down the stairs," Murdy said. "Back in the pre-computer animation days, they just couldn't get the wires out of the shot. So that's why they didn't use it in the movie."
Murdy said some Horror Nights performers can do the spider walk, but not up and down a staircase over and over again for an entire night.
"There's no way you could do this with a performer," Murdy said.
During Horror Nights, a hidden performer controls the mechanical spider walk effect from behind the staircase, Murdy said.
Between scenes, visitors travel along blacked-out hallways populated by demonic visions, puppeted figures and live "scareactors" with the ability to trigger audio and lighting effects.
"We loaded up these dark transitions," Murdy said. "It's bam, bam, bam, bam, bam. Otherwise it would be just like watching a theatrical version of 'The Exorcist.'"
In the first bedroom scene, Father Karras confronts the demon as the room goes crazy. Doors fly open, windows slam closed, chairs move, pictures spin and cabinets shake. A demonic Regan lies on the bed as the mattress tilts wildy.
"There's a team you'll never see on set behind the scenes doing all this stuff," Murdy said. "They're practical, old-school movie effects. Which is what we do. We just do them live."
The live actors in the maze will wear silicone masks so the familiar characters look alike from scene to scene, Murdy said. The masks, developed for The Walking Dead year-round maze, allow scareactors with dialogue to realistically move their mouths.
The bedroom scenes repeat — each time with Regan becoming more demonic than before. Her head spins and she spews green vomit. She levitates above the bed as the walls crack. The possessed girl flicks her serpent tongue and Pazuzu magically appears in the room. All interspersed with blackout hallways filled with in-your-face scares.
Reprising "Tubular Bells," the maze ends in classic Horror Nights fashion with a final scare, a final-final scare and a final-final-final scare.
The Exorcist maze somehow managed to exceed my high expectations — even with the lights on and without any actors or audio effects. After a decadelong wait, Murdy and the Horror Nights crew delivered every scene I was hoping to see from "The Exorcist." I can't wait to come back when Horror Nights starts and see the finished production.
Halloween Horror Nights 2016 begins Friday and runs on select nights through Nov. 5. Ticket prices range from $59 to $89.
ALSO
32 best new theme park additions of 2016
8 unanswered questions about Disneyland's Star Wars Land
Disneyland 2055: What the future may hold for the original Disney park
Disneyland 1955: 'Walt's Folly' got off to a nightmare start
Get our L.A. Goes Out newsletter, with the week's best events, to help you explore and experience our city.
You may occasionally receive promotional content from the Los Angeles Times.