He's America's TV dad. Get to know 'This Is Us' star Milo Ventimiglia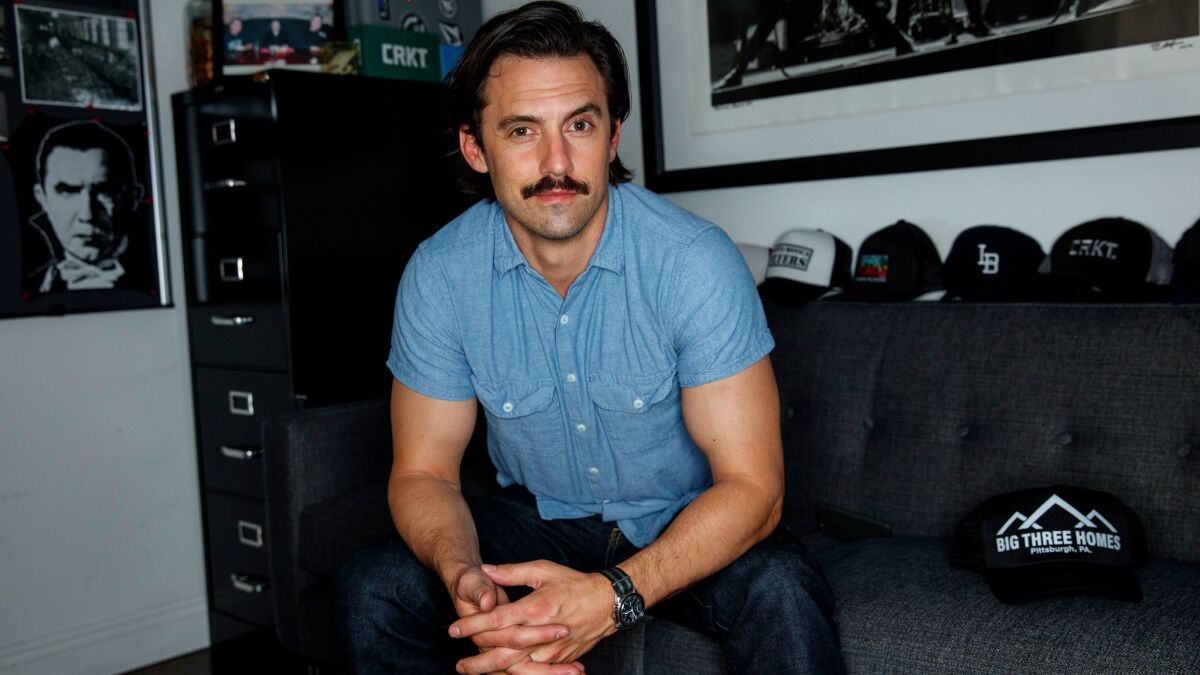 It's just after 1 a.m. and Milo Ventimiglia, finally settling into his Minneapolis hotel room after a climactic Super Bowl night, can at long last sleep with one less secret to keep.
"I'm happy everyone is in the know," he says by phone.
As flawed-but-nearly-perfect patriarch Jack Pearson on NBC's megahit "This Is Us," Ventimiglia has joined the roster of TV's most beloved dads. So beloved, in fact, that the character's death, revealed in the show's debut season, and the mystery surrounding it, kindled the question, "How did Jack die?" It quickly became a pop culture phenomenon rife with conspiracy theories.
On Sunday, the answer came. (This is … where the spoilers start.)
MORE: 'This Is Us' finally told us how Jack died — Milo Ventimiglia and Mandy Moore help us cope »
With its plum post-Super Bowl slot, the time-jumping, twist-friendly family drama once and for all revealed that Jack died of cardiac arrest after inhaling too much smoke while saving his family's dog — and a few other things — as a fire, sparked by a faulty slow cooker, ravaged the Pearson home.
"He got the dog!" the 40-year-old actor exclaims, still lively after a long night that included an appearance on "The Tonight Show Starring Jimmy Fallon." "And he got everything else out. He got the moon necklace. He got the photo albums. Like, come on, Jack. Really?" (Take heart, just because the mystery has been solved, the character won't be disappearing.)
The episode, which stands as the most-watched post-Super Bowl entertainment telecast in six years with an average of 27 million viewers, had viewers reaching for tissue boxes — and their mobile devices. Barely halfway into the episode, Twitter was already reporting it was the most-tweeted episode to date in the show's two-season run.
"I feel for the audience right now," Ventimiglia says, "because not only did they get hit with learning how Jack died, but, on Tuesday night, they're gonna get hit with another whammy."
Yes, there's another new episode set to air Tuesday. But let's not get ahead of ourselves. Instead, in the spirit of the show, let's flash back to a few days ago, when Ventimiglia was riding out the last days of the mystery at his home in Los Angeles. (And because you're probably wondering: Yes, his smoke detectors have batteries — "I change them regularly" — and yes, the two slow cookers in his kitchen function properly.)
The actor — who up until now was best known for his breakout roles as Jess Mariano, the moody bad-boy boyfriend to Rory in "Gilmore Girls," and Peter Petrelli, the medical caregiver with superhuman powers in "Heroes" — is very much like the genial, family man-type character he currently portrays. A floor-to-ceiling photo collage of friends and family lines a wall in his kitchen. He built part of his backyard patio with his father, Peter — their names are inscribed in the concrete footings. And as a hobbyist photographer — nearly every drawer in his office is a warehouse for lenses, film, etc — he is known to take pictures, whether on set or in life, and gift them as keepsakes.
I'd like to think I care about the people I love, like Jack does.
— Milo Ventimiglia, who stars as Jack Pearson on "This Is Us"
Ask Ventimiglia in what ways he's most like Jack and he'll start off with their differences.
"I'm not an alcoholic, so I don't think I'm like him in that way," he says. "My parents didn't drink, and it was never anything I was raised around, so it just, it never factored into my life... How we're alike? I'd like to think I care about the people I love, like Jack does."
But more than living up to a fictional character, Ventimiglia is trying to fill the shoes of his parents — his mother, Carol, a retired teacher, and his father, Peter, a Vietnam veteran who was in the printing business before he retired.
"I still want to be my dad," he says, flashing his signature crooked smile. "Growing up, my father represented this person of strength, of character. I saw not only the way he would talk to other people and his family but also how people would talk about him. People love my father — people love my mother. For me, it's always been, 'I want to live up to that.'"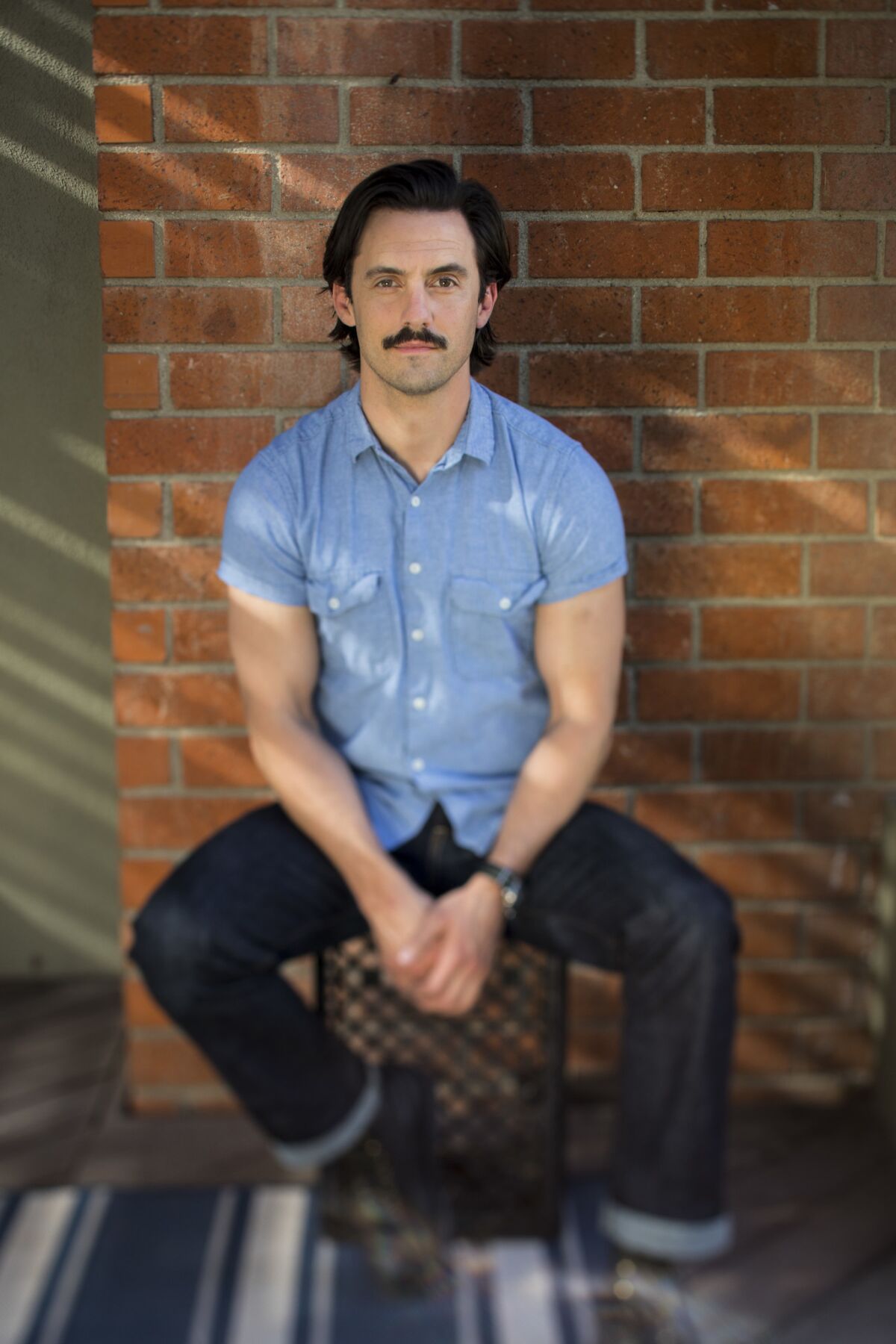 Amy Sherman-Palladino, the creator of "Gilmore Girls" and a longtime friend, can attest that he does — and not simply because he's the one who persuaded her to stop consuming energy drinks.
"If you know Milo the way I know Milo — I always say that I could never have kids, because I could never be guaranteed that they would turn out to be Milo," says Palladino, who sees Ventimiglia more frequently on the red carpet as of late thanks to her new Amazon series, "The Marvelous Mrs. Maisel." "He's always been such a stand-up guy. He's so kind. He's so thoughtful of everybody and so gracious to his co-actors and his crew. He takes his work extremely seriously without taking himself extremely seriously."
Mandy Moore, who plays Jack's wife, Rebecca, on "This Is Us," says Ventimiglia is Peak Dad in the little moments. She offers a time, before production on the first season had begun, when the two were set to make a press appearance and a strap on her shoe broke.
"He pulled out a pocket knife and, like, MacGyver-ed the thing and was able to tie the piece back on on my foot and made the shoe work," she says by phone. "He's that guy!"
I always say that I could never have kids, because I could never be guaranteed that they would turn out to be Milo.
— Amy Sherman-Palladino, creator of "Gilmore Girls"
Ventimiglia's road to becoming America's TV dad has been a winding one, starting at age 8 — the age he knew he wanted to be an actor. Growing up in Anaheim., Calif., Ventimiglia would put on plays with his two sisters in the family living room — he recalls coming up with plays inspired by the 19th century children's novel "The Water Babies."
"I remember watching the Academy Awards with my mom and dad as a kid and seeing the acting clips [and] thinking, 'That's what I want to do,'" he says. "But I didn't understand that it could be a career. I just knew I wanted to do it."
Bit parts on TV shows such as "The Fresh Prince of Bel-Air" and "Saved by the Bell: The New Class" eventually led to bigger roles but, in between, there were moments in which he grew disenchanted with Hollywood. Ventimiglia had just come off the ABC sci-fi thriller "The Whispers," which was canceled after one season in summer 2015, and was reassessing what he wanted "out of going into my 40s, as an actor, as a man. I pulled my foot off the gas a little bit and backed off and re-engaged with life."
By October, the script for "This Is Us" turned things around.
"When Milo first came in to meet with us, I knew instantly that that was the guy," show creator Dan Fogelman says by phone. (In fact, hanging in Ventimiglia's home office is a framed copy of the e-mail Fogelman sent to studio executives about casting Milo.)
"It just made perfect sense," Fogelman adds, "that, 'Oh, yes, he is the patriarch of this family.' This young man who would grow into an adult man who would bring a certain kind of masculinity and old-school dad to the part, but in a fresh and exciting new way. And look, there's no mystery if you don't care about this guy. And people do."
Writer and producer Bryan Fuller, who worked with Ventimiglia on "Heroes," isn't surprised in the least that the actor, who isn't married and doesn't have kids in real life, has become America's dad.
"It is no wonder," Fuller wrote via email. "The warmth and accessibility he brought to many of his earlier roles has transformed into something nurturing and strong. In many ways, Milo's evolution as an actor parallels his evolution as a human being. A good guy that has grown into a good man."
As "This Is Us" moves past one of its key plot points, Ventimiglia, who also splits his time producing projects with his longtime producing partner Russ Cundiff via their DiVide Pictures company, is eager to move on to other aspects of Jack.
"I feel like I've only been with this man a short period of time," he says. "We've seen maybe 32 hours' worth of Jack's life… I still feel like there's a lot we don't know about him — getting into his thoughts, into his heart, into his daily struggles as a human being. Then again, will we ever really know what the inside of Jack is? Because he mostly only reflects the positive."
Contemplating all that's to come also gets Ventimiglia wondering what Jack would be like today, at age 74.
"He'd be in love with those grandkids and he'd be doing something with houses — something creative," Ventimiglia says. "And he'd be engaging with his adult children. I do wonder, though, if those lessons that his kids learned by only having Jack for a period of time — if they would have been lost if he was still around. The what ifs can trip you up."
The most-read Entertainment stories this hour »
'This Is Us'
Where: NBC
When: 9 p.m. Tuesday
Rating: TV-14 (may be unsuitable for children under the age of 14)
Twitter: @villarrealy
Get our L.A. Goes Out newsletter, with the week's best events, to help you explore and experience our city.
You may occasionally receive promotional content from the Los Angeles Times.