Charlotte Rae, matriarch on 'Facts of Life,' dies at 92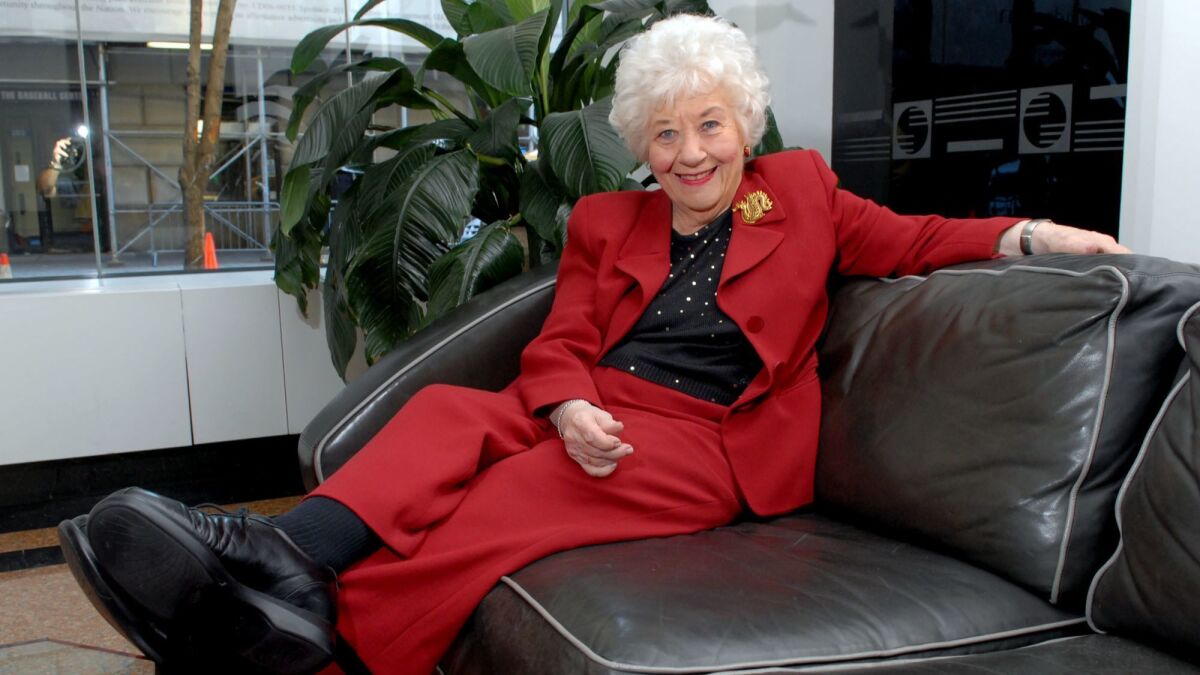 Charlotte Rae, the actress best known for her role as Mrs. Garrett, den mother to a group of rambunctious teenage girls on the long-running 1980s sitcom "The Facts of Life," has died at 92.
Spokesman Harlan Boll said Rae died Sunday at her Los Angeles home. A cause of death was not immediately provided, but she was diagnosed with bone cancer in 2017.
"She was a dear, dear friend for many years, one of a kind, and it was such a joy to be able to work with her," says Alan Mandell, who directed and co-starred with Rae in the May production of "Endgame" at the Kirk Douglas Theatre. It was Rae's last performance.
Charlotte Rae Lubotsky was born in Milwaukee, the middle of three daughters raised by first-generation Russian and Polish Jews. Rae's mother was a childhood friend of future Israeli Prime Minister Golda Meir and was active in the early Zionist movement. Her father ran a successful appliance business.
Music and performance were an integral part of Lubotsky family life. Older sister Beverly was a talented classical singer, while baby Mimi was a piano prodigy. Rae's dreams of stardom were ignited at age 10, when she got her first paid gig as a performer: Neighbors she baby-sat paid her an extra dime to sing "Blue Moon" and complimented her voice.
"Somehow the small coin made my whole life seem worthwhile," Rae wrote in her 2015 autobiography, "The Facts of My Life." "Suddenly, I thought, this is my future — become famous and people won't notice how inferior I really am."
Rae enrolled at Northwestern University, where she took part in the annual Waa-Mu theatrical review and discovered she had a knack for making people laugh. In the 1948 show, she played a politician's daughter and aspiring ballerina who can't stop spinning — a jab at opera-singing first daughter Margaret Truman.
She later took her act to New York, singing and performing comedy at legendary nightclubs like the Village Vanguard and the Blue Angel. On Broadway, she starred in musicals including "Three Wishes for Jamie," "Li'l Abner" and "Pickwick," the latter of which earned her a Tony nomination. She also portrayed Mrs. Peachum in Bertolt Brecht's "The Threepenny Opera."
TV work followed, including memorable roles as underappreciated housewife Sylvia Schnauser in the sitcom "Car 54, Where Are you?" and Molly the Mail Lady in early episodes of "Sesame Street."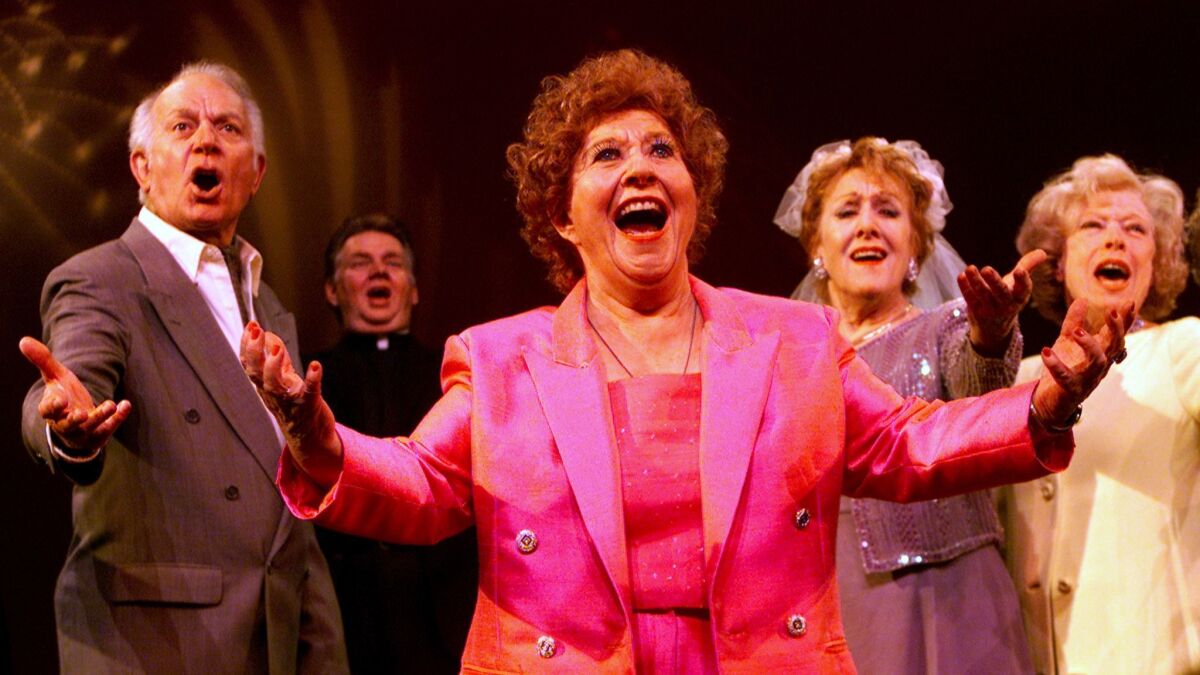 Despite aspirations of being a Shakespearean actress, Rae primarily worked in comedy — a fate she accepted happily. "There's nothing wrong with making people laugh," she told The Times in 1989. "We all need to laugh. Sometimes I get all these laughs inside of me and there's no place to let 'em out."
Mega-producer Norman Lear eventually took notice of Rae's talents, casting her in guest parts on "Good Times" and "All in the Family" and a regular role as the resident of a seedy hotel the short-lived "Hot L Baltimore." But it was the Lear-produced "Diff'rent Strokes" that would finally help her break through. She played Mrs. Garrett, housekeeper for a wealthy Park Avenue widower who adopts two black orphans.
Midway through the second season, the popular character got her own spin-off, "The Facts of Life" on NBC. Set at an all-girls boarding school in Peekskill, N.Y., the sitcom followed housemother Mrs. Garrett and her teenage charges, including streetwise Jo and prissy Blair.
With her cooing voice and ornate red bouffant, "Mrs. G" was a steady maternal presence amid the adolescent drama, ready to dole out clear-eyed wisdom and tough love. For many children of the 1980s, the sitcom, which tackled subjects such as drugs, sex and disability, was a touchstone of the era — and Mrs. Garrett was its heart and soul. (She also sang from time to time.)
"We really presented issues that were wonderful for opening up dialogue between parents and their kids," Rae said in a 2008 interview.
"The Facts of Life" turned Rae into a bona fide star and earned her an Emmy nomination. But the show famously went through several revamps in an attempt to keep it alive, and she chose to depart after seven seasons in 1986. She was replaced by Cloris Leachman -- a classmate from her Northwestern days.
In reality, Rae's personal life was not exactly the stuff of cheerful sitcom plots. A recovering alcoholic, she got sober with the help of Alcoholics Anonymous. Her marriage to music composer John Strauss produced two sons but ended in divorce after he revealed his bisexuality.
"All I could feel was the betrayal and, worse than that, my shame," she wrote of their breakup in "The Facts of My Life," co-written with her son, Larry Strauss. In the book, she also opened up about her eldest son, Andrew, who struggled with autism and dementia and was at one point committed to the juvenile ward at Bellevue Hospital in New York. He died of a heart attack in his 40s.
After "The Facts of Life," Rae remained busy, with guest roles on shows including "The King of Queens" and "ER," and continued to work in regional theater. She reprised the role of Mrs. Garrett in a reunion special.
In 2006, Rae re-released "Songs I Taught My Mother," an album of "silly, sinful and satiric selections" by the likes of Cole Porter and Richard Rodgers. First recorded in 1955, it showcased Rae's skills as a singer and comedienne and gained a cult-like following among musical theater aficionados.
She was most recently seen on the big screen with Meryl Streep in "Ricki and the Flash," directed by Jonathan Demme.
Shortly after her 91st birthday in April 2017, Rae announced a diagnosis of bone cancer. Having already beaten pancreatic cancer, she told People magazine that she was uncertain about undergoing treatment again.
"I'm grateful for the life I've already had," she said.
See the most-read stories in Entertainment this hour »
Follow me @MeredithBlake
---
Get our L.A. Goes Out newsletter, with the week's best events, to help you explore and experience our city.
You may occasionally receive promotional content from the Los Angeles Times.