Larry Hagman, boyish to the end: An appreciation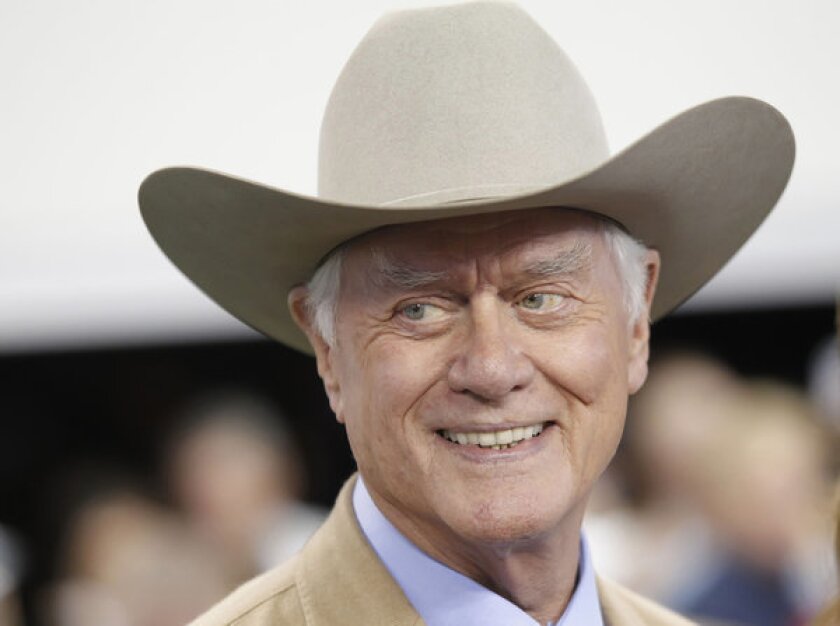 Los Angeles Times Television Critic
Larry Hagman, who as J.R. Ewing was famously shot but survived to finish 14 seasons and 357 episodes of "Dallas" and who rose again to lie and scheme in this year's successful revival, died Friday in Dallas, just down I-30 from Fort Worth, where he was born 81 years ago.
The son of musical-comedy star Mary Martin, Hagman worked on the New York stage through the 1950s, on and off-Broadway, then moved into movie and TV roles. But it was as the star of "I Dream of Jeannie" that he first became widely known, a good-looking, dark-haired leading man in the mold of contemporaries like Jim Hutton and James Garner.
PHOTOS: Celebrity reactions to death | Life in pictures
A knockoff "Bewitched" in which Hagman played Maj. Anthony Nelson, a bachelor astronaut more or less cohabiting with curvaceous female genie Barbara Eden, who called him "Master," the series, which was risque in a way about to become outdated, ran from 1965 to 1970 -- its end, one might note, concurrent with the rise of the women's movement. But Hagman's easygoing approach made its weird power relationships palatable.
And then there was J.R. I can't swear, without spending some time in a library, that he was television's first antihero. Ralph Kramden might be, viewed from a certain angle, and daytime soap operas, of which Hagman was a veteran and "Dallas" a prime-time variant, were full of characters You Loved to Hate (yet really loved). But J.R. was the godfather, certainly, of Tony Soprano and Walter White, of Nucky Thompson and Al Swearengen -- and their better, one feels.
Although Hagman's two great roles -- the sitcom hero, the melodramatic villain -- would seem remote, both depended on a native boyishness that kept him likable in situations that might otherwise have turned sour. What made J.R. attractive, after all, was not that he was a winner, albeit an unscrupulous one. What made him delightful was his capacity for delight. He treated life as a game.
Mythologically speaking, he was a "trickster," a cousin to Bre'r Rabbit, to Coyote and Loki: the beloved troublemaker the culture requires to keep things in balance. The 2012 "Dallas," whose second season was in production when Hagman died, may have pushed a young generation of Ewings to the fore, but it still depended largely on Hagman's sense of fun, on a wide smile and twinkling eye as vibrant at 80 as ever. Thinking of J.R., we reach for terms not of disapproval, but of affection: rascal, rapscallion. His charm was puckish.
PHOTOS: Notable Deaths of 2012 - Classic TV
If the actor was technically too old to be even an old hippie, he was a bit of one, anyway. He bathed in the Esalen hot springs with Alan Watts. He lived for many years on the beach in Malibu, where a flag reading "Vita celebratio est" (Life is a celebration) flew at his house, and later in the arty climes of Ojai. He was a member of California's Peace and Freedom Party and an advocate for solar power.
Hagman had a long, bad history with alcohol and nicotine, the drugs of his generation. (He had a liver transplant in 1995, and it was throat cancer that killed him.) He quit both but remained a devotee -- that seems to be the apt word -- of marijuana, to which Jack Nicholson introduced him, thinking it might help cut down on his drinking. (Characteristically, that vice tended toward champagne.) And he wrote and spoke glowingly of his experience with LSD, which, he said, opened him to "the oneness of the universe" and rid him -- I am glad to think today -- of any fear of death.
ALSO:
'iCarly' star Jennette McCurdy reflects on the show's run
Television review: 'Liz & Dick' romance fizzles in graceless biopic

'Homeland' makes Mandy Patinkin feel young, and he's ever active
Timeline: Emmy winners through the years
Celebrity meltdowns
VIDEO: Watch the latest fall TV trailers here
---
Inside the business of entertainment
The Wide Shot brings you news, analysis and insights on everything from streaming wars to production — and what it all means for the future.
You may occasionally receive promotional content from the Los Angeles Times.