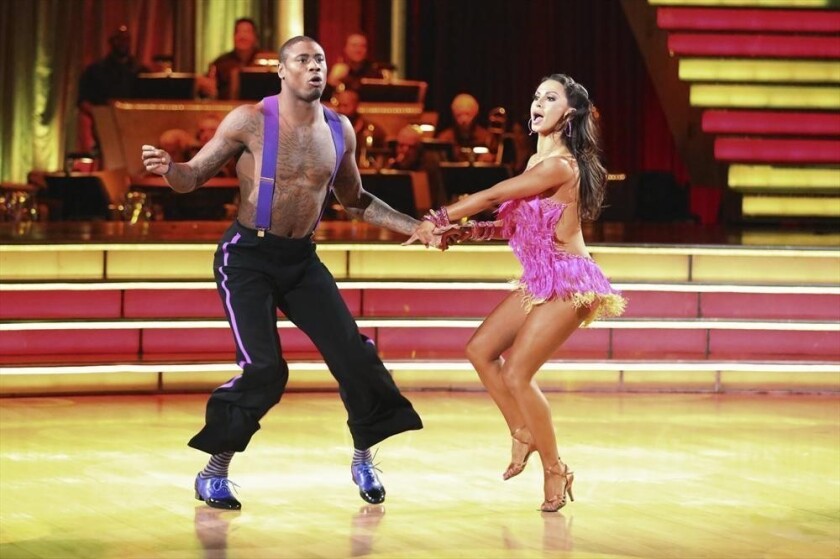 It's Stevie Wonder night on "Dancing With the Stars!" Week 6's whole program revolved around the music of this Motown legend. "We're so happy to have you here on Stevie Wonder night," host Tom Bergeron told Mr. Wonder. And good thing too, Stevie joked, lest he had to stay at home to watch it on TV.
Stevie, however, did not sing all his songs on the program. That was left in the most capable hands of the Harold Wheeler Band. The musical legend sang live twice — first to open the show (alongside pal and country singer Hunter Hayes, after which Hunter was not heard from in the ballroom again), and then for a special rendition of "My Cherie Amour" accompanied by the cherie Anna Trebunskaya and Tony Dovolani. Methinks the studio audience got more Stevie than the viewers at home did, because certain cuts to commercial had Our Pros and members of the Troupe out on the dance floor with Mr. Wonder as if they had just finished a performance.
This week also had Team Paso dancing off against Team Samba in a quest for bragging rights and judges' scores. Team Paso went first, to "Higher Ground," in what could most kindly be termed as an interesting , neon-colored mess. Zendaya and Val could only do so much to raise up the quality of this group, which consisted of Ingo Rademacher and Kym Johnson, Jacoby Jones and Karina Smirnoff, and Victor Ortiz and Lindsay Arnold. Len said he thought it was "a spirited effort. There was a few awkward moments individually, but the group part was pretty tight." Bruno said it was like an episode of Wrestlemania with "all those writhing bodies" but cautioned the duos to "be careful of the sync." Carrie Ann had her sympathetic face on. "It was just too sloppy, it was kind of a mess," she said with a shrug. "Sorry." Undeterred, Jacoby led the other two stars in a pose-off in the sky box. But the judges awarded Team Paso with just 22 points. Which stands as Zendaya's lowest score ever. And Victor's second highest.
PHOTOS: 'Dancing With the Stars' season 16
With the poor showing from Team Paso, Team Samba had nothing to lose. It also helped that they went second and had Derek Hough (who has never lost a team dance challenge) and Kellie Pickler as team captains. And you knew the dance was going to be a good when the entire group (Kellie & Derek, Andy Dick & Sharna Burgess, Sean Lowe & Peta Murgatroyd, Alexandra Raisman & Mark Ballas) started out holding hands and dancing in homage around a mirror ball, as any proud citizen of the Glitterverse would do. And whether it was helped along by the funky cool beats of "Superstition" or the groovy '70s costumes (psychedelic colors, white knee-high boots, porn 'staches and all), Team Samba really came together in theme and musicality. Bruno said it was like watching "a reunion of the cast of 'Boogie Nights' " — "even [Andy] managed to keep sync." Carrie Ann thought they all "killed it." Len said the routine was "tight, together, and well done." And the guys in particularly really got into character. "I'm really excited about my mustache right now," Derek said. "I want to build a shelf." Their score of 25 was added to each of Team Samba's totals.
Which gave Kellie Pickler and Derek Hough the distinct lead in the competition. There are dill pickles. There are sweet pickles. And there are Kellie Pickles — er, Pickler. Who is mostly sweet but can give off a satisfying zing when her perfectionist of a partner messes up. Now that the 10s have been released, Kellie and Derek are hoping the judges "won't be so stingy with them." Though Kellie's already seeing things go her way. Whereas Kellie's been the one making the mistakes, this week Derek seemed to be infected with a case of the missteps. And Kellie's enjoying it — perhaps a bit more than she should. "When Derek makes a mistake, it makes me excited because I can rub it in his face," she squeaked happily. Not to mention that their mentor-pupil relationship becomes more of a partnership, as seen in their quickstep, set to "Part-Time Lover." Kellie was meeting her pro partner toe to toe. Carrie Ann loved Kellie's "chia pet" hair and said the posture, nuance, synchronicity and interpretation were "perfect." That was, except for the "space in your hold — that was kind of bugging my eyeballs." Carrie Ann's critique spurred handholding solidarity between Len and Bruno. Len thought their was the "best dance I've seen all season." Bruno said even professionals lose space in their hold sometimes. Kellie got the first 10 from Len, and a 29 for her quickstep, and a new pair of shoes from Derek. Add the 25 for their Team Samba. Total: 54 out of 60.
Alexandra Raisman found that the events of her native Boston had affected her far more than she had thought. Turned out that she was supposed to be at the Boston marathon. Mark Ballas suggested she used all those emotions and "bring joy." And it was with joy and a lightness of step that the Olympic gymnast and Mark instilled in their fox trot, set to "Isn't She Lovely." It certainly had Len smiling — particularly because of those two individual feather steps. "I'm a sad case — little things please me," the head judge said with a shrug. Len said Aly's performance level was high but her "bottom stuck out a little bit, which didn't help your frame." Bruno agreed that Aly was "pretty as a picture and definitely lovely" but also cautioned her to "keep your bum down and lift up." Carrie Ann called Aly an "understated performer." "What's so nice about you, I see you really connected to your emotions," she said. "You brought out your beautiful Boston elegance." Total: 27+25. Total: 52.
Zendaya went first with Val Chmerkovskiy. And they were dancing to Stevie's "Do I Do" so Val wanted to put "a little bit of funky flair" into their cha cha. But first he needed to make sure her toes were pointed and her body had tone. And Zendaya was on point with her lovely black, silver and gold fringe number. Oh, and her cha cha was pretty spectacular too. Len pointed at Zendaya said the routine was full of "snap, crackel and pop" and that Zendaya was the "one word that sums up great dancing." Bruno said she was "gobsmacking gorgeous. Mesmerizing shapes, hypnotic presence," he said. "You can cha cha me any time you want!" ("That's how you get yourself arrested," Tom quipped). Carrie Ann said she felt sorry for everyone else who had to follow Zendaya's near-perfect act. "That was perfection in motion," she praised. Though my favorite part of the whole set was when Jacoby didn't get a high five from Zendaya up in the sky box — so he high fived himself! Zendaya and Val received a 29 for their cha cha plus 22 for the team dance. Total: 51.
PHOTOS: Celebrities by The Times
"I Wish" Sean had a better samba. Sean Lowe and Peta Murgatroyd were on a high after last week's quickstep. But Sean had a previous engagement that left him missing a full day of precious rehearsal time. And while Sean never thought of himself as uncoordinated, "I feel uncoordinated when I'm trying to shimmy." Who knew the belly-button-baring look Sean sported during rehearsals was a small glimpse of the shirtless wonder that he displayed when he took off his royal blue suit jacket? OK, so his shoulder shimmies were more like seizures than samba, but whatevs. He tried. It had Carrie Ann giggling. "I look happy because that was the most bounce I've seen in a long time," she said. "You have so much potential, and your form is great, but your musicality? Get an iPod." Len told Sean to "set your sights a bit higher" than just beating Andy and didn't get why Sean had to take his shirt off. "You were just collapsing, collapsing, collapsing," the head judge continued. "Your upper body had no musicality." Bruno agreed with Carrie Ann and said Sean needed to lighten up and listen to the music. He however, chose to see the glass as half full. "You can always get a job as a stripper," he suggested. Sean and Peta received just a 21 for their samba but a 25 for their group dance. Total: 46.
Hey, it's Ingo Rademacher's birthday! And how cute was the mirror ball cake Kym Johnson gave him right before commercial? We should all get something so sweet, life-affirming and sparkly for turning a year older. Ingo's birthday wish "is to get through to next week," and it looks like his wish is about to come true. Who knew Ingo was so suited for the tango? "You can turn it on when you want to!" Bruno crowed. "You managed to keep control produce beautiful lines — a couple of foot faults, but overall, that is the way to do it." Ingo's routine had Carrie Ann singing his praises. "Finally!" she exclaimed. "Welcome to the game!" "Bingo Ingo!" Len agreed. "It was sharp, it was crisp. This is a dance that suits you." Ingo and Kym got a great 24 for their tango but just a 22 for their team Paso. Total: 46.
Fun face: Pigeon toes are good for running but bad for ballroom dance. "For Once In My Life" the judges wished Jacoby Jones would point his feet forward. It was particularly important in his quickstep with Karina Smirnoff, where the feet had to be completely parallel, and there was no way to camouflage pigeon toes. And I thought Jacoby acquitted himself quite nicely in his energetic dance. Sure, he and Karina ran all the way into the audience on their first run (perhaps in an attempt to hide their footwork from the judges?), but the Super Bowl champ more than made up for it with that split and his charisma. Bruno said the frame and footwork could have been better, but "I adored it," he said. "Yeah, your feet are a little funky," Carrie Ann conceded, but "every time you come out here, you surprise me." Jacoby's dance had Len thinking of the Beatles, despite it being Stevie Wonder Night: First it was "Please, Please Me" and then it turned to "Help" at the end. "This is a dance that doesn't 100% suit you.... It's not your best, but it's not your worst." Jacoby and Karina received a 23 for their quickstep, and despite all of Jacoby's shirtless posturing, a 22 for their Team Paso. Total: 45.
Andy Dick played the role of a postal delivery service in his samba with Sharna Burgess to Stevie's "Signed, Sealed, Delivered." And Andy, as the last comedian left in the competition, wants to show the judges he's taking the dances seriously. "It's week 6, so we need to show some technique in our samba." Though Andy may have mixed up the bota fogos and the voltas with his lunch order in this loosey goosey routine. Bruno called it "a personality-driven splendid shamble of a samba." Bruno said the envelope he delivered to the judges needed a return address, because this samba didn't quite make it to Brazil. "I couldn't make out the samba steps in there" ("It's in there!" Andy insisted). Carrie Ann suggested Andy dance "outward" and "get horizontal," as his samba bounce was a little "thrusty." Len agreed with the other judges that Andy's dance "wasn't that good, technically," he said. "But if the others climb hills, you climb mountains, and I think you've done a great job." Andy and Sharna got just an 18 for their individual samba but a huge 25 for their Team Samba. Total: 43.
Team Bottom two, coming back at you! Victor Ortiz had come up with this catchphrase for him and partner Lindsay Arnold after being perpetually stuck at the bottom of the barrel (and yet escaping elimination) week after week. Well, the boxer had always been the underdog. And this week, his hips were definitely on the losing end of this rumba in the Bronx. Let's get ready to Rumba! Only, Victor had never done a cute slow dance with a girl. He's not in that kind of place right now. And nothing — not the leaves falling on the dance floor in the ballroom, not Stevie Wonder's "I Just Called to Say I Love You" helped slink up his hips any more. Len commended Victor for making it further than any other boxer in the series and always with his fighting spirit. However, Bruno said the dance looked "a bit like an airline safety drill" and was "stuck in neutral." Carrie Ann agreed "there was no hip action," but "the respect for your partner shows, and it's beautiful to watch." I don't know about the chemistry: Victor is attentive, yes, but his and Lindsay's make-out fake-out before commercial wasn't fooling anyone. And the boxer could barely muster up chemistry with Brooke. When she asked which was harder, the hip movement, or pretending to love Lindsay? "It's all hard," Victor responded. Victor and Lindsay got a punitive 18 for their rumba, and a 22 for their team dance. Total: 40.
Most Valuable Player: Ingo's son, who waved at everyone as they made their way up to the sky box.
What do you think, ballroom fans? Should Victor be put out of his misery? Which would you rather see as the encore dance: Team Paso or Team Samba?
ALSO:
'Dancing With the Stars' results recap: But seriously…
'Dancing With the Stars' recap: Step by step and side by side
'Dancing With the Stars' results recap: Party's over
Real places, fake characters: TV's bars and eateries
PHOTOS: 'The Ellen DeGeneres Show' through the years
PHOTOS: Violence in TV shows
---