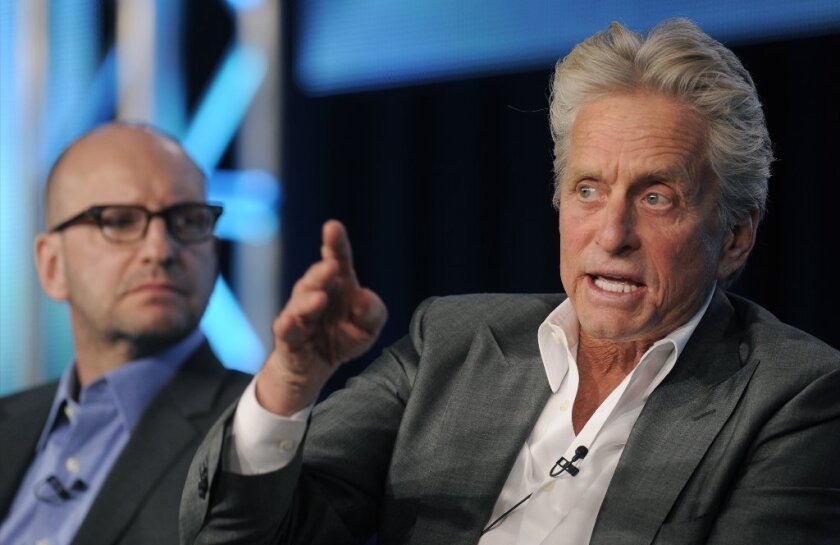 That the life of pianist Liberace was flamboyant was beyond compare — maybe a little too flamboyant for the movie studios.
So Steven Soderbergh's new Liberace biopic "Behind the Candelabra" is headed to HBO, with Michael Douglas playing the legendary entertainer from 1960s TV fame. Director Soderbergh was quoted as saying that while he long wanted to make the Liberace project, studios found it "too gay."
"I was very anxious that we not make a caricature," Soderbergh told reporters at the TV press tour on Friday in Pasadena.
That sometimes proved difficult. "Candelabra" is based on an autobiographical novel by Scott Thorson (played in the movie by Matt Damon), who met Liberace as a teenager and became part of his over-the-top stage act, and, he said, his longtime lover. Thorson later sued Liberace, claiming the entertainer promised to support him financially for the rest of his life but reneged on the deal; the case was settled out of court in 1986. Liberace died the next year.
The producers have lavished much attention on the details of Liberace's spectacular lifestyle.
"I probably spent more time in wardrobe fittings than I did in my previous 15 projects," Damon told reporters.
Soderbergh added that executive producer Jerry Weintraub described the movie as "'La Cage Aux Folles' on steroids."
Despite all the rhinestones and jewelry, Damon sees "Candelabra" as a love story above all.
"They had profound love for each other," he said of Liberace and Thorson.
ALSO:
A&E;'s 'Bates Motel' updates 'Psycho'
Al Pacino's secret history with 'Phil Spector'
Bill O'Reilly's 'Killing Lincoln' becomes NatGeo film
Twitter: @scottcollinsLAT
---