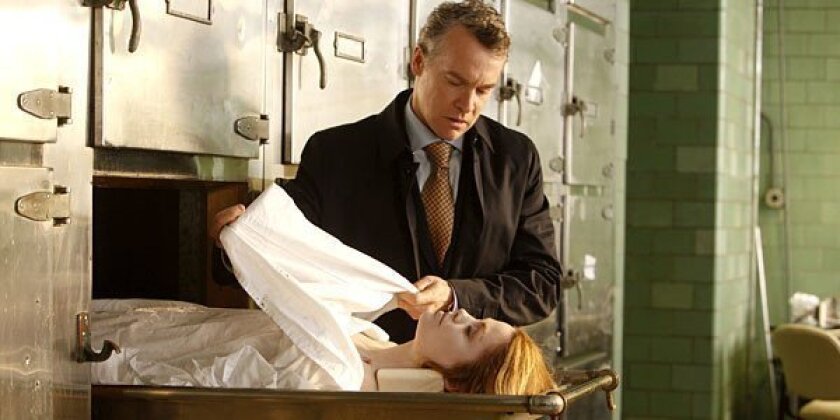 In "Deception," a new mystery serial premiering Monday on NBC, Megan Goode plays Joanna Locasta, a San Francisco police detective recruited by the FBI — by her ex-partner/ex-boyfriend (Laz Alonso), specifically — to go undercover among the family of her former best friend, the victim of a suspicious drug overdose.
The family, in whose house Joanna grew up — her mother was their maid — is, of course, rich and powerful and ridiculously dysfunctional. Not only that, but also, in the words of Joanna's FBI handler and ex-boyfriend, "They've been under investigation for stock manipulation for the last nine years," suggesting that the family is very clever, or that the authorities are very distracted.
The show was created by Liz Heldens, who created the more than decent 2009 medical drama "Mercy," also for NBC. As "Mercy" was a kind of more naturalistic, matte-finish version of ABC's glossy "Grey's Anatomy," so does "Deception" ring a similar change on its rich-folks conspiracy-soap "Revenge." (It also resembles another single-word-title ABC series, "Scandal," in having an African American woman in the lead — still rare on network TV.)
FULL COVERAGE: Television reviews
The family whom Megan is investigating is the Bowers. Clan head Robert (Victor Garber) is the widowed director of a pharmaceutical company, remarried to Sophia (Katherine LaNasa); Edward (Tate Donovan) and Julian (Wes Brown) are his sons; and Mia (Ella Rae Peck) is his daughter with Sophia. Or is she?
Edward is the company's chief financial officer, but a mess. Julian is developing a cancer drug, which is a shock to learn, as he's such a hard-partying mess. Mia is a student and not such a mess, but she has time. Sophia is more of a tough cookie than a mess but goes about with a drink in her hand, so: mess. And Robert is a mess in denial.
It quickly becomes apparent that All Is Not What It Seems, and also that what seems to be the actual case may itself be seen in turn to be not what it seems. You can play and replay that card for only so long, of course, before your audience slaps the deck out of your hand.
Oddly, where "Revenge" seems the more credible, or at least consistent, series for being preposterous from top to bottom (paradoxically allowing you to care for its characters), "Deception," in trying for something more "real" and not quite getting there, feels fake. There is little chemistry between the people who are supposed to have it.
"Deception" does not wait long to begin revealing its secrets. No network show has that luxury anymore, and it may be that the series' conflicting impulses are partly the product of needing to make a big noise fast: It has an artificial urgency ("Give us three weeks!" "Three days, otherwise, you're done!") that wars with its generally stately pace.
I was not surprised to learn that the pilot's director of photography was Peter Wunstorf, who shot AMC's "The Killing." Indeed, the images, now the work of Joe Collins, give the action a weight and life the script doesn't always supply.
------------------------------
'Deception'
Where: NBC
When: 10 p.m. Monday
Rating: TV-14-DLSV (may be unsuitable for children under the age of 14 with advisories for suggestive dialogue, coarse language, sex and violence)
GRAPHIC: Faces to watch in 2013
PHOTOS: 15 shocking moments from 'South Park'
PHOTOS: Best TV of 2012
---