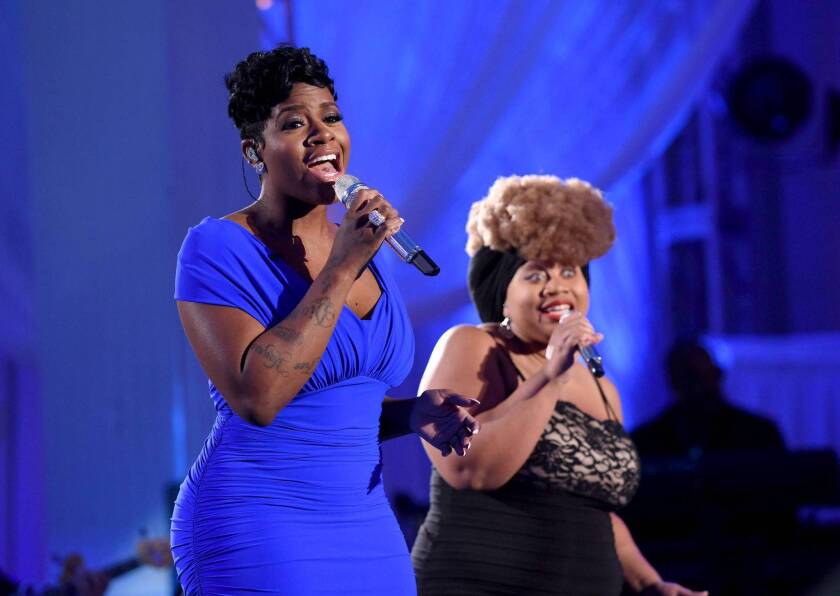 It was old home week on "American Idol." On Thursday night, six "Idol" alumni – Season 2 winner Ruben Studdard, Season 3 winner Fantasia, Season 10 winner and runner-up Scotty McCreery and Lauren Alaina, Season 13 winner Caleb Johnson, and Season 14 winner Nick Fradiani – returned to the "Idol" stage to sing duets with the 12 members of the Top 24 whose fates hang in the balance this week.
It was an unabashedly self-congratulatory affair. "Can we take one second … to acknowledge [that] the amount of talent that has come through the ranks of 'American Idol' is overwhelming," Harry Connick Jr. said at one point. Jennifer Lopez, for her part, repeatedly fangirled out, marveling at her exciting proximity to old-school "Idol" veterans Studdard and Fantasia.
COMPLETE COVERAGE: Saying farewell to the competition show that changed television
Ultimately, though, it wasn't clear how big of an effect the duets had on the judges' decisions about which seven singers to retain in the competition and which five to send home. In many cases, they seemed to discount the duets, which often revealed little except the greenness of this year's contenders in relation to their more experienced "Idol" counterparts.
What's more, many of the song choices seemed to cater more to the returning contestants than to the current batch, and some of the newbies struggled to keep up. At times, it was a little uncomfortable to watch, although it was heartwarming to see the old folk helping the new folk through.
In any event, at the end of the day, five singers went home: Emily Brooke, Stephany Negrete, Jenna Renae, James VIII and Jordan Sasser.
Seven were retained: La'Porsha Renae, Sonika Vaid, Avalon Young, Gianna Isabella, Thomas Stringfellow, MacKenzie Bourg and the aforementioned Jeneve Rose Mitchell.
Here are how the duets went down:
Emily Brooke and Lauren Alaina, who shared the bond of having first auditioned for "Idol" at age 15, tackled Carrie Underwood's "Flat on the Floor," and Alaina pretty much wiped the floor with Brooke. "You could hear the difference in age," Connick said. Urban chalked it up to a disparity in "experience." Jennifer Lopez reassured Brooke, though, that she had the potential to grow into a singer as powerful as Alaina.
In a greater mismatch, delicate Thomas Stringfellow was paired with potent Nick Fradiani to sing Michael Jackson's "Man in the Mirror," which Stringfellow noted straightaway was "out of [his] wheelhouse." He did what he could, but, as Lopez noted, the song "felt very Nick," and not "quite Thomas." Connick said he was "willing to bypass" the performance and keep in mind Stringfellow's past, stronger showings.
Ruben Studdard and Stephany Negrete were better paired on the Carpenters' "Superstar." Lopez, who said she was moved to tears by her stirred memories of Studdard on "Idol," called the vocal blend "super-beautiful." Connick detected a few "note issues," but said "emotions trump" such technical considerations "every time."
Pairing Sonika Vaid with Caleb Johnson didn't make any sense on paper, but it actually worked well. Both of them dug into Adele's "Skyfall," and what Vaid lacked in raw emotion, she made up for in silky tone. "I really want you to loosen up," Lopez told Vaid, "because with a voice like yours, there's no stopping you … The sky's the limit."
Jenna Renae and Scotty McCreery seemed to jibe well on McCreery's "See You Tonight." Lopez told Renae that, given that it was McCreery's song, she had done "the best you could." Connick said Renae had looked as if she was "having a blast," and called it "as entertaining as it was a solid performance."
In a show highlight, Fantasia and La'Porsha Renae riffed off each other's remarkable runs, turning in a hot performance of Ella Fitzgerald's "Summertime." Lopez called it "mind-blowing." Connick said they'd both "killed it." Urban called it a beautiful match, adding, "It's like an unstoppable force meets an immovable object."
Alaina flirted all over an embarrassed-looking MacKenzie Bourg and then took to the stage to sing all over him on Lee Ann Womack's "I Hope You Dance." The judges were tickled by Alaina's crush on Bourg, less so with Bourg's singing this time out. But Lopez thought it was OK, saying the gushing, blushing duo seemed "mismatched but somehow nice together."
Celebrity offspring Gianna Isabella joined Fradiani on his "Beautiful Life" and managed to hold her own. Lopez called it the "perfect song." Connick seemed confused by Isabella's youthful vibe, calling it "mysterious," which actually maybe seems like the opposite of what it is, given that she's only 15.
Avalon Young distinguished herself on her duet with Studdard, soaring alongside him on his "Flying Without Wings." Lopez thought they were "equally matched" and that it felt like a real duet. Connick said Young was not only talented, but also "so incredibly likable." And Urban commended her on "standing next to someone as phenomenal as Ruben" and not looking "at all intimidated."
James VIII also didn't look intimidated by Johnson, with whom he tackled the Rolling Stones' "Gimme Shelter." But he also didn't even come close to matching Johnson's vocal performance. Still, the judges gave James VIII credit for sticking with it. "You did a great job hanging with the big dog," Urban told him.
In the evening's strangest, most discomfiting performance, Jeneve Rose Mitchell and McCreery took on "Gone" by Montgomery Gentry – and the less said about Mitchell's outfit the better. Also her dancing. You had to feel kind of bad for the musically talented teen. Certainly Urban did. "It was bizarre. I have no idea why you got saddled with that song, pun intended," he said. "It did nothing for you. So, for me, I'm just going to forget that performance happened." McCreery, too, seemed to want to distance himself from the performance and from his blushing duet partner. His obvious discomfort didn't help things seem any less awkward.
Jordan Sasser joined Fantasia on her "I Believe," and I believe it was one of his better performances although his energy level was, as usual, a bit over the top. Urban thought so too. "You were sort of shooting up all over the place to be on par with her, and for me you didn't need to do that," he said, adding that Sasser might have "reined it in and centered it and weighted it more."
Sasser won't get another chance to rein it in on the "Idol" stage, as he and Brooke, Negrete, Jenna Renae and James VIII are heading home. Next week, their disappointment will be shared by five more singers, after the second half of the Top 24 perform. Stay tuned …
MORE:
And the best 'American Idol' is ...
'American Idol' recap: Twelve show off their solos
---