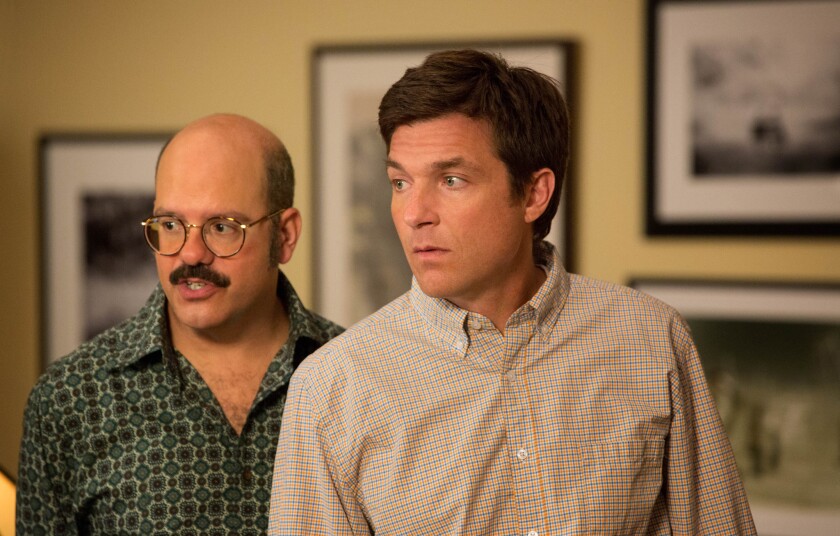 Bravo announced Thursday that it had reunited the cast and creator of the Emmy-winning cult hit "Arrested Development" for an episode of "Inside the Actors Studio," hosted by James Lipton.
In the episode, which has already been taped and is scheduled to air on Bravo at 8 p.m. on Thursday, Nov. 7, "Arrested Development" creator Mitch Hurwitz talks about what inspired him to write in the Banana Stand as well as the personal meaning behind the oddball name "Maeby."
"Arrested Development" was a sleeper hit and critical favorite that slowly gained a devoted following during its three-season run on Fox from 2003 to 2006. In 2013, thanks in large part to the clamoring of die-hard fans, Netflix released a fourth season of 15 new episodes.
PHOTOS: Dysfunctional TV families
The series, which catalogs the trials and tribulations of the fictitious Bluth family, whose patriarch has been jailed for tax fraud, has won six Emmys including outstanding comedy series in 2004. Time magazine also included the show on its list of "All-Time 100 TV Shows."
In addition to Hurwitz, cast members Jason Bateman, Portia de Rossi, Will Arnett, Alia Shawkat, Jeffrey Tambor and Jessica Walter appear on "Inside the Actors Studio."
According to a new release, memorable quotes from the episode include:
"As I was in the pilot phase I was already thinking about interesting casting, and it was Liza Minnelli and you."
-creator Mitch Hurwitz on his dream guest stars including James Lipton
"G.O.B. is officially a magician … not a particularly successful one monetarily. Although he would argue that he is at the top of his game."
FALL TV 2013: Watch the trailers
-Will Arnett on his character G.O.B.
"I think of [Lucille] as … a basically good person who just has the wrong values."
-Jessica Walter on her character Lucille Bluth
"'Our job as writers is to write these characters as despicable as possible. And your job as actors is to make them as likable as possible.'"
-Jason Bateman quoting creator Mitch Hurwitz
"Here I am at 'Inside the Actors Studio' and yet today, I went on a meeting … in which it was impressed upon me that I would probably have to read."
-Jeffrey Tambor on continuing to hustle in his acting career
ALSO:
Watch: Sarah Silverman's unsold NBC pilot, 'Susan: 313'
USA network renews legal drama 'Suits' for fourth season
NBC to revive classic drama 'Murder, She Wrote' with Octavia Spencer
---