Sean Hayes is on top of 'the World'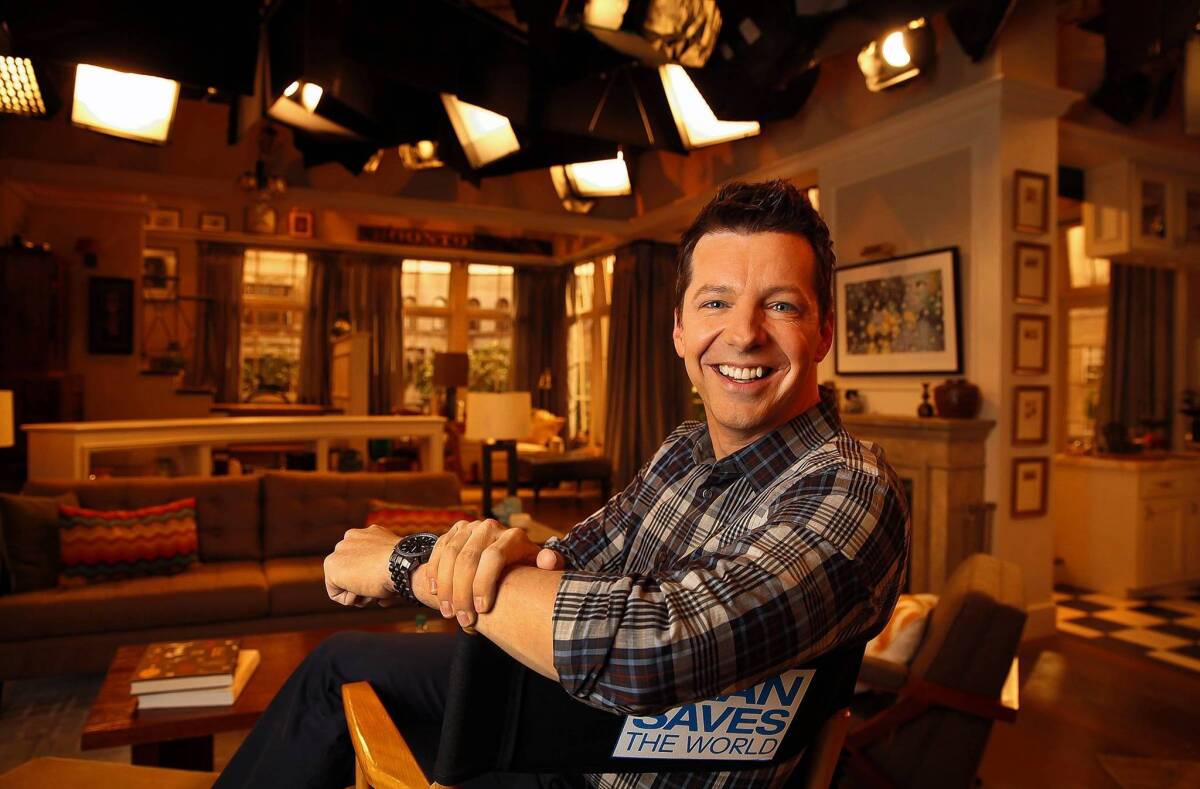 Sean Hayes recently returned to TV playing a single gay father of a teenage girl — and a series lead for the first time since "Will & Grace" — in NBC's "Sean Saves the World." It's one of five shows on the air from Hazy Mills, the production company he owns with Todd Milliner, which is also behind "Hollywood Game Night," "Hot in Cleveland," "Grimm" and "The Soul Man."
Is TV running out of characters that people haven't been seen before?
It's always a challenge. It helps to start from a personal place. One of [executive producer Victor Fresco's kids] is a teenage daughter. And I was a surrogate father to my niece for a while, so I draw upon that. It's important to draw on personal experience in order to write from your heart. And I think it's great that [Fresco is] drawing on his personal experience being a father to a teenage daughter as a straight man, because the comparison to straight and gay, as a parent, and the similarities between the two are exciting for me to show.
I would think the differences would be negligible.
That's clear to me and you, but a lot of times people in America still have questions about that.
FALL TV 2013: Watch the trailers
This isn't the first show with gay parenting on television.
What is, "Modern Family"? But those guys aren't leads, and they're not single. I haven't seen this particular single father/gay parent on television.
I'm guessing your primary motivation is entertainment, but, coming out of "Will & Grace," are you at all concerned with helping Americans see gay parenthood as normal?
I want to make people laugh first, and that's it. If a byproduct of that is enlightening somebody to something they wouldn't otherwise have been exposed to, then great, but that's certainly not the agenda or the intent of the show.
Your mom was a single parent. Do you draw on her for your character?
Absolutely. But I love the fact that my mom always taught me anything is possible, and the unconditional love she showed made me believe that I could do anything and she would be happy about that.
PHOTOS: Celebrities by The Times
"Will & Grace" was controversial in the beginning, and your character, Jack, was accused of being "too gay." When did you realize the tide was turning?
I was so young. It made me go back in the closet [with the media] because I was so overwhelmed at 26 or 27. I didn't want the responsibility, I didn't know how to handle the responsibility of speaking for the gay community. I always felt like I owed them a huge apology for coming out too late. Some people in the gay community were very upset with me for not coming out on their terms. They don't stop to think about what's going on in somebody's personal life, and the struggles that they're having. It was all very scary. We got death threats. It was a really rough time for me, but I was also having the time of my life.
You use your real name for your character. Is the character modeled on you?
Somewhat. I like common sense, to try and be the voice of reason at work. And that characteristic is very much prevalent in the character.
What kind of offers did you get after "Will and Grace"?
Not too many. I still don't. That's why you have to be a multi-hyphenate now more than ever if you like to constantly be working and remain in this business. And if you want something, you have to do it yourself, although I love auditioning. I love showing people that I wasn't that guy, the guy in "Will & Grace."
So you're nothing like Jack McFarland?
That's the ironic thing. I'm so boring and grounded, and I like quiet and I like structure and I like goals. I couldn't be more opposite from Jack McFarland.
You've done guest turns on edgy TV shows, but is conventional comedy where you feel most comfortable?
I think the worst thing you could ever do is label comedy. I'm a fan of the broadness of Lucille Ball, the subtlety of Peter Sellers and the oddballness of Fred Armisen and the wittiness of Marty Short. I'm a fan of all of it, and I want to do all of it. I like being weirder more than I like being conventional, but if I was just weird all the time I'd miss being conventional.
Get our L.A. Goes Out newsletter, with the week's best events, to help you explore and experience our city.
You may occasionally receive promotional content from the Los Angeles Times.