Despite an Academy Award ceremony focused on addressing issues of diversity in Hollywood, Asian Americans expressed outrage on social media after two jokes that poked at stereotypes. The comments, one by host Chris Rock during a skit and another by comedic actor Sacha Baron Cohen under his Ali G persona, were particularly notable due to the controversy surrounding the #OscarsSoWhite theme.
Rock's skit drew the most ire. In a rehearsed bit involving the tabulation of Academy Awards votes, he introduced the would-be PriceWaterhouseCoopers representatives overseeing the count. "They sent us their most dedicated, accurate and hard-working representatives," he said. "Please welcome Ming Zhu, Bao Ling and David Moskowitz."
OSCARS 2016: Full coverage | Winners | Chris Rock's 2016 Oscars opening monologue
Three kids of Asian descent, dressed in suits and carrying briefcases, walked toward center stage. Following a muted response from the crowd, Rock added: "If anybody's upset about that joke, just tweet about it on your phone that was also made by these kids."
And react they did, many wondering how the gag made it out of the writers room.
When Guy Aoki, co-founder of the Media Action Network for Asian Americans, saw the skit, he wasn't surprised.
"Asian Americans have been conditioned. Whenever we see an Asian American on a TV show as a guest, or in a motion picture, our first impression is to cringe because our instinct tells us that person is only being used so that he can be made fun of. And what Chris Rock did last night and what Ali G did last night, they just reinforced that fear for millions of Asian Americans across the country. They're basically saying, 'Yep, we look at you guys as a joke.'"
On Twitter, the reaction was immediate.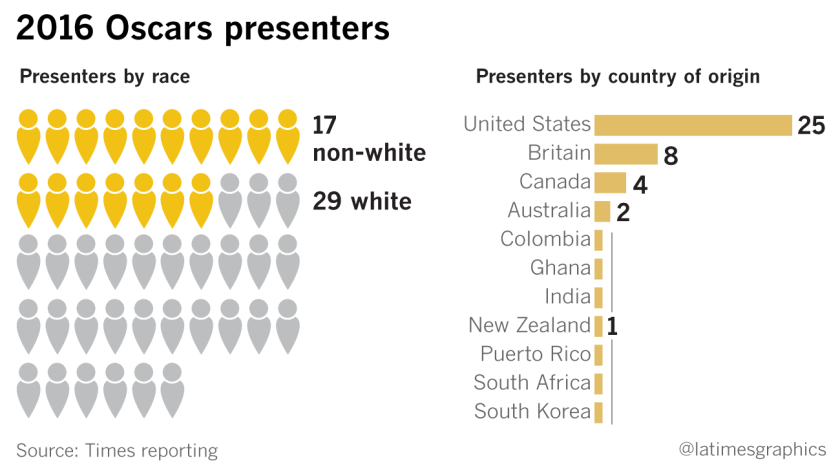 Less staged was Cohen's joke. Appearing as his clueless, hip-hop-loving character Ali G, the comedian made a random query that, to some, was an insensitive allusion to Asian men. "How come there isn't an award for those little yellow-colored people with tiny ... ? You know, Minions."
Think my brain shut down for a few minutes. Did that appalling joke about Asian kids actually happen? #Oscars

— Justin Chang (@JustinCChang) February 29, 2016
In the middle of a ceremony trying hard to promote inclusion, Ali G is out here with casually racist jokes about Asians

— charlene (@lil1pinay) February 29, 2016
Given Cohen's history upending racial stereotypes, others were more forgiving.
Sacha Baron Cohen, now that's the first comedian who's had me laugh so far during the #Oscars . Minions and Idris ELBOW hahaha

— Olivia Lee (@ollee24) February 29, 2016
Aoki disagrees, though, and views Sunday's ceremony, despite its good intentions, as a missed opportunity.
"It was all about black people being left out," he said. "They totally missed the overall message that it's not just about the fact that black actors were not nominated this year. It's about no people of color."
Aoki added that one particular clip, which inserted African Americans into recent Hollywood movies, could have added another layer of critique had producers expanded their scope.
"They could have made fun of 'Aloha' and the fact that they had 30 white actors in that film and only one Hawaiian got to speak -- and they had Emma Stone play a half-Chinese Hawaiian."
Follow Randall Roberts on Twitter: @liledit
MORE:
How'd Chris Rock do? Critics (mostly) liked his Oscars performance
Joe Biden wasn't as funny at the Oscars as Chris Rock, but at least he didn't make an Asian joke
Chris Rock's hot mess of an Oscars show: powerful, confounding, possibly revolutionary
---