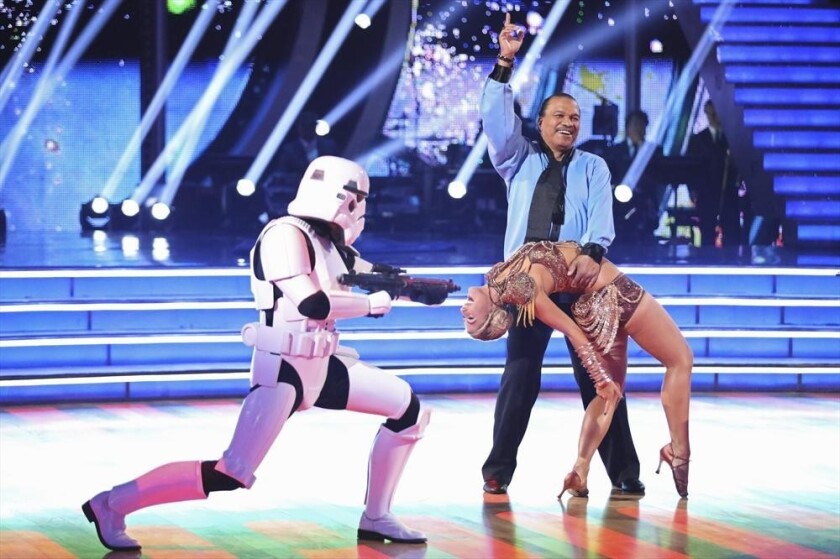 Pass the tissues: Week 3 of "Dancing With the Stars" commemorated the celebrities' most memorable years, and the contestants and audience alike were awash in a flood of triumph, tears and oh-so-many feelings during this two-hour program.
After the shock of last week's surprise double elimination, this week's ouster was abrupt but not really a surprise: Billy Dee Williams' chronic back pain flared up, and the 77-year-old and his pro partner, Emma Slater, were forced to withdraw from the competition a week before the highly touted switch-up.
"I've had a wonderfully brilliant blast of a time," the once and forever Lando Calrissian said. "I want to thank every one of you folks for giving us all your support."
PHOTOS: 'Dancing With the Stars' Season 18 cast
Billy Dee's bow out of the competition meant that the rest of the couples were saved from jeopardy, giving us a rare moment to sit back and enjoy the rest of the dances -- along with guest paddler and "Good Morning America" mainstay Robin Roberts ("a longtime viewer, first-time judge"). And we got our very first 10s of the season!
That honor went to Meryl Davis and Maksim Chmerkovskiy, who seemed to be dancing on an entirely different level altogether (a golden glitterverse?) with their sublime fox trot. We were just lucky to watch.
Meryl's most memorable moment wasn't just one year, but a culmination of 17 on her way from a shy ice dancer to shining Olympic champion. And Maks really does seem to be inspired by his new partner, both in his stellar choreography and in the extreme side part in his hair.
Their routine to John Legend's "All of Me" (featuring Lindsey Sterling on violin) was a gorgeous romantic feast for the eyes, worthy of keeping on the DVR so you can fall in love with it over and over again.
Bruno said it was "like watching a love story developing in front of your eyes." It was so beautiful that it made Carrie Ann cry (a first for Maks). Len called Meryl and Maks "M&M: sweet and delicious." Total: 39 out of 40.
From the looks of him now, it's hard to imagine James Maslow as "kind of a chubby kid" who got picked on in school. But the Big Time Rush guy had pictures (and a 10-gallon hat!) to prove it, and pinpointed 2007 as the year he was able to overcome the bullying. Which is why James chose high school song favorite Jimmy Eat World's "The Middle" for his routine with Peta Murgatroyd.
BEST TV OF 2013 Lloyd | McNamara
And everything was indeed all right with this school-nerd-woos-popular-girl jive, which was everything you'd imagine a dance-off to be. "What was going on -- was that an earthquake, an aftershock? Or did you just rock this place?" Len wondered. Bruno called his kicks and flicks "superb" and declared James a "contender." Carrie Ann pointed out "a strange little claw" but loved how he attacked the dance. Total: 36.
Danica McKellar chose Billy Joel's "Lullaby" both in tribute to her son, Draco, and to her grandmother, who died just a few weeks before her son was born in 2010. The "Wonder Years" actress' contemporary routine with Val Chmerkovskiy was terribly sweet and hauntingly heartbreaking. The waterworks really started falling when her son clung to her mother at the routine's end (sob!).
Carrie Ann called it a "beautiful, sincere delicate performance ... I'm sure your grandma is smiling down on you." Len said the "movement was so fluid ... it was like butter on hot muffin." "Indeed a wonder and a sheer delight," Robin said. "Enchanting motion driven by emotion," Bruno declared. Total: 36.
Sochi Paralympics bronze medalist Amy Purdy and pro partner Derek Hough danced a contemporary routine in tribute to Amy's father. When Amy contracted bacterial meningitis and lost both legs and kidney function in 1999 at age 19, her father gave her one of his kidneys. "My dad gave me life twice: He brought me in this world and kept me in the world," Amy said.
Turned out Amy's father was also there to dance with her on her new legs. "If I can dance, I can walk. If I can walk, I can snowboard," Amy said. "I can live a great life." And her dance with Derek was a beautiful testament to all of that.
"So heart-wrenching and inspiration and life-affirming," Bruno said. "I hope that you know what you are doing for people," Robin said. "We too can begin anew." Total: 36.
PHOTOS: 'Dancing With the Stars' Season 17 cast
Charlie White and Sharna Burgess gave us a welcome reprieve from the tears with a jubilant jive that celebrated Charlie's triumphant journey from 2010 to the Olympic gold medal and worked its magic on the glitterverse like a nice dose of ballroom Prozac.
Everything about this routine was "Happy," and the Sochi champ performed it like a ray of sunshine. Charlie can really work a room, and he was smart to eschew Pharrell's Arby's hat at the beginning of the routine (it would have been a crime to cover those golden locks). He also gets a gold medal for the best entrance ever.
Too bad Carrie Ann had to rain on the parade by pointing out Charlie was off the music twice. Robin loved the celebration. Bruno called it "cheerful, uplifting, delightful." "You were steaming, I was beaming -- it's happy hour!" Len said. Total: 36.
For YouTube sensation Cody Simpson, everything changed in 2010 when the Australian made the move to Hollywood. It was endearing to see how appreciative the 17-year-old was to his family for giving up everything to support his burgeoning pop career.
He and Witney Carson danced a jazzed-up routine to Cody's own "Surfboard" for the occasion, decked it out in cool contemporary-jazz moves and retro beach wear and dedicated it to his fellow Simpsons.
Bruno said the routine was "so refreshing. So right here. So right now." Carrie Ann said she was just "eating it up" and made rabid biting gestures to prove it. Robin loved how Cody was "respectful of the dance, but you make it your own." Len said "there was no wipeout during your surfing period." Total: 35
CRITICS' PICKS: What to watch, where to go, what to eat
OMG you guys, D.J. Tanner and Kimmy Gibbler are still best friends! Lori Laughlin chaperoned Candace Cameron and her future husband on their first date! Andrea Barber and Lori Laughlin came to visit Candace Cameron Bure in rehearsals this week, as Candace chose 1995 -- the year that "Full House" ended, and the year that Candace got engaged to be married -- as her most memorable year. Candace and Mark Ballas performed an Elvis-themed jive to commemorate the many "House" references to the King.
Bruno thought the silver-fringed Candace could be "a bit cleaner in the footwork" but "I love it when you go wild." Carrie Ann cautioned her to "pull your shoulders back." Len liked how "it was sharp and clean and precise," but would have preferred a little more bounce. I was surprised to see Candace allow Mark to strum her like a guitar. Total: 32.
NeNe Leakes' most memorable year was the one that just passed, as that was when the Real Housewife of Atlanta got married to her first husband, Gregg, for the second time.
NeNe really bared it all for a sensual rumba set to Whitney Houston's "I Believe in You and Me" (the song she and Gregg walked down the aisle to) -- as did pro partner Tony Dovolani, who showed up topless for the first time in 17 seasons. Both Tony and NeNe handled themselves admirably in these vulnerable new roles.
Robin said she loved seeing a different side of the real housewife. Carrie Ann said NeNe's arms were "gorgeous" and loved how "you were as large as your heart and passion." Len was pleasantly surprised at the lack of raunchiness. Total: 31.
The birth of his son in 2005 marked Drew Carey's most memorable year. The comedian and "The Price Is Right" host said his entire world shifted after that moment. He said that after losing his father at age 8, "I don't want him to grow up without a dad. Just want to live to see him live." His waltz with Cheryl Burke, set to "Fade Into You" from "Nashville," was a lovely tribute.
Len said he thought the performance was "charming" though Drew was on the wrong foot for a while. Robin called Drew "a beautiful dancer and a beautiful soul." Carrie Ann said she thought Drew's face looked stressed (maybe because he wasn't wearing his glasses?).
Drew's son, Connor, however, was able to take the whole dance in stride and earned his own 10 from Cheryl for his smooth moves. "I think he did really good, and I need her to teach me some of those moves," he said between peace signs. Total: 30.
What do you think, ballroom fans? Did Meryl and Maks deserved those 10s? How did Robin Roberts do as guest judge? Is anyone looking forward to next week's switch-ups?
ALSO:
'Dancing With the Stars' recap: Surprise double elimination
'Dancing With the Stars' Season 18 premiere recap: Ballroom bonanza
'Dancing With the Stars' new cast includes Winnie from 'The Wonder Years'
---