A dust-up over Latina roles in 'Devious Maids'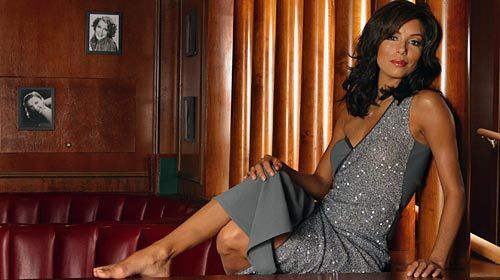 Eva Longoria
'The ugly dark one'
"I grew up as the ugly duckling. They used to call me
la prieta fea
, which means 'the ugly dark one,' " Eva told Dateline's Stone Phillips. Eva was elected Miss Corpus Christi USA in 1998. By then, she'd realized she wasn't so
fea
after all.
(Stefano Paltera / For The Times)
Endorsements
Eva models for Bebe Sport, L'Oreal and Hanes.
(Noel Vasquez / Getty Images)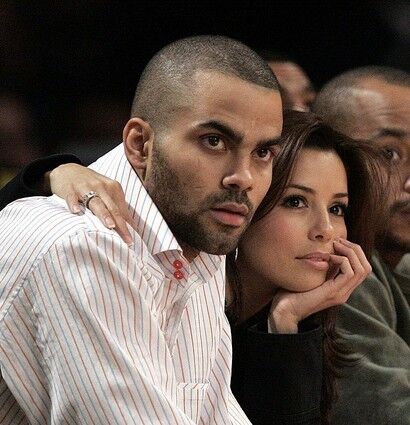 Romance
Eva was once married to Tyler Christopher ("General Hospital"). She has also dated JC Chasez.
Her new hubby is San Antonio Spurs point guard Tony Parker – and if you don't know that, you live under a rock. The wedding took place in Paris, on the much-sought-after date 7/7/07.
(L.M. Otero / AP)
Mama Longoria
Don't expect a baby any time soon – During an appearance on "The Ellen DeGeneres Show," Eva told Ellen that the ladies of Wisteria Lane have been forbidden to get pregnant because pregnancies are difficult to write into the show. (Plus, it's tough to hide a bump in skimpy lingerie.)
(Kevin Winter / Getty Images)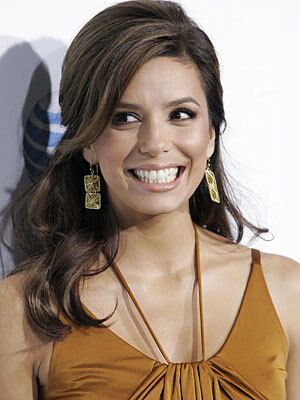 Drama
While driving together one day, Tony and Eva were cited for "impeding traffic," and Eva wasn't having it. She allegedly shouted: "He's just a Mexican bike cop! He only wants your autograph!" Eva denies saying anything of the sort.
(Dan Steinberg / AP)
Fish have to swim. Birds have to fly. Marc Cherry has to write women.
At least that's how the creator of "Desperate Housewives" explains why he jumped into another female-heavy series after a headline-grabbing run with his ABC drama that included behind-the-scenes havoc and a face-off in court with one of its stars. And already, the new one is proving to wag as many tongues.
With "Devious Maids," Cherry shifts his focus from the sordidness of suburban life to the class wars playing out in high society. Set in Beverly Hills, the series centers on five Latina domestic workers who know the dirty secrets of their well-heeled employers and later become strongly bonded when a housemaid is murdered.
CRITICS' PICKS: What to watch, where to go, what to eat and more
An adaptation of the Mexican series "Ellas son la Alegria del Hogar" (They Are the Joy of Home"), the new Lifetime show seeks to exploit the success of upstairs/downstairs dramas like PBS' "Downton Abbey." Of course, the program, which is executive produced by "Desperate Housewives" alum Eva Longoria, comes with Cherry's signature camp and sass slathered onto a melodramatic foundation.
But even before the show's premiere June 23, there already seems to be some cleaning up to do. The soapy drama — crammed with scheming maids, Spanish guitar-strumming and accordion-heavy transitions — finds itself accused of perpetuating negative stereotypes.
The title didn't do itself any favors, and after a sexed-up trailer hit the Internet, the criticism heated up even more. The backlash put many on the show on their guard.
"First of all, I want to know the angle of your story," Longoria began in a recent phone interview with The Times. "Is it a positive one or a negative one?"
The actress, who recently received her master's degree in Chicano Studies from Cal State Northridge, said she was dismayed by the reaction to the series — before its premiere.
"What I didn't expect was that much criticism from our own community having not even seen it," said Longoria, who defended the show in an op-ed for the Huffington Post. "It doesn't define our culture, if we're playing these types of roles."
Instead, Longoria said the show should be celebrated for being the first mainstream English-language drama that features five Latina main characters — Ana Ortiz ("Ugly Betty"), Dania Ramirez ("Entourage"), Roselyn Sanchez ("Without a Trace"), Judy Reyes ("Scrubs") and Edy Ganem ("Livin' Loud").
They all represent the downstairs: Marisol (Ortiz) is a college-educated woman who goes undercover to solve the murder mystery. Rosie (Ramirez) wants to bring her son to the U.S. and must grapple with trying to pay for an immigration lawyer. Carmen (Sanchez) is an aspiring singer who hopes working for a famous pop star leads to her big break. Zoila (Reyes) is a vexed mother to daughter/co-worker Valentina (Ganem).
With the exception of young Ganem, the actresses have relationships that have been nurtured over years of auditioning for the same small pool of Latina roles.
"It was weird to not have to compete in an audition with them," Sanchez said. "But a nice weird. A long overdue weird."
And an opportunity, Ortiz added to move beyond the clichéd "loud-mouthed sassy girl or tough New Yorker" that Latinas are often sought to play.
BUZZMETER: Pundits make their Emmy picks
"I have never been given a chance to play a character that is strong, powerful and well-educated," she said. "We know there's a responsibility we have to make it successful because if it doesn't, industry people will be like, 'Oh, well that didn't work!' And then who knows when the next opportunity like this will happen."
But at the start even the actresses who would play those roles didn't appreciate the show's conceit.
"Honestly, my first reaction was not unlike the blowback we're getting," Ortiz said. "I understand where people are coming from because, as a Latina and being in this business as long as I have, I was like 'Really? Devious Maids? What, are we all going to be called Maria? But it was a show from Marc Cherry, who I respect greatly, so I resisted the urge to write it off completely."
Cherry, nicknamed affectionately by the cast as Mr. Cereza (Spanish for "cherry"), also needed early persuading. The Mexican media giant Grupo Televisa, which last year opened a small Santa Monica-based studio, approached Cherry to adapt one of its titles for English-language television. When Cherry heard that they wanted one about Latina housekeepers, he toyed with the idea of having a racially diverse group of maids. He soon reached out to Longoria for advice.
PHOTOS: Hollywood Backlot moments
"He said, 'If I make them all Latina, will I get a backlash for it?'" Longoria recalled. "I was like, 'Well, what is this story about?' ... He was telling me the story, and it really had nothing to do with race or ethnicity stereotypes. These women are the moral compass of the show — I thought it was a beautiful story to tell."
Still, on the surface, the idea of a middle-aged white man writing about Latina maids seemed like an odd choice. But the tension between the rich and working-class poor has always interested the 51-year-old Cherry, who once worked as an assistant to "Designing Women" star Dixie Carter.
"I have always been fascinated by the juxtaposition," Cherry said. "Working in someone's home gives you a very different perspective of that person."
The heavily promoted new series — with ads splashed across billboards, bus sides and print publications — was once seen as ABC's heir apparent to "Desperate Housewives," which ran for eight seasons and once commanded an enviable audience of more than 20 million weekly viewers. But the network passed on the project (originally titled "The Disorderly Maids of the Neighborhood") during pilot season last year.
PHOTOS: Celebrities by The Times
"My disappointment only lasted about five minutes," said Cherry, who prefers the less-exhausting 13-episode order for basic cable instead of a typical 22 or more episodes for a major network.
For the female-centric Lifetime, the series joins other scripted shows such as "Army Wives," "The Client List" and "Drop Dead Diva" and should provide an opportunity to broaden its audience, say network executives.
"Marc is one of the premier artists working in our genre, and it was a show we felt really fit with what we're about," said Rob Sharenow, the network's vice president of programming. "We think it's a broad appeal show that will reach across a lot of different constituencies and bring new viewers to the network, particularly in the Hispanic market, which we think is being underserved in the English-language market."
The show's soap cache soared when daytime star Susan Lucci signed on to play a wealthy socialite named Genevieve. Lucci is quick to point out its French pronunciation Zhawn-vee-ev, a name she hopes is equally as memorable as Erica Kane.
"I really embraced the opportunity to not have to rush in performing every scene," said Lucci, a staple of "All My Children," which ended its 41-year run on ABC in 2011. "You can take things in and process it. It's such a fun story he's telling — there's comedy, drama and mystery."
Cherry hopes viewers will forget about the early tempests and show up for the entertainment.
"I just want people to give the show a shot," he said. "More than anything, I want people to understand this is going to be a fun romp. I feel really good about providing some really fun parts for five amazing Latina actresses."
---
The complete guide to home viewing
Get Screen Gab for everything about the TV shows and streaming movies everyone's talking about.
You may occasionally receive promotional content from the Los Angeles Times.