'Fear the Walking Dead' recap: Respect for zombies going too far?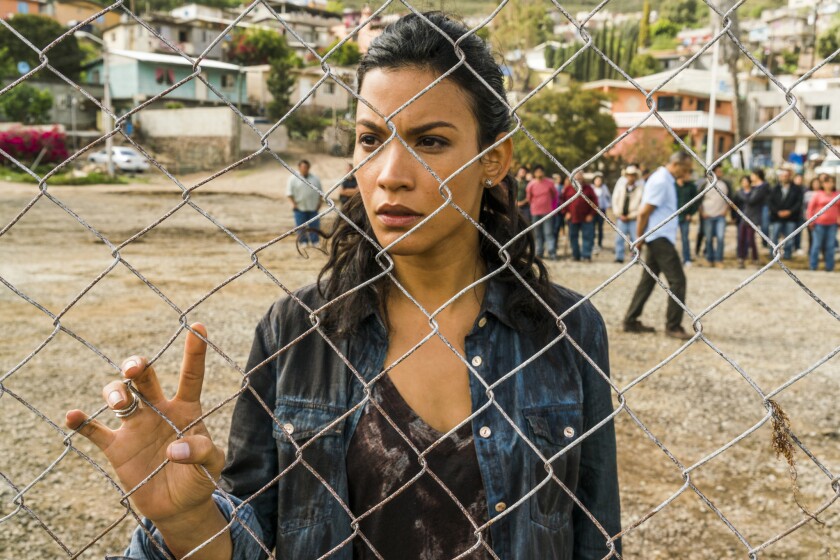 Even though Nick Clark (Frank Dillane) holds a morbid fascination for "the infected," he's shocked at how they're catered to at a Tijuana colonia on AMC's "Fear the Walking Dead."
In "Los Muertos" (Episode 209), Nick awakens to the sound of chanting as a man sacrifices himself to ravenous zombies.
"Mi Papa!" sobs the doomed man's young daughter (Katia Lopez).
"You don't need to see it," Nick exclaims, shielding the girl from this ghastly spectacle. "Don't look!"
Later, when accompanying Luciana (Danay Garcia) on a supply run, Nick has questions.
"Those near death deliver themselves to the dead," Luciana explains, thus protecting the community from attack.
"What if your friend became lunch for no reason?" Nick argues.
Dismissing Nick as a weak and faithless gringo, Luciana claims a natural cleansing process has begun. And when the zombies depart, "this world will be as new."
Sounds great, but Nick and Luciana's immediate goal is swapping prescription meds for bottled water. That involves making nice with gangsters controlling East Tijuana.
"They deal with everything now," Luciana says. "And they will hang you for looking at them wrong!"
The supply run proceeds smoothly until Nick is caught pilfering snack food.
"You know what we do to rats?" machete-wielding Marco Rodriguez (Alejandro Edda) yells. "We cut off their paws!"
Talking fast to save his hand, Nick points out that Marco's sister is hooked on OxyContin.
"You're gonna run out of Oxy," Nick warns. "You let your sister go for one week without it, you're gonna pray she turns so you can kill her!"
Nick will deliver the opioids, he says, in exchange for a shopping cart loaded with water.
"They could have killed us both right there," Luciana hisses during their walk home. But her hostility eases when she realizes Nick stole the snack for the fatherless girl.
Nick's kindness was misguided, however, according to colonia leader Alejandro Nuñez (Paul Calderon).
"Comfort is no supplement for faith," Alejandro insists. "You do that girl no favors."
Suddenly Nick spots an ominous scar on Alejandro's shoulder. Are the stories true that this pharmacist suffered a zombie bite but didn't become infected?
Upon hearing one of Alejandro's fervent sermons, Nick wonders if he's among "the children of the resurrection."
"The world is for us. The faithful. The chosen ones," Alejandro proclaims. "From death we come and to death we deliver ourselves!"
Elsewhere in Baja, Nick's mother, Maddie (Kim Dickens), gives up searching for her son. She joins daughter Alicia (Alycia Debnam-Carey), Ofelia Salazar (Mercedes Mason) and Victor Strand (Colman Domingo) in heading for the "Abigail" yacht.
To their dismay, the boat is gone.
Needing shelter, these survivors break into a beachfront hotel. While Alicia and Ofelia explore the guest rooms, Maddie and Victor get drunk at the bar. Maddie laments that she's "never gonna see Nick again."
"That boy was born lost, like his daddy," Maddie dejectedly says. "He's been slipping through my fingers ever since the day I gave birth to him."
As Maddie bitterly offers a toast to motherhood, Victor plays an out-of-tune piano. The ghoulish noise attracts zombies locked inside the hotel tower.
Alicia watches in horror as the undead hurl themselves off balconies, rise to their feet upon hitting the ground and stagger toward Maddie and Victor.
Making matters worse, Ofelia is suddenly AWOL.
"We're not gonna make it," Ofelia glumly said before disappearing. Devastated by the deaths of her parents, Ofelia lost all hope.
"You have me, for what it's worth," Alicia offered. "We're family now."
"Family is family," Ofelia sadly replied.
In other words, Alicia is just a companion, not a sister.
---
From the Emmys to the Oscars.
Get our revamped Envelope newsletter, sent twice a week, for exclusive awards season coverage, behind-the-scenes insights and columnist Glenn Whipp's commentary.
You may occasionally receive promotional content from the Los Angeles Times.