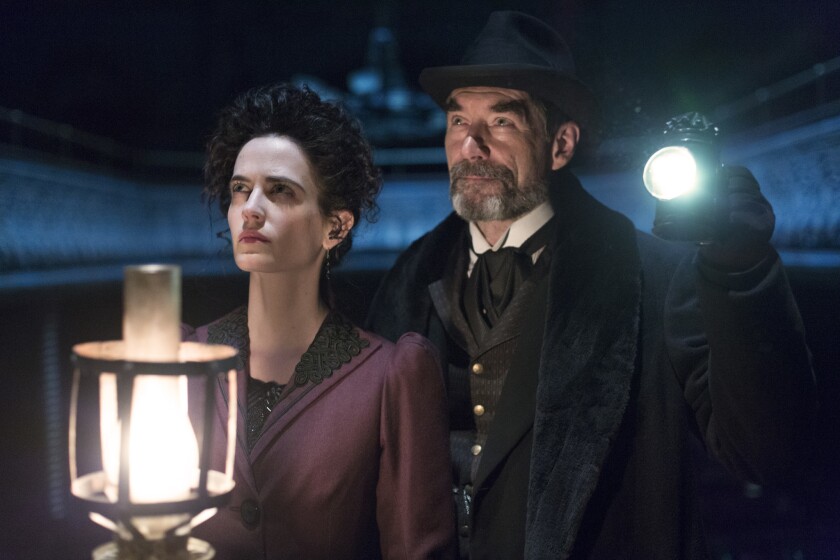 Visions of a young woman enslaved by a vampire draw rescuers to a notorious London theater on "Grand Guignol," Episode 108 of Showtime's "Penny Dreadful."
The Season 1 finale finds Sir Malcolm Murray (Timothy Dalton) intent on freeing his daughter Mina Harker (Olivia Llewellyn) from an evil netherworld.
"If I can save her, I will," Malcolm says to psychic Vanessa Ives (Eva Green), Mina's friend since childhood. "If I cannot, I will end her suffering."
Then Malcolm is brutally honest with Vanessa, saying he would sacrifice her to liberate Mina.
"I would choose her over you," Malcolm insists. "I might even hope I get the chance. Until then, you are invaluable to me. Your connection to Mina is my lifeline, so I must keep you alive."
Vanessa is also invaluable to decadent Dorian Gray (Reeve Carney), who remains eternally youthful while his portrait bears the ravages of time. Dorian's first date with Vanessa ended horrifically when a demon possessed her soul. Now Dorian wants a second date?
"Between us there's a rare connection, I won't deny it," Vanessa says. "But that very intimacy released something unhealthy in me -- something I cannot allow."
Also unlucky in love is Ethan Chandler (Josh Hartnett), whose girlfriend Brona Croft (Billie Piper) is dying of tuberculosis. He asks Dr. Victor Frankenstein (Harry Treadaway) to ease Brona's misery.
"You have nothing to fear," Victor assures her. "You're stepping through a door -- that is all."
"I've not been good," she confesses. "What's waiting for me on the other side of the door?"
Victor knows better than most, for he's discovered how to reanimate the dead. His first creation, monstrous Caliban (Rory Kinnear), demands an immortal mate. Because Brona is an ideal choice, Victor quietly smothers her.
Back in Victor's laboratory, Caliban is overcome with joy as he looks upon Brona's lovely corpse. It appears Caliban has found his partner.
As for Ethan, he's drinking away his sorrows when approached by Pinkerton Agency detectives Mr. Roper (Stephen Lord) and Mr. Kidd (Julian Black Antelope). They're tasked with bringing Ethan back to America.
"You left some tears behind you, son. And a whole mess of blood," says Roper, who threatens to chain Ethan "like a monkey."
But Ethan's no monkey. He's a werewolf, it's a full moon and the detectives suffer a gruesome fate.
Now it's on to the theater for Malcolm and company as they attempt to rescue Mina.
Lurking inside are red-eyed she-devils who viciously attack. They back down, however, when Malcolm kills their leader, a hideous vampire (Robert Nairne). Then Mina, who's beyond salvation, grabs Vanessa by the throat.
"I am who I was meant to be," she tells her father. "You will understand when you join the Master -- when you all join him. And now that he has his bride, he will sire generations."
To save Vanessa from becoming a demon's consort with apocalyptic consequences, Malcolm shoots Mina without hesitation.
"I'm your daughter," Mina gasps, her eyes widening with surprise.
"I already have a daughter," Malcolm says, finishing Mina with a second shot.
After Malcolm and Vanessa tearfully embrace, she seeks out a priest (Henry Goodman) and asks him to perform an exorcism.
He tells Vanessa to look deep inside her heart and answer one question.
"If you have been touched by the demon, it's like being touched by the back hand of God," the priest suggests, thus making Vanessa unique through "the glory of suffering."
"Do you really want to be normal?" he asks.
Vanessa's lips quiver but she doesn't say a word. Perhaps viewers will learn her response in Season 2.
---