Deadly helicopter crash in Argentina increases reality TV filming death toll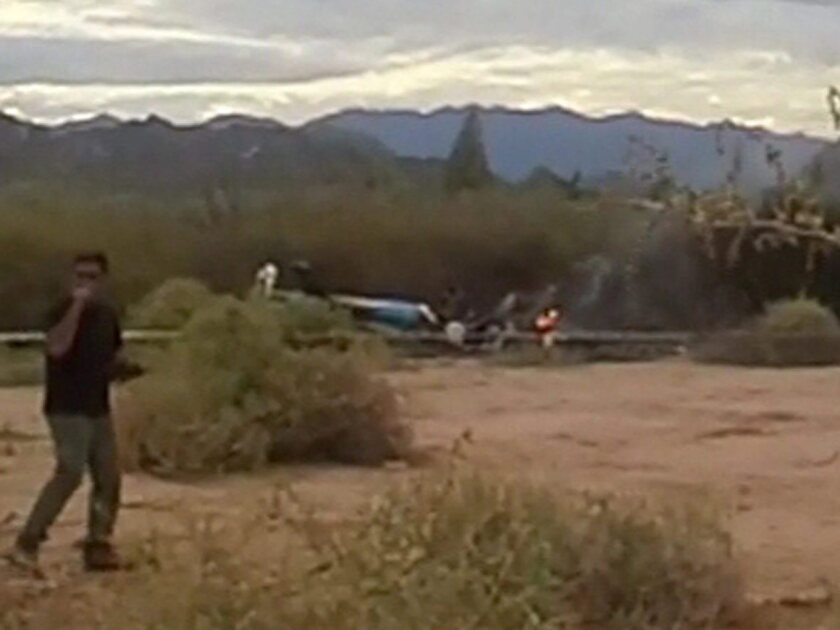 The deaths of 10 people during the filming of a reality TV show in Argentina on Monday has drawn new attention to recurring safety issues for an entertainment genre that has suffered a number of fatal accidents in recent years.
The collision of two helicopters in La Rioja province killed two French Olympians and a prominent French sailor, as well as members of the show's production team. They were filming a "Survivor"-like French reality show called "Dropped" at the time.
The fatal accident, which has dominated French media and prompted an outpouring of condolences for the well-known athletes, has a death toll that stands out among recent incidents.
In 2013, a helicopter crash in a remote area of Los Angeles County killed three people during filming for a Discovery Channel reality show.
That crash was the worst film set accident in California since the 1982 deaths of actor Vic Morrow and two children, who were killed in a helicopter crash while filming "Twilight Zone: The Movie."
In February 2012, a co-executive producer was also seriously injured after being thrown from a boat into a murky river while filming "Bamazon," a series for the History channel about out-of-work Alabama construction workers mining for gold in a rain forest in Guyana. And in August, an employee of the long-running reality show "Cops" was accidentally shot and killed by police officers during a taping in Omaha. The cameraman was struck while trying to film a robbery.
Safety questions have been raised about feature film sets as well. Last year, a freight train in Georgia plowed into crew members filming "Midnight Rider," a movie about rock musician Gregg Allman. The crash left a production assistant dead and that film's director, Randall Miller, pleaded guilty this week to charges that included manslaughter and criminal trespassing.
Many safety mishaps on sets go unreported because crew members sign nondisclosure agreements and fear being blacklisted if they file lawsuits. Record-keeping can be muddled by the fact that many of the shows are nonunion, and workers are often classified as independent contractors. The U.S. Occupational Safety and Health Administration tracks only serious accidents involving employees and has no jurisdiction if incidents occur in foreign countries.
Judicial authorities in Paris have opened an involuntary manslaughter investigation into Monday's crash, which is common in fatal incidents involving French citizens abroad, according to Agence France-Presse. Adventure Line Productions was producing the show.
Nonce Paolini, chairman and chief executive of France's TF1, which airs the show, expressed shock about the accident in an interview on French radio. In France, TF1 is among the most popular stations in the country with 8.5 million viewers who watch a range of programming, including news, sports and films, according to 2014 audience ratings. The show "Dropped" focuses on celebrities being blindfolded and dropped in remote locations around the world.
"We are in shock and really very, very, very, very sad," he said.
"It's a hard ordeal for these families and it's a hard ordeal for all of us," he said. "You know this job, we do this to bring pleasure to people."
U.S. Rep. Ted Lieu (D-Torrance), who in 2013 was a California state senator heading the Labor and Industrial Relations Committee, warned then that "reality shows are … encouraging people to do dangerous acts."
"The problem that we've had is that obviously California law can't reach out to other states or foreign countries where a lot of these shows are filmed," Lieu said.
Times staff writer Alexandra Zavis contributed to this report.
---
The complete guide to home viewing
Get Screen Gab for weekly recommendations, analysis, interviews and irreverent discussion of the TV and streaming movies everyone's talking about.
You may occasionally receive promotional content from the Los Angeles Times.