'The Wiz Live!': Gorgeous, utterly sincere and attitude to spare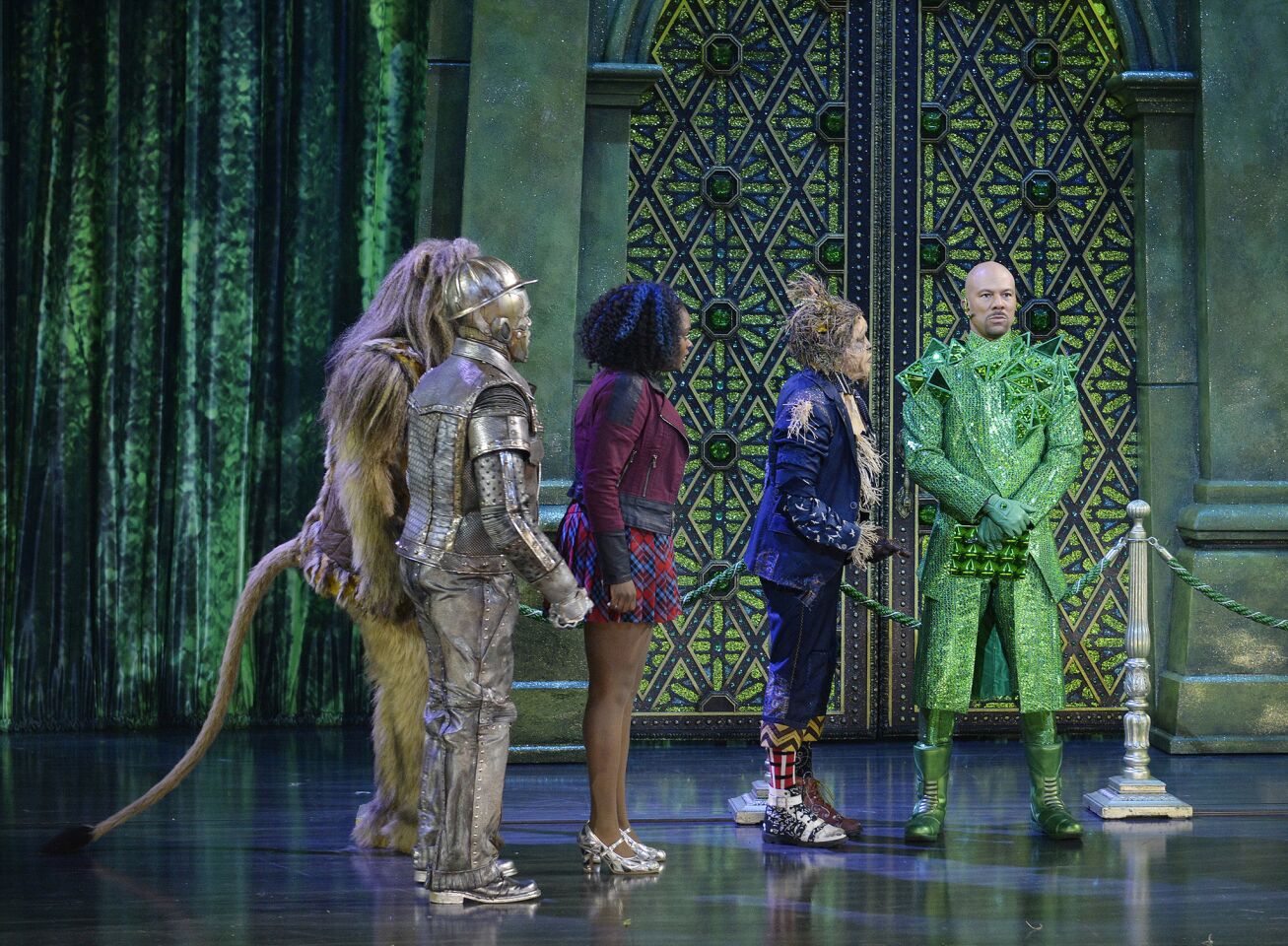 David Alan Grier as Lion, from left, Ne-Yo as Tin-Man, Shanice Williams as Dorothy, Elijah Kelley as Scarecrow and Common as the Bouncer during a dress rehearsal of "The Wiz Live!" in New York.
(Virginia Sherwood/NBC via AP)
So now we know: It's much easier to successfully stage a famous musical on live television if you cast a group of multi-talented, high-energy and personally kinetic performers who know how to own the spectacle rather than the other way around.
Oh, and get Cirque du Soleil involved if at all possible.
It certainly worked for "The Wiz Live!" the latest addition to NBC's new holiday tradition. Unlike recent live musicals of Christmas past ("The Sound of Music," "Peter Pan"), "The Wiz" did not serve itself up for live-tweeting snark.
Instead, it brought to the flat screen a gorgeous and utterly sincere celebration of the show that has been a fan favorite ever since it won an armful of Tonys 40 years ago. The Harvey Fierstein-tweaked script had plenty of pop culture references and attitude to spare--when Mary J. Blige is your Wicked Witch, there will be Attitude—but it remained a sincere and joyful celebration of the work.
Put on, it must be added, by a bona fide dazzling display of talent, including Amber Riley, Elijah Kelley, Ne-Yo, David Alan Grier, Queen Latifah and Uzo Aduba. Faced with such a high-wattage supporting cast, even a seasoned lead might be daunted, but newcomer Shanice Williams entered strong and remained the vivid heart of the piece. If her voice thinned out at times when the dancing got tough, she brought down the house every time she needed to—with Kelley and Ne-Yo in "Ease on Down the Road," with Grier in the show-stopping "Be a Lion," with all three in the new "We Got It" and in her big finale, "Home."
More important, she delivered a believably teenage Dorothy. In her first scene, with Stephanie Mills -- who originated the role on Broadway and here plays Auntie Em -- she brought just the right mix of sullen and sweet to make the fantasy of what would happen next make sense. This Dorothy truly understood the lack her new friends felt, and would do what she could to fill it, no matter how absurd or frightening.
And it's important to believe in Dorothy, or else the show simply becomes a series of musical numbers involving fantastical creatures and catchy tunes, although "The Wiz Live!" certainly had all that. Producers Craig Zadan and Neil Meron wisely adapted from a show Cirque du Soleil is bringing to Broadway next year, and the pair's decision to limit the production to one stage was more than counterbalanced by the troupe's amazing use of dancers and acrobats as everything from tornado clouds to flying monkeys.
Members of the supporting cast, meanwhile, were clearly having a great time. Though burdened with a fright of a costume, Kelley's Scarecrow danced with an energy that would have made Ray Bolger proud; Ne-Yo chose an accent that left him "thanking" instead of "thinking" and "tankering" instead of "tinkering," but he brought surprising depth to the man of tin, while Grier was a marvel of fur and faux ferocity.
But it was the women of "The Wiz Live!" who stole the show. Mills and Riley set the bar high with big beautiful opening numbers, and then Latifah showed up as the Wiz. Looking like an high-ranking member of Panem's Capitol on St. Patrick's Day, she entered stomping hard and throwing fire before throwing herself into a most excellent silver throne and demanding that Dorothy and company kill the Evilene, the Wicked Witch of the East. Who was played of course by Blige.
A vision too, of steampunk royalty on steroids, she threw shade and blew the roof off with "Don't Nobody Bring Me No Bad News" before launching a thousand memes with her demand for "Work! Work! Work!" Honestly, she was so good, it was difficult not to hope that somehow she and Dorothy could reach an agreement and rule Oz together.
Indeed, as it eased on down to its familiar but still tear-jerking finale, it was difficult not to wish someone would make an all-black version of "Wicked" and call it "The Witches."
The only real problem, beside the lack of sneer-tweet material, was logistical. The frequency and length of commercial interruptions went far beyond irritating, into the realm of destructive, making "The Wiz Live!" a live television event best seen prerecorded.
MORE FROM ENTERTAINMENT
Scott Weiland, frontman for Stone Temple Pilots and Velvet Revolver, dies at 48
Jeff Zucker says CNN will not pay Donald Trump to appear in the next GOP debate
Star Wars screenwriter Lawrence Kasdan on the past, present and future of 'Star Wars'
---
The complete guide to home viewing
Get Screen Gab for everything about the TV shows and streaming movies everyone's talking about.
You may occasionally receive promotional content from the Los Angeles Times.