Sean Penn says he's 'sad about the state of journalism' in '60 Minutes' interview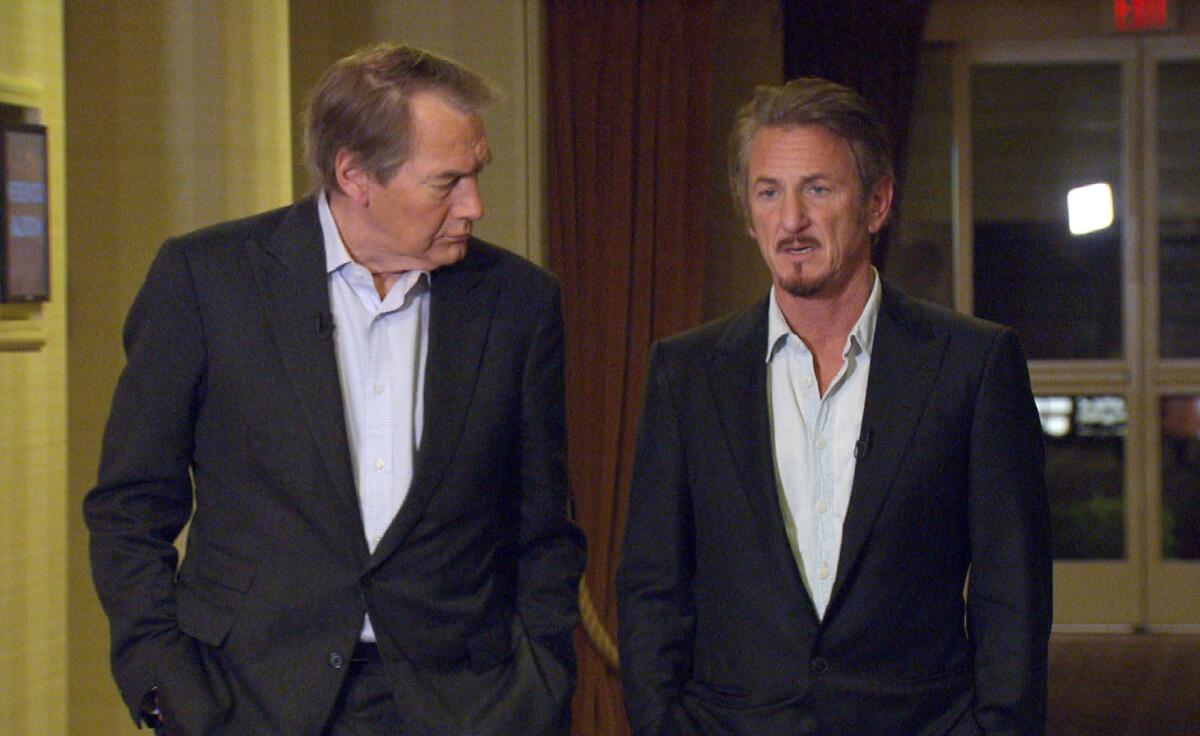 In an appearance Sunday on "60 Minutes," Sean Penn defended his interview with Mexican drug lord Joaquin "El Chapo" Guzman. Speaking to Charlie Rose, the actor described the 10,000-word article he wrote for Rolling Stone magazine, which some criticized for being overly sympathetic to the notorious leader of the Sinaloa cartel, as "experiential journalism."
"I don't have to be the one that reports on the alleged murders or the amount of narcotics that are brought in," said Penn, a two-time Academy Award winner who in recent years has become as renowned for his activism as his acting. "I go and I spend time in the company of another human being, which everyone is. And I make an observation and try to parallel that, try to balance that with the focus that we — that I believe we — we tend to put too much emphasis on."
The "60 Minutes" report detailed how the unlikely meeting came to be: Mexican actress Kate del Castillo communicated with Guzman through text messages and social media. After meeting Penn, she agreed to facilitate a meeting with Guzman, whose escape from a Mexican prison in July made international headlines.
Guzman agreed to a later sit-down interview, but reconsidered once the search for him intensified. Instead, Penn sent a list of largely nonconfrontational questions. The resulting article, released the day after Guzman was recaptured by Mexican marines, ignited a media firestorm.
See the most-read stories in Entertainment this hour >>
"My article should not have made this much noise. El Chapo should not have been this popular a figure to read about," said the star of "Milk" and "Mystic River," explaining how he'd hoped his story would provoke a conversation about the War on Drugs but had "failed."
"We all want this drug problem to stop. And if you are in the moral right, or on the far left, just as many of your children are doing these drugs, just as many of your brothers and sisters, your mothers and fathers, the teachers at school, are doing these drugs. Just as many. And how much time have they spent in the last week since this article [came] out, talking about that? One — 1%? I think that'd be generous."
Instead, Penn suggested, the conversation focused on his journalistic credentials.
"I'm really sad about the state of journalism in our country ... journalists who want to say that I'm not a journalist. Well, I want to see the license that says that they're a journalist," said Penn, who also defended his decision to let Guzman review the article before it was published — a move that most professional journalists would consider an absolute no-no.
Join the conversation on Facebook >>
"What was brokered for me to have the interview with El Chapo was that I would finish the article, send it to him, and if he said no, then that was no harm, no foul to any reader."
Follow @MeredithBlake on Twitter.
ALSO
Did Sean Penn do anything wrong in meeting with fugitive Joaquin 'El Chapo' Guzman?
'It was like an action movie,' neighbors say of El Chapo's capture in Mexico
HBO takes 'brief hiatus' on 'Westworld' production
'Fuller House' producers address that Olsen Twins joke
A follow-up season of 'Making a Murderer'? 'We are ready,' say its filmmakers
Get our L.A. Goes Out newsletter, with the week's best events, to help you explore and experience our city.
You may occasionally receive promotional content from the Los Angeles Times.