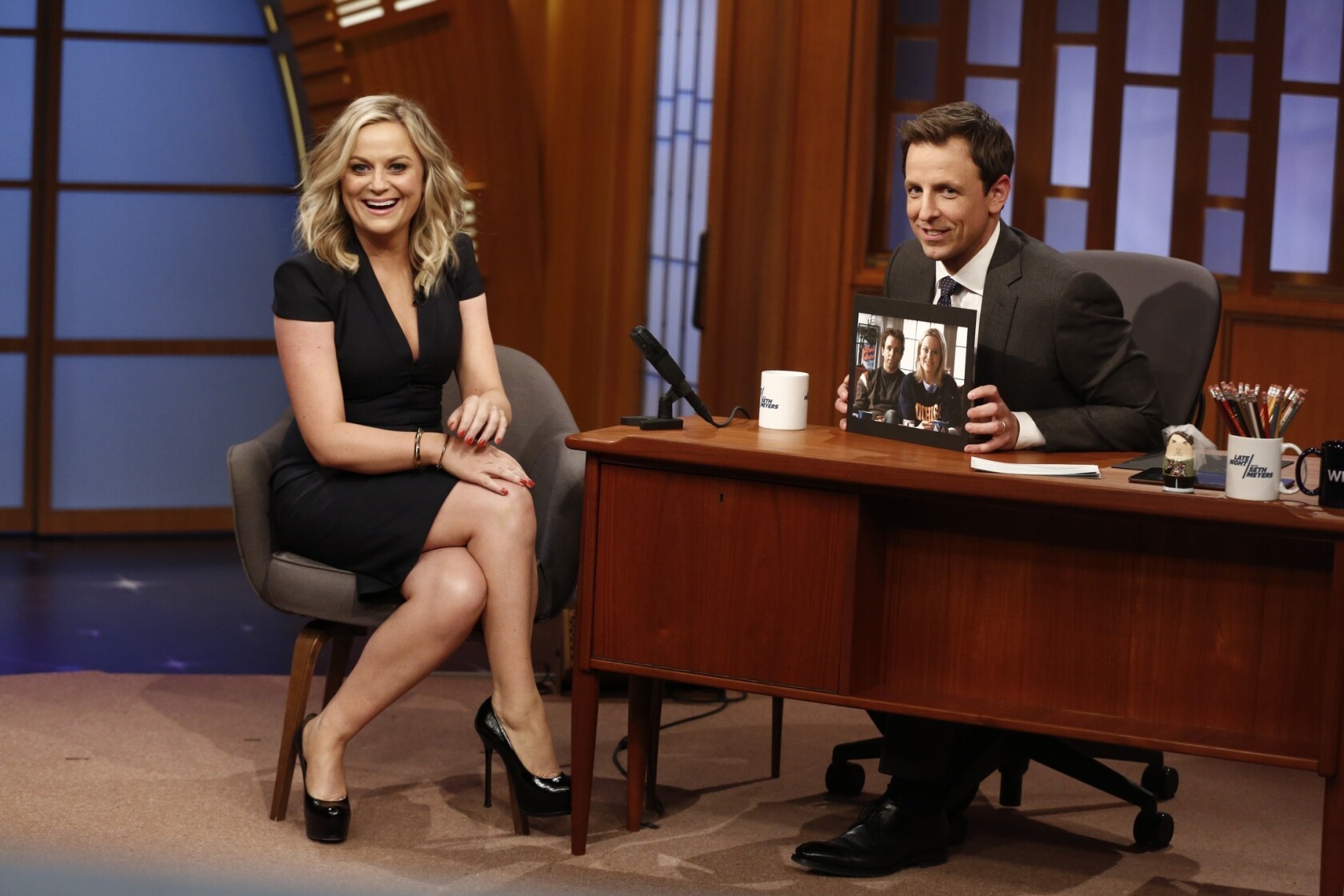 Actress Amy Poehler laughs with the audience as she is interviewed by Seth Meyers. The funnyman made his debut as host of "Late Night." Poehler and Meyers share a history together that dates back to their days on "Saturday Night Live."
(Peter Kramer / NBC)
Actress Amy Poehler and Vice President Joe Biden crack a joke during an interview with host Seth Meyers.
(Peter Kramer / NBC)
Fred Armisen, center, plays the guitar with the 8G Band. Armisen will take the helm as he curates and leads the program's band. Armisen and Seth Meyers were colleagues on "Saturday Night Live."
(Peter Kramer / NBC)
Vice President Joe Biden shakes hands with the new host of "Late Night," Seth Meyers. The chair was once filled by Jimmy Fallon, Conan O'Brien and David Letterman.
(Peter Kramer / NBC)
Seth Meyers does his opening monologue. During his 12-year gig on "Saturday Night Live," Meyers was credited with crafting some of the show's funniest jokes. One of his most famous sketches presented Tina Fey as Sarah Palin and Amy Poehler as Hilary Clinton.
(Peter Kramer / NBC)
Two-member musical group from New York, A Great Big World, perform.
(Peter Kramer / NBC)
Ian Axel of A Great Big World performs.
(Peter Kramer/NBC)
Seth Meyers rides the subway in a promotional image for his show.
(James White / NBC)
NEW YORK — Making his debut as host of "Late Night" on Monday, Seth Meyers struck a decidedly low-key note in a broadcast that emphasized finely tuned punch lines over star power and razzle-dazzle.
Meyers opened the NBC show by paying tribute to one of his predecessor's best-known recurring bits, "Thank You Notes." Seated at his desk, Meyers wrote a letter to Jimmy Fallon, now host of "The Tonight Show," promising to treat "Late Night" "with respect and dignity and to only use it to do completely original comedy pieces … starting now," he said.
But in most ways, Meyers' debut bore little resemblance to Fallon's unveiling last week, which included a rooftop performance by U2 and a slew of celebrity cameos.
PHOTOS: Seth Meyers' debut on 'Late Night'
The 40-year-old comedian, who spent almost 13 years on "Saturday Night Live" as a cast member and later as head writer and "Weekend Update" anchor, was more subdued, despite an inaugural lineup that included Vice President Joe Biden. The new set in Studio 8G at Rockefeller Center seemed consciously understated, decorated with a small desk and a simple chair, rather than a plush couch. The night's musical guest, A Great Big World, was similarly restrained, capping off the broadcast with a performance of its down-tempo ballad "Say Something."
After the opening nod to Fallon, Meyers joked he was going to "shake things up" by beginning with a monologue. "Tonight begins a new chapter in the history of late night television," he began. "Tonight Doris Kearns Goodwin makes her 100th appearance on 'Charlie Rose.'"
The monologue was reminiscent in style and cadence to his "Weekend Update" segments, full of rapid-fire one-liners about the day's headlines. In response to a proposed new law in Arizona that would make it legal for businesses to refuse service to gay people, Meyers quipped, "Some businesses have already put up signs that read 'Nice shirt, nice shoes, no service.'"
Though he lacked the giddy enthusiasm that marked Fallon's first "Tonight" outing last week, Meyers frequently acknowledged the show as a work in progress, noting that a monologue joke about UPS had bombed with the studio audience and making fun of his low-budget graphics.
PHOTOS: Jimmy Fallon's debut on 'The Tonight Show'
After some banter with his bandleader and fellow "Saturday Night Live" alum Fred Armisen, and a charmingly self-deprecating story about his inability to change a flat tire, Meyers moved into "Late Night's" first original comedic bit, called "Venn Diagrams," which aimed to find the common ground between two seemingly unrelated groups.
The overlap between "people who wear fedoras" and "people who are cool," for instance, was Indiana Jones.
Meyers, a sports fan, also presented a wrap-up of the Sochi Olympics. In a bit called "Costas Vision," he approximated Olympic events as seen through the infected eyes of NBC announcer Bob Costas: The luge became a hot dog shooting down a toy car track, the bobsled two weary travelers pushing a stalled car. Meyers also imagined what other sports — basketball, MMA fighting — might be like if announcers were as soothing and as omnipotent as those in figure skating.
For his first guest, Meyers welcomed "Parks and Recreation" star Amy Poehler. Friends since they both joined the cast of "SNL" in 2001, the two shared an easy rapport.
PHOTOS: Talk show hosts who didn't make the cut
"You are going to do such a wonderful job," Poehler said of Meyers' new talk-show gig. "I have watched you for 13 years pretend to listen to people."
Biden — whom Poehler described as a "gorgeous charm monster" — was relegated to the second guest slot of the evening, but he didn't seem to mind. The vice president chatted about his disdain for LaGuardia Airport, his love of trains and his wild gesticulation during the State of the Union address, among other topics. Biden, who made a guest appearance on "Parks and Recreation" in 2012, also heaped praise on Poehler. "She's made me fearless."
Meyers, who thrived in political humor at "SNL," writing Tina Fey's infamous sketches about Sarah Palin in 2008, asked Biden about his plans for 2016. "I was planning on making a major announcement, but I decided tonight's your night," the vice president replied, "so I'm hoping you'll invite me back."
-----------------------------
'Late Night With Seth Meyers'
Where: NBC
When: 12:36 a.m. weeknights
Rating: TV-14 (may be unsuitable for children under the age of 14)
---