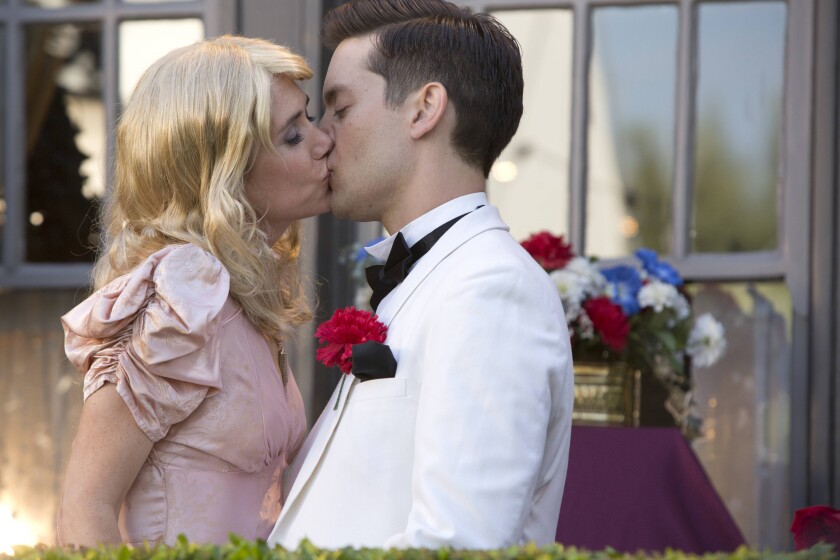 Tobey Maquire, star of IFC's "The Spoils of Babylon" has two messages for those who tune in.
"I'm sorry and you're welcome," he quipped to reporters at the winter Television Critics Assn. media tour.
Maguire was making fun of the intentionally overblown "The Spoils of Babylon," which is a parody of over-the-top miniseries, complete with swelling orchestral music, awkward dialogue and chest-heaving passion.
The six-episode project, created and written by Funny or Die's Matt Piedmont and Andrew Steele, represents IFC's most aggressive move yet in planting its comedy flag on the cable landscape. The series premieres Thursday.
FULL COVERAGE: Winter TV preview
Headlining "The Spoils of Babylon" is an impressive ensemble that includes Maguire, Tim Robbins, Kristen Wiig, Val Kilmer, Jessica Alba, Michael Sheen, Haley Joel Osment and the voice of Carey Mulligan.
Hosting as the extremely conceited, Scotch-drinking Jonrosh is an almost unrecognizable Will Ferrell with a heavy beard and ruddy cheeks, fresh from his stint as newsman Ron Burgundy in "Anchorman 2: The Legend Continues."
Wiig said the particular tone of humor was distinctly different from her stint on "Saturday Night Live": "It's broader and stylized, so I had to proceed in a different way."
Distinguishing the project is its high-caliber cast. Said Steele, "That's why you do something like this with a cast like this."
Quipped Maquire: "You waste them."
ALSO:
Lineup of the 31st annual PaleyFest for TV fans is announced
Hulu's 2014 lineup includes 'Deadbeat' and original 'The Bridge'
'Game of Thrones,' 'Mad Men' among Art Directors Guild nominees
---