Stephen Colbert ratings reveal how 'Late Show' host is shaking up TV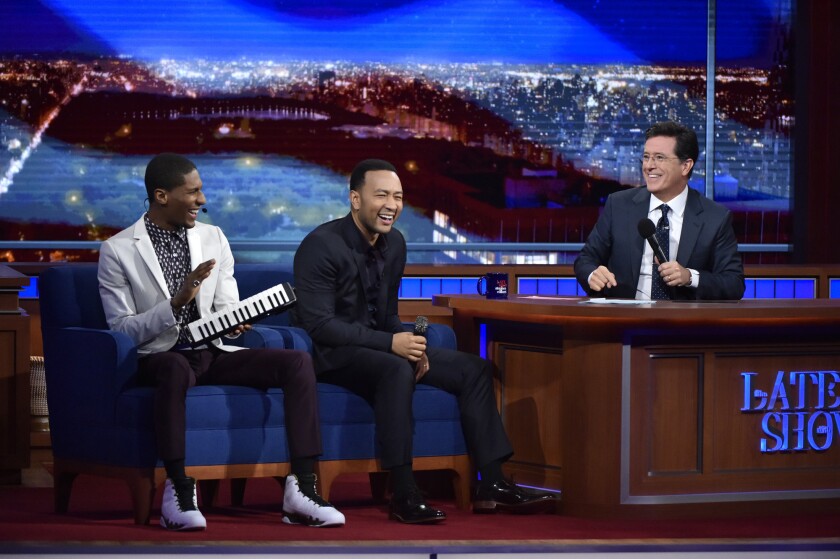 Break out your melodica and do some high kicks: Stephen Colbert's ratings prove that "The Late Show" host is already shaking up the late-night TV landscape.
Of course it's still early yet, but numbers released Thursday for the first official week of the fall season show that Colbert — who took over the CBS late-night talk show on Sept. 8 — has so far helped CBS reach a larger, more youthful audience since David Letterman retired. Colbert, 51, has reenergized the show along with his new melodica-playing bandleader Jon Batiste; the pair open shows by dancing together, sometimes with high kicks.
Is this bad news for Colbert's main rivals, NBC's Jimmy Fallon and ABC's Jimmy Kimmel? Well, perhaps — but Fallon's "Tonight Show" is still No. 1 in the 11:35 p.m. time slot and that's not likely to change anytime soon. Also, Fallon and Kimmel both produce numerous stunts and bits that generate huge traffic online. Kimmel's YouTube channel generated 27 million views during premiere week, more than double its total last year.
SIGN UP for the free Indie Focus movies newsletter >>
"Although Fallon's lead is pretty comfortable, Colbert's falloff after the typically strong first week isn't as great as it could have been, and the audience is younger than Letterman's," said Brad Adgate, an analyst for ad firm Horizon Media. "I think the battle will be between Colbert and Kimmel for second place."
Meanwhile, newcomer host Trevor Noah looks like a worthy ratings successor to Jon Stewart on Comedy Central's "The Daily Show," although it's way too soon to make any definitive conclusions.
In the ultra-late slot of 12:35 a.m., there is evidence that two newbies, NBC's Seth Meyers and CBS' James Corden, are actually expanding the audience and persuading more people to watch into the wee hours. Both programs have logged slight upticks. Which is bad news for no one except, perhaps, bosses who need their employees to report to work early the next morning.
What are the actual numbers?
The main takeaway from premiere week is that Colbert has helped CBS get younger — always an advantage for youth-obsessed TV executives. Letterman's median viewer age was a pretty hoary 60. Colbert has pushed it down to 58.
That may not sound like a lot, but wait. During premiere week, Colbert scored a 0.78 among viewers aged 18 to 49, according to Nielsen. That's a huge 70% improvement over what Letterman did the same week last year.
Among total viewers, Colbert has dramatically narrowed the gap with "Tonight Show." "Late Show" drew 3.2 million viewers vs. 3.6 million for Fallon. Last year, "Tonight" had a huge advantage of more than 1 million viewers.
Colbert has already had a negative impact on Kimmel. Last year, ABC's "Jimmy Kimmel Live" was a clear No. 2 in viewers 18 to 49 and had drawn even with Letterman in total viewers. But now, Colbert has grabbed the runner-up position and is far ahead of ABC in total audience (3.2 million vs. 2.5 million).
And yet — again, it's early.
Late-night viewing, much like morning TV watching, is habit-based, much more so than prime-time, where lineups are constantly changing. But habits do change.
Take Letterman, who when he took over the CBS show in the 1990s enjoyed many weeks atop the ratings. But then his rival Jay Leno found his footing on "Tonight," rising to No. 1. Letterman settled into a permanent second position.
What do you think of the new hosts?
Twitter: @scottcollinsLAT
MORE:
Sorry, America, but John Oliver doesn't care about Donald Trump
Elizabeth Warren is 'sure' she's not running for president, she tells Stephen Colbert
Donald Trump, Jeb Bush: Do politicians still have reason to fear Stephen Colbert?
---
Inside the business of entertainment
The Wide Shot brings you news, analysis and insights on everything from streaming wars to production — and what it all means for the future.
You may occasionally receive promotional content from the Los Angeles Times.