Susan Lucci talks 'All My Children,' Erica Kane cursing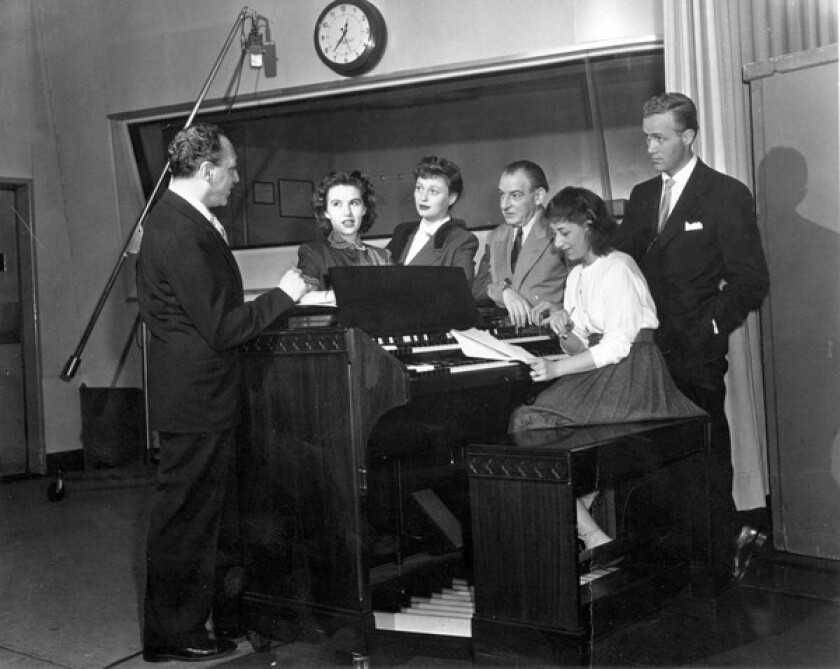 Years on TV:
1952-2009 (an earlier radio show, pictured, started in 1937)
Channel:
CBS
Noteworthy actors:
After leaving its roots in radio, the long-running TV show had a cast that included eventual "Heroes" star Hayden Panettiere and actor Christopher Walken.
See who else got their start on "Guiding Light.
The plot:
What started as a tale about a widowed reverend who kept a light on his desk as a sign of comfort evolved to include marital conflicts, class distinctions and feuding families. The TV show, which dropped the "The" from its name in the 1970s, is credited with being the longest-running American soap opera.
(CBS Broadcasting Inc.)
Years on TV:
1963-
Channel:
ABC
Noteworthy actors:
James Franco's
(pictured) portrayal of a creepy performance artist named (what else?) Franco has gotten lots of recent press, but the cast over the years has also included "Jessie's Girl" singer
Rick Springfield
and actress
Amber Tamblyn
. "Star Trek's"
Leonard Nimoy
was in the series' early episodes.
Noteworthy characters:
Possibly the most famous soap opera lovebirds of all time: Luke and Laura Spencer (
Anthony Geary
and
Genie Francis
)
The plot:
What started as a story about a nurse named Jessie (Emily McLaughlin) who worked with good-looking do-gooder Dr. Steve Hardy (
John Beradino
) and was trapped in a troublesome marriage has included several romantic trysts, broken marriages and backstabbing before soap opera super couple Luke and Laura Spencer tied the knot in 1981. The show has also conquered serious issues like
HIV
and
AIDS
.
(Jay L. Clendenin / Los Angeles Times)
Years on TV:
1970-2011
Channel:
ABC
Noteworthy characters and/or actors:
Erica Kane, played by Susan Lucci (shown here), is an aggressive socialite with Cinderella beginnings who helped define the diva archetype in the world of soaps. Erica has tied the knot 10 times (12 if you count invalid marriages), and Lucci has been nominated for 21 Daytime Emmys.
The plot:
For decades the story, set in the fictional suburb Pine Valley, wove around prima donna Erica Kane and her string of husbands. The show took some risks, tackling subjects like war and homosexuality; in 1973, it was the first to air a legal abortion when Erica decided her pregnancy would damage her modeling career, and in the 2000s, Erica's daughter Bianca revealed she was a lesbian.
(Steve Fenn / ABC)
Years on TV:
1956-2010
Channel:
CBS
Noteworthy characters and/or actors:
Helen Wagner, Michael Park and Maura West. Park and West, pictured here, each won Daytime Emmys for their roles as Jack Snyder and Carly Tenney, respectively. Actors such as Marisa Tomei, Meg Ryan and James Earl Jones all had stints.
The plot:
The daytime drama, which
went off the air in 2010
, followed the denizens of small town Oakdale, Ill. The show made families headed by legal and medical professionals standard fare for most soap operas. It was the first daytime drama that extended its length from 15 minutes to 30 minutes. The networks ultimately pulled the plug because the show wasn't making money.
(Kwaku Alston / CBS)
Years on TV:
1968-2012
Channel:
ABC
Noteworthy characters and/or actors:
Victoria "Viki" Lord (played by Gillian Spencer and later
Erika Slezak
, pictured with Clint Ritchie) has survived
breast cancer
, stroke, divorce, rape and even an identity disorder. Viki lives on today, thanks to a heart provided by her dying husband.
The plot:
Set just outside of
Philadelphia
in the city of Llanview, the show follows the comings and goings of several local families, including the Lords, Siegels, Rileys and Woleks. Story lines touched on rape, illegal adoption rings, homophobia and a broad range of social issues, with plenty of scandal and tragedy woven in.
(ABC)
Years on TV:
1968-
Channel:
CBS
Noteworthy characters and/or actors:
If they aren't meddling with each other's love lives, Jill Foster Abbott (played by Brenda Dickson, Bond Gideon, Deborah Adair, Melinda Fee, Judith Chapman and Jess Walton over the years) and Katherine Chancellor (Jeanne Cooper) are trying to kill each other. This feud just won't quit.
The plot:
Dramatic twists and turns originally focused on the rich Brooks family and the poor Fosters, before introducing a slew of new characters. Plot lines involving themes like premarital sex, incest and rape continue to play a big part in the development of the story.
Pictured: Eric Braeden and Signy Coleman
(Monty Brinton / CBS)
Years on TV:
1951-1986
Channel:
CBS
and
NBC
Noteworthy characters and/or actors:
Joanne Gardner Barron, later Joanne Tourneur, played by Mary Stuart (pictured) and her neighbor and best friend Stu Bergman, played by Larry Haines.
Barbara Babcock
,
Kevin Bacon
,
Jill Clayburgh
, Sandy Duncan,
Morgan Fairchild
,
Kevin Kline
,
Hal Linden
,
Don Knotts
and
Susan Sarandon
were among the actors who got their start on the soap.
The plot:
Focusing on Joanne in Henderson, U.S.A., the series evolved with real-life women as they moved into the workplace and became more assertive. Initially, Joanne ran a rooming house, cooking and making beds for her boarders. She wore dresses a size too large, aprons and her hair in a bun. As she aged, she became more glamorous and accomplished, working as a librarian, personnel director, owner and operator of her own inn and a city councilwoman. She learned to play the guitar and often entertained friends and guests.
(Warner Bros. Pictures)
Years on TV:
1951-1980
Channel:
CBS
Noteworthy characters and/or actors:
Christopher Reeve
(pictured) got an early start on the show playing
Ben Harper
, a villainous schemer married to two women in the same town at the same time. Talk about scandalous!
The plot:
Good versus evil made up the racy stories in "Love of Life," with the primary focus on Barrowsville sisters Vanessa (
Peggy McCay
, Bonnie Bartlett and Audrey Peters) and Meg Dale (Jean McBride and Tudi Wiggins). While Vanessa played the "good girl" and disapproving sister, Megan (Ben Harper is Meg's son) was always looking for trouble.
(Los Angeles Times)
"Is there a lot of cursing on 'All My Children' now?" Susan Lucci asks in bewilderment (clutching her pearls, in our imagination).
The legendary soap opera actress, best known for her role as conniving vixen Erica Kane on "All My Children," was well into our phone interview Wednesday morning when the topic came up. Had she heard the defunct ABC soap had gotten a little foul-mouthed in its online revival?
We assured her the cursing was at a minimum -- though, still jarring for some viewers. Such is the creative freedom when you move from broadcast to online. "All My Children," along with fellow long-running soap "One Life To Live," was canceled by ABC in 2011 -- only to get brought back to life on the Internet, via Hulu and iTunes, by production company Prospect Park. Both series made their online debut last week.
PHOTOS: 10 long-running soap operas
But could Lucci, who did not make the online transition (instead, she'll soon appear in Marc Cherry's "Devious Maids" on Lifetime), envision Erica using profanity?
"Well, I don't know, it would all depend on what they wrote for me and how organic it would be," she said playfully. "Erica Kane seemed to get her point across pretty well without cursing!"
Touché. Still, it got us wondering what might be the biting character's favorite curse word.
"I don't know," Lucci said. "I've never thought about it. Maybe I'll have to think about it."
Let that serve as a glimmer of hope for those interested in seeing Lucci reprise her role on the soap. The actress, who keeps a busy schedule, what with the new Lifetime series and her Investigation Discovery series "Deadly Affairs," says both sides are trying to make it happen. "All My Children," which is produced by Prospect Park's The Online Network, is on a five-weeks-on, five-weeks-off production schedule.
"We are going to be meeting in the next couple of weeks, all in the same room to put our books on the table and see what we can come up with."
ALSO:
Crying shame for fans of soap operas
ABC ending soaps 'All My Children' and 'One Life to Live'
Prospect Park revives 'All My Children, 'One Life to Live'
---
Inside the business of entertainment
The Wide Shot brings you news, analysis and insights on everything from streaming wars to production — and what it all means for the future.
You may occasionally receive promotional content from the Los Angeles Times.