Susan Lucci talks 'All My Children,' Erica Kane cursing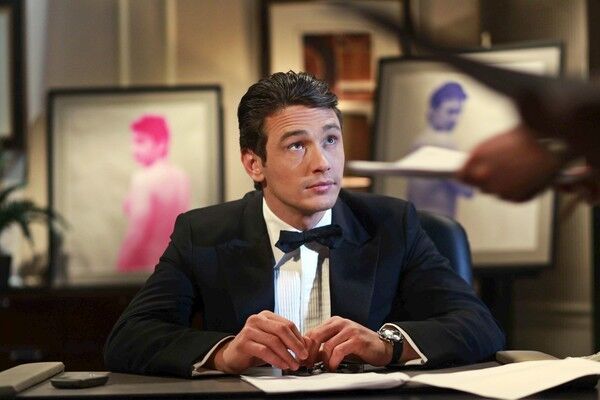 Years on TV:
1963-
Channel:
ABC
Noteworthy actors:
James Franco's
(pictured) portrayal of a creepy performance artist named (what else?) Franco has gotten lots of recent press, but the cast over the years has also included "Jessie's Girl" singer
Rick Springfield
and actress
Amber Tamblyn
. "Star Trek's"
Leonard Nimoy
was in the series' early episodes.
Noteworthy characters:
Possibly the most famous soap opera lovebirds of all time: Luke and Laura Spencer (
Anthony Geary
and
Genie Francis
)
The plot:
What started as a story about a nurse named Jessie (Emily McLaughlin) who worked with good-looking do-gooder Dr. Steve Hardy (
John Beradino
) and was trapped in a troublesome marriage has included several romantic trysts, broken marriages and backstabbing before soap opera super couple Luke and Laura Spencer tied the knot in 1981. The show has also conquered serious issues like
HIV
and
AIDS
.
(Jay L. Clendenin / Los Angeles Times)
"Is there a lot of cursing on 'All My Children' now?" Susan Lucci asks in bewilderment (clutching her pearls, in our imagination).
The legendary soap opera actress, best known for her role as conniving vixen Erica Kane on "All My Children," was well into our phone interview Wednesday morning when the topic came up. Had she heard the defunct ABC soap had gotten a little foul-mouthed in its online revival?
We assured her the cursing was at a minimum -- though, still jarring for some viewers. Such is the creative freedom when you move from broadcast to online. "All My Children," along with fellow long-running soap "One Life To Live," was canceled by ABC in 2011 -- only to get brought back to life on the Internet, via Hulu and iTunes, by production company Prospect Park. Both series made their online debut last week.
PHOTOS: 10 long-running soap operas
But could Lucci, who did not make the online transition (instead, she'll soon appear in Marc Cherry's "Devious Maids" on Lifetime), envision Erica using profanity?
"Well, I don't know, it would all depend on what they wrote for me and how organic it would be," she said playfully. "Erica Kane seemed to get her point across pretty well without cursing!"
Touché. Still, it got us wondering what might be the biting character's favorite curse word.
"I don't know," Lucci said. "I've never thought about it. Maybe I'll have to think about it."
Let that serve as a glimmer of hope for those interested in seeing Lucci reprise her role on the soap. The actress, who keeps a busy schedule, what with the new Lifetime series and her Investigation Discovery series "Deadly Affairs," says both sides are trying to make it happen. "All My Children," which is produced by Prospect Park's The Online Network, is on a five-weeks-on, five-weeks-off production schedule.
"We are going to be meeting in the next couple of weeks, all in the same room to put our books on the table and see what we can come up with."
ALSO:
Crying shame for fans of soap operas
ABC ending soaps 'All My Children' and 'One Life to Live'
Prospect Park revives 'All My Children, 'One Life to Live'
---
The complete guide to home viewing
Get Screen Gab for everything about the TV shows and streaming movies everyone's talking about.
You may occasionally receive promotional content from the Los Angeles Times.