TCA Press Tour: ABC's psychedelic 'Once Upon a Time in Wonderland'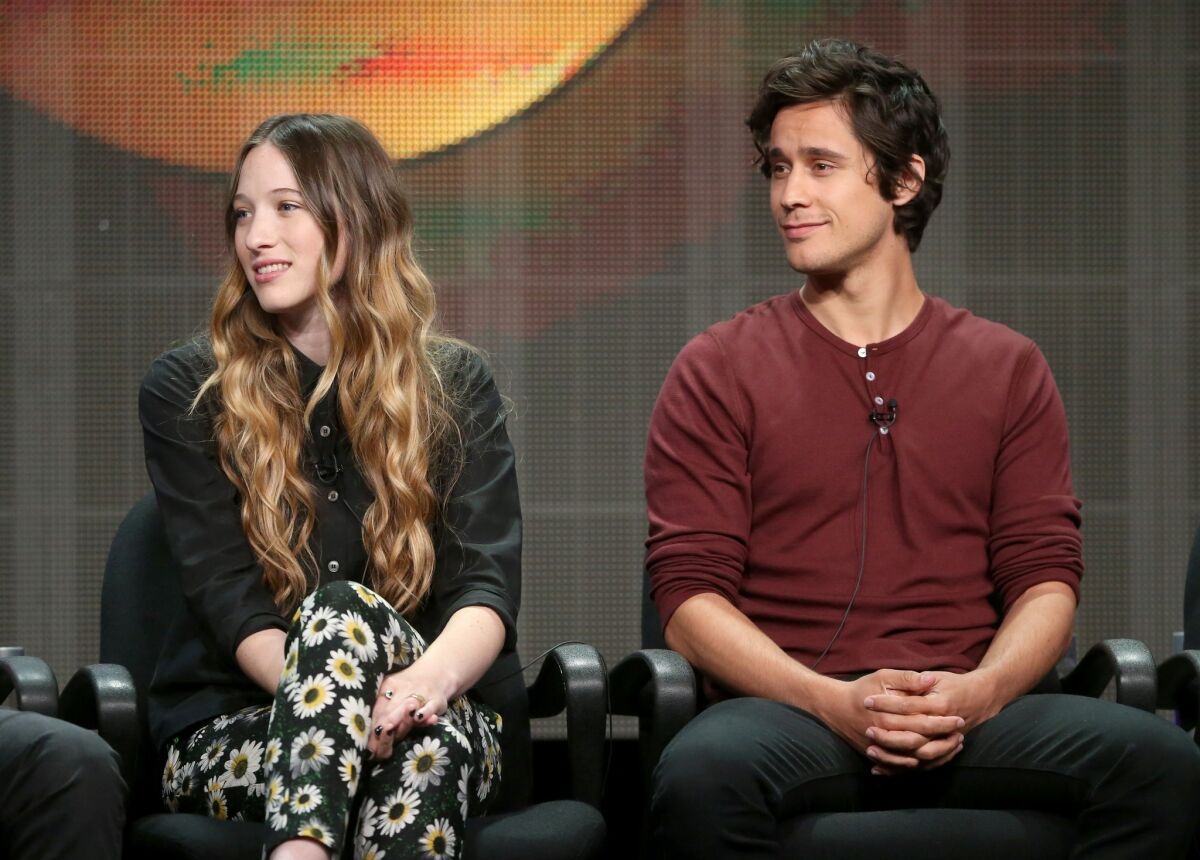 With its prominent use of CGI and helter-skelter mash-ups of fairy tales from across the literary spectrum, ABC's new fantasy-based drama "Once Upon a Time in Wonderland" is like a "psychedelic romance," said writer and co-creator Edward Kitsis during the Television Critics Assn. press tour in Beverly Hills on Sunday.
A spinoff of the 2011 ABC show "Once Upon a Time," which was also created by Kitsis and "Wonderland" co-creator Adam Horowitz, this new show finds the famous Alice (Sophie Lowe) stuck in a mental institute after tales of her time spent down the proverbial rabbit hole strike her father as insane.
Only in "Once Upon a Time in Wonderland" the rabbit hole of lore is populated by all sorts of characters that aren't found in Lewis Carroll's famous yarn. Alice's love interest, for example, is a genie named Cyrus (Peter Gadiot). It's her passion for him that drives her to break out of the asylum in hopes of finding him again in the rabbit hole. (The white rabbit she follows is played by John Lithgow.)
PHOTOS: TCA press tour: The Scene
"We're still kids playing with our GI Joe's and mashing them up with our other action figures," said Kitsis with full-on nerdy fanboy verve, adding: "Darth Vader, I will kill you Spock."
Horowitz said they were inspired to create the series out of curiosity about Alice. The story is known throughout the world, but what ultimately happened to the brave and curious girl when she grew up?
The answer on the show, at least at first, is quite bleak. The Victorian London asylum is the stuff of nightmares (as are the best parts of most fairy tales).
Darkness is also provided by TV veteran Naveen Andrews, who takes on the role of Jafar -- who was the original villain in Disney's 1992 film "Aladdin."
"In popular imagination he exists as an icon, an incarnation of evil," said Andrews.
The idea of a genie is also a bit of a dark one said Kitsis.
"I think you'll find that the genie feels he's a prisoner of the bottle, and those handcuffs are literal," he explained.
The producers hope that the show will make a splash, but they aren't yet looking past the first season. They plan to roll out the plot as a contained tale with a beginning, a middle and an end.
"It will be a complete take," said Horowitz. "And if people like it we'll tell a whole other story with the same characters next season."
ALSO:
ABC's 'Trophy Wife' explores the modern family
Meet the new 'Doctor Who' star: Peter Capaldi
Seth Rogen will be roastmaster for James Franco roast
Get our L.A. Goes Out newsletter, with the week's best events, to help you explore and experience our city.
You may occasionally receive promotional content from the Los Angeles Times.