TCA press tour: Hallmark emphasizes 'wholesome' with 'Cedar Cove'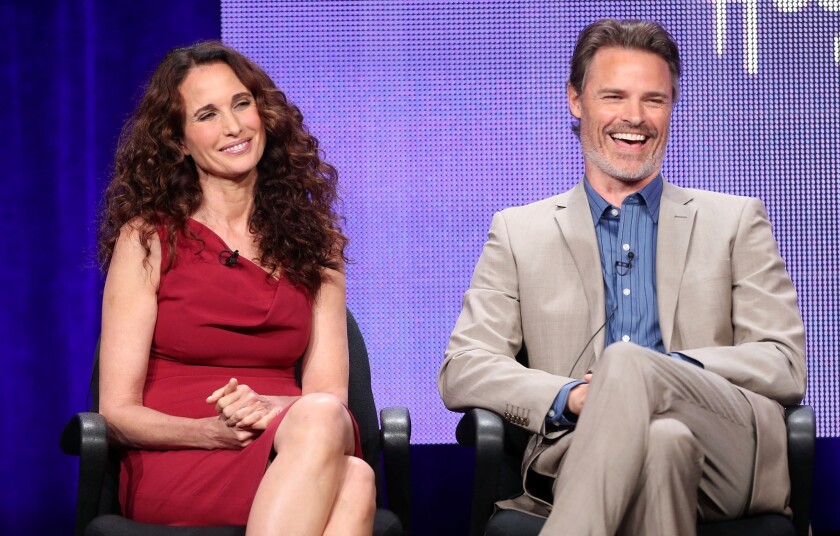 Hallmark Channel, which refers to itself as "the heart of TV," took every opportunity to play up its warm-and-fuzzy vibe Wednesday at the Television Critics Assn. press tour in Beverly Hills.
With its first original prime-time series, "Debbie Macomber's Cedar Cove," as well as upcoming movies including a holiday special called "Christmas With Tucker" and an uplifting family drama set in 1963 during the height of the civil rights struggle called "The Watsons Go to Birmingham," Hallmark is carving out a niche as a wholesome voice in a TV wilderness of aggression and excess.
It's a tactic that stands out in an era when hyper-violent, hyper-sexual shows like "Dexter," "Breaking Bad," "Game of Thrones" and "Orange Is the New Black" break new ground in vivid shades of red and pink.
Perhaps that's why members of the media kept asking if Hallmark plans to push into racier territory. The answer is definitely no.
"The 'Sons of Anarchy Christmas Special' just doesn't have a ring to it," joked Dave Alan Johnson, who wrote "Christmas With Tucker."
Although "Cedar Cove" star Andie MacDowell has voiced her discomfort with the direction that modern television is heading, she said that she feels she and costar Dylan Neal have brought some "spice" to the screen while still being respectful of Hallmark's boundaries.
"We'll say things that are flirtatious and more adult," said MacDowell. "We push the limits with a bit more humor and adult flavor."
"We have to be true to the Hallmark brand," added Neal. "It's the heart of TV, and we're telling stories from Debbie's [Macomber] world, which is a romantic one. So there's a lot of courting and a lot of smooching."
ON LOCATION: Where the cameras roll
Conversation was similarly cute and cuddly between "Christmas With Tucker" stars James Brolin and Josie Bissett, who fielded questions on the joys of working with animals and children (usually considered a no-no for actors making pro-career choices).
"The nice thing about aging in this industry is that I get to work with kids," beamed Bissett, adding that she is also crazy for dogs, especially teacup-sized ones.
"I'm a sucker for 'Lassie.' I get a little teared up," admitted Brolin. "I had a shrink say, 'What is it that's hurting inside you that a 'Lassie' episode speaks to?' "
Whatever the answer may be, Brolin isn't alone when it comes to craving simple, family-friendly entertainment. In 2012, Hallmark Channel had six of the 10 highest-rated original movies on ad-supported cable. Its Christmas specials are particularly popular, usually reeling in nearly 5 million viewers when they air. And when "Cedar Cove" premiered on Saturday, it attracted 3.8 million viewers.
Hallmark plans to greenlight three more original series in the near future: two by the end of the year, and one early next year.
ALSO:
Andie MacDowell falls for the romance of 'Cedar Cove'
TCA press tour: Rob Lowe talks playing JFK, BIll O'Reilly ties
'Breaking Bad' gets a night at the museum
---
Inside the business of entertainment
The Wide Shot brings you news, analysis and insights on everything from streaming wars to production — and what it all means for the future.
You may occasionally receive promotional content from the Los Angeles Times.