This is not Steven Soderbergh's 'Girlfriend'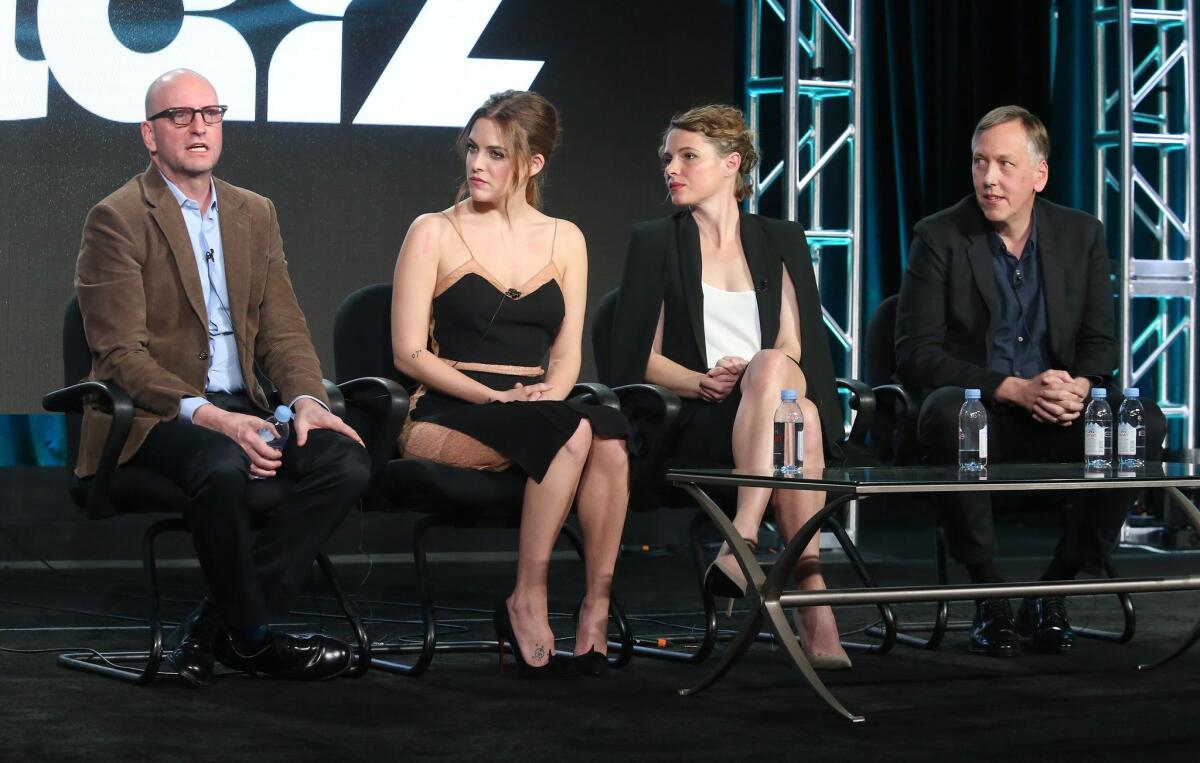 "The Girlfriend Experience" isn't Steven Soderbergh's show. And he couldn't be happier about it.
In responding to questions about whether the new Starz series would have some subtle connection to the Soderbergh-directed film of the same name, Lodge Kerrigan, responsible for writing and directing each of the new series' 13 episodes alongside Amy Seimetz, responded that the TV show had no connection to the film and was merely inspired by it.
Soderbergh added, "The idea was to take the title and start over."
On the surface, the series bears a passing similarity to Soderbergh's 2009 film, as it follows the experiences of second-year law student Christine Reade (Riley Keough) as she tries to manage the demands of school and a new internship. Matters are complicated when a classmate gives her a window into the the world of paid companionship and she is forced to balance matters of control, intimacy, power and sex.
But Friday's panel at the Television Critics Assn. press tour in Pasadena firmly established the series as a creation all Seimetz and Kerrigan's own, and it's an opportunity that Kerrigan relishes.
"We're seeing the emergence of director-driven television. Being the writer and the director, you're able to communicate clearly who the character is," Kerrigan said, adding that serving as both writer and director seemed to streamline the process on set.
Kerrigan wasn't alone in seeing the appeal that television offers the auteur, as Soderbergh spoke at length about why the medium has proved so seductive to him as of late.
"I like the long form, where you have time to breathe and develop and there isn't an urgency to jam the narrative into a two-hour slot," he said. "When you combine that with the atmosphere that exists in television right now of excitement and fearlessness, if you're interested in telling stories, this is the place to be."
As to where lead character Christine is in her own life, Seimetz offered some clarification, saying, "You have to have a certain personality to want to meet strangers in hotel rooms and be alone. There's a certain fearlessness about it." Seimetz hastened to add, "For me, personally? No. That sounds like my own living hell. But for some women, that's a good way to make money."
It was Keough, though, who had perhaps the most profound insight into her character's personality, talking about how at first she struggled with the idea of sex without emotion, but that, ironically, it was repeatedly playing sex scenes that crystallized the concept for her.
"The more sex scenes I did, the more I understood."
The 13-episode debut season of "The Girlfriend Experience" premieres April 10 on Starz.
Follow me on Twitter at @midwestspitfire.
Get our L.A. Goes Out newsletter, with the week's best events, to help you explore and experience our city.
You may occasionally receive promotional content from the Los Angeles Times.